70th Birthday Bash, 2018
70th Birthday Bash, 2018 recap:
"Happy Birthday to us. Happy Birthday to us…" Yep, like it or not, we all turned the big Seven-Oh last year, so we celebrated this momentous milestone in the best way possible. By celebrating it together! And, altogether, it was a great weekend.
We had a
fabulous fiesta on Friday, August 17th at Tekela Mexican Cocina y Cantina on Main Street in Sylvania. More than 50 Classmates and guests showed up to mix, mingle, and raise a birthday toast to each other. We had a beautiflul cake with seven candles symbolizing our collective 70th birthday. Charlie Shapiro wouldn't be 70 until October
28th, making him the youngest Classmate in the room. He, therefore, had the honor of blowing out the candles as we all sang - in what one Classmate described as the "worst rendition ever" - "Happy Birthday to Us". (Click on either picture to enlarge it.)
Our celebration continued on Saturday, the 18th with our "main event" - the 15th Annual All-High School Reunion Night with Eddie and the Edsels, at Centennial Terrace in Sylvania. We
danced under the stars to some great music from the hardest working "oldies" band in Ohio and when the band took a break we broke out our birthday cupcakes, lit the candles, and, once again, sang "Happy Birthday to Us". The night before, the youngest person present had the honor to blow out the candles, so this night we wanted the oldest. (And since we only had two candles, we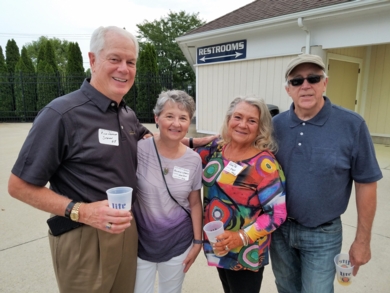 thought they could handle it.) Janet Morris Kramer & Bill Close took the honors(?) and together, they extinguished the two candes without hyperventilating! The rest of the evening was spent dancing, mixing, and mingling with everyone, including many folks from the Start Classes of '64 and '65 as well as Woodward & DeVilbiss alums. Truly a fabulous night!
But wait, there's more! We capped our Birthday Bash Weekend with yet another chance to not only get together, but support a good cause, as well. On Sunday
Toledo Memorial Park, in Sylvania, hosted the 6th Annual Wreaths Across America Toledo Metro Chapter Car Show. This classic
car show benefits the Toledo Metro Chapter of Wreaths Across America, who's goal is to eventually place a wreath on the grave of every veteran in the Toledo area. We Start grads have an additional tie to this event because The Toledo Metro Chapter was founded and is still led by a member of the Start Class of '65, Mel Harbaugh. What better way could there be to wrap up our 70th birthday celebration than by having classic '66 grads posing with classic '66 cars?
It truly was a weekend to remember!!