In Memory
Patricia Lee Pratt (Bickley)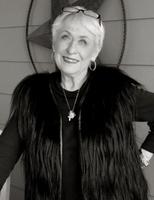 Born: April 29, 1946 in Enid, OK; Died: June 29, 2020 in Frankston, TX
Activities: Blue Brigade - 2 years, FHA Vice President, A Cappella
Patricia Pratt Bickley

4/29/1946-6/29/2020
Pat was born in Enid, Oklahoma on April 29th 1946 to Derwood Franklin Pratt and Leoma Lennon Pratt both deceased.
Pat graduated from John Tyler High School in 1964. She received her LVN certificate in 1977 and her RN Associate of Science degree in 2000 from Tyler Junior College. She worked as an LVN and RN for several wonderful doctors, and as director of nurses at several medical facilities throughout East Texas. Her favorite job was as RN at Tennessee Colony Prison. She was a favorite of the inmates, and she always treated them with respect as human beings, knowing that they were "some mother's beloved child". Pat was known for her writing ability and great wit. Many friends called on her to write poems for special occasions. She is credited with naming La Piazza Shopping Center and restaurant, Villaggio Del Vino for her lifelong friends, Bridgette and Harley Hooper.
Always considered the life of the party, Pat met no strangers and made everyone feel special. She loved the outdoors and spent time fishing and kayaking. She was blessed with the talent of a beautiful voice and the musical ability to play the piano and organ. She often entertained the attendants of the East Texas Fair with her musical talents with her dearest friends, Pat Manziel and Edna Manziel. Pat was blessed to spend her last few months with her daughter, Booper and grandsons Brew Brew, and PA in Georgia. Pat is survived by her daughter LeighAnn (Booper) Yates of Flintstone, Georgia. Her grandsons Brewster Laurence Yates Jr. and Pierce Arthur Yates also of Flintstone Georgia, who affectionately called her "Mammy", one sister Peggy Pratt Cooper of Frankston, Texas, and nephews, Joe Henry and Casey Cooper of Flint, Texas.
Honorary pall bearers are Jack Bickley, Mark Bickley, Ronnie Bickley, Casey Cooper, Thomas Grismore, Joe Henry, Harley Hooper, John Paul Manziel, Nolan Manziel Jr., Paul Manziel, Brewster Laurence Yates Sr, Brewster Laurence Yates Jr, and Pierce Arthur Yates.
A private graveside service will be held on Thursday, July 2nd at 3:00 p.m. at Flint Cemetery with Reverend Roy Thoene officiating.
A Celebration of Life to begin at 4:30 p.m. Willow Brook Country Club in Tyler, Texas. Donations can be made to Hospice of East Texas, 7111 University Blvd. Tyler, Texas 75703, Hospice of Chattanooga 4411 Oakwood Dr. Chattanooga, Tennessee 37416, and Flint Community Church 11019 CR 174 Bullard, Texas 75757.
There will always be a void in our hearts without her and she will truly be missed by everyone who loved her.