Whitefish Bay High School
Class of 1966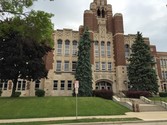 In Memory
Diana Gretzke (Schauer)
From John Schauer, Diana's husband:

A sad post, Sue my Soul Mate and best friend of 55 years has passed away. Even though she was a non-smoker and had no risk factors, she had an aggressive type of lung cancer. We didn't notice anything out of the normal until this January and then it was only a cough and some loss of weight. In late February, she was diagnosed as being in Stage 4. In less than 3 and half months, she went from apparently nothing serious to passing away. She never had any pain and was in good spirits. She was mad that she couldn't go back to Disney again. She died peacefully in her sleep with Tracy (our daughter) and me with her.
I cherish all of the moments we had together and even though I will never get over her being gone, I will find away to cope because she told me to.

Her funeral will be Friday, May 25, at Ochalek Stark funeral home in Milan. On Saturday morning, we will have a Celebration of Life prior to going to the cemetery. That will be followed by a luncheon. If you would like something to be read at her Celebration of Life, please email me at: jdscha@aol.com. We both have faith that we will find each other after the Resurrection.

Here is a link to her obituary: http://www.ochalekstark.com/Obituaries
This picture was taken at Christmas 2017.