Upper Moreland

High School




Class Of 1961
Welcome to the Upper Moreland High School Class Of 1961 web site.
This site was created on Feb. 3, 2010, to provide information about the 50th reunion which was held October 21, 2011 weekend. However, if YOU have other things you'd like to pass along to the class, please do so by contacting Kevin Weaver or Ginny Wright (Tinner).
December 2021 "reunion?" Get-Together
Seated: Ginny Wright Tinner, Marty Muller, Trudy Snyder Foster
Standing: Jean Rhoades Vandegrift, Karen Williams, Peggy Neilson Casciano, Anne Miller Smiley
LOST IN THE FIFTIES? I'll bet you remember all of this: FIFTIES
December 3, 2021 Lunch get-together. Contact Ginny.
Apparently, June 10, 2021:
Pete S, Bill S, Marty M, and Danny M (seated)
June 9, 2021:
Link: https://www.kevinrweaver.com/umhs/ReunionLunchJune2021.jpg
We've set November 17th for our next lunch. Mark your calendars!
More information to come!
May 3, 2021:
Hope everyone is staying safe. Feeling a bit "old"...read this.
January 2019:
HAPPY NEW YEAR!
Since we are ALL Seniors, everyone will understand the pictures if you click here.
December 2018:
Happy Holildays as you grow older...
October 2017:
Get-together organized by Ginny. Do you recognize anyone?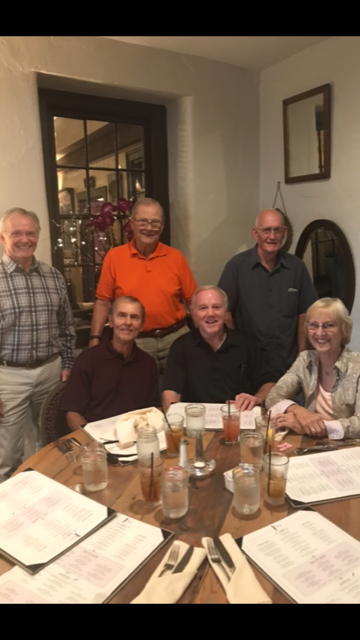 Post Memorial Day, May 25, 2015:
There will be a memorial service for Joe Owens on June 6, 2015 at 11 o'clock at the Village Players of Hatboro.
Philip Peterson has a new show opening on Saturday June 13, 2015. A reception will be held from 2- 5 pm.
Click here for the promotional ad.
I assume you all got the e-mail from Donna Persico about the blogsite with all our pictures, etc. from the reunion. http://www.umhs61.blogspot.com/ What a fantastic job! I hope you'll all log on and check out what's available. I'm sure you'll all want the CD with 428!!! pictures. It has my husband's picture on the front taking your picture! Please be patient, it takes a while for all of them to download. AVAILABLE NOW. Ginny
Scroll down for more exciting things...like Part 2 of the video series :-)

Updated 10/27/11 with pictures from the reunion.
Click: PICTURES

~ ~ ~ ~ ~
A preview of the "Blast from the Past" DVD is now available for your viewing enjoyment.
When completed, the DVD will be over one hour in length.
You can look forward to seeing another segment being posted late May or early June.

Hope you enjoy!
DVD

Parts 1 and 2 now showing

~ ~ ~ ~ ~
For 2011, remember:
it's not the years in your life that count,
it's the life in your years!
~ ~ ~ ~ ~
And here you thought
"What happens on the Washington, DC trip,
stays in Washington, DC."
RIGHT!

Thanks to Jim Robinson, we have this clip
(requires Windows Media Player)
(large file; could take a minute or three to load - but worth it)

Be sure to play it to the end as there are some goofy shots that
you won't want to show your (grand)children -- maybe.
Don't turn up your hearing aid...
Fortunately, there's NO SOUND...
so you can't hear anything embarassing!
Thanks, Jim.
CLICK HERE: Washington

~ ~ ~ ~ ~
We met on February 5, 2010. Why weren't you there?
I will be sending the Alumni Association the updated information that I have received from you. However, in the future they would appreciate it if you would keep them informed of your location. Their e-mail address is umalumni@umtsd.org,
and their phone number is 215-675-1051.

Until 2011,

Ginny Wright Tinner and committee
By NOT coming to the 30th...this is what you "missed" ...
(how could you now resist NOT coming to the 50th? OMG)
(click photo for enlargement if you're brave)
---
Upper Moreland Songs and Cheers
from the Sept. 23, 1960 Program
Upper Moreland vs Upper Perkiomen
CLICK HERE
---
ANNOUNCEMENTS
Hope everyone is doing well, and I wanted to update my work status. I
have been asked to take a new sales position, Sales Director of the Western half of the United States ( still based in Chicago ). This will be very challeging , both physically and mentally, as l'll be traveling somewhere different every week. -- Victor Goldblum
Thanks to everyone that wished me a happy birthday. Spent it at the shore with my family and it was very enjoyable! Thanks and see you at the reunion.

Carole Taylor Hey
See a video of a model railroad layout at

https://www.youtube.com/watch?v=fpZcNd1zVdY.

I built the layout at Western Washington University with student help. Programs written by the students prevent trains from crashing (hopefully). -- Martin Osborne