Rhein Main Air Base - 435th OMS ENROUTE MX SECTION
Years Assigned to RMAB 1960 - 2005
In Memory
Benjamin "Ben" W. Ady - Year Assigned 1984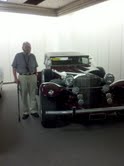 Benjamin "Ben" Ady, MSGT, USAF, Ret.
I'm saddened to pass on the sad news, Ben Ady passed away, early this morning. Please keep the Ady Family in your prayers.
Benjamin "Ben" W. Ady
Born: Nov 9, 1948
Passed: Sept 20, 2016
Sultan, Washington
A memorial will be held at the Museum of Flight in Seattle, Washington this coming Monday, 26 at 1:30 pm. 9404 East Marginal Way South, Seattle, WA 98108
Please attend if you are able.
Mr. Ben Ady - RIP my veteran brother.
1815 South Dobson Road
Mesa, AZ 85202
Get Directions