Rhein Main Air Base - 435th OMS ENROUTE MX SECTION
Years Assigned to RMAB 1960 - 2005
In Memory
Cynthia Giugliano - Year Assigned 1982 VIEW PROFILE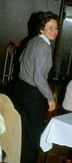 Cynthia Giugliano (Captain)
Born: 14 December 1954
Passed: 11 September 2001
32 Mildred Ct.
NESCONSET, NY 11767
Perished in the World Trade Center Attack ** 9-11
More information available at the group Memorial http://www.americanmemorials.com/memorial/deathnotice_private.asp?idMemorial=3531
GIUGLIANO-Cynthia, age 46, of Nesconset, NY. A victim of the World Trade Center Disaster on September 11, 2001. She was a Chief Technical Specialist for Empire Blue Cross/Blue Shield on the 27th floor of Tower 1. Beloved wife of Larry. Also survived by many loving family and friends. She will be missed by all who knew her. Memorial Service held on Saturday, October 13th at 1:00PM at the Assumption of the Blessed Virgin Mary, 20 Chestnut, Centereach. In lieu of flowers donations can be made to the National Disaster Search Dog Foundation, PO Box 999, Ojai, CA 93024
Husband: Lawrence N Giugliano (631) 265-6568 / (631) 360-0576
http://www.findagrave.com/cgi-bin/fg.cgi?page=gr&GSln=Giugliano&GSfn=Cynthia&GSbyrel=all&GSdy=2001&GSdyrel=in&GSob=n&GRid=5837942&df=all&

Click here to see Cynthia's last Profile entry.