Dubuque Senior High School
Class Of 1968
ANNOUNCEMENTS
•

I've enjoyed reading so many of the announcements and updates from classmates. It certainly doesn't feel like we are approaching the 50 year class reunion mark but then, I guess I wasn't really counting.
Thought I'd update you with things in my life. I recently retired from teaching FCS in Cedar Falls, Iowa after 46 years. My first 4 years of teaching FCS were actually at Dubuque Senior...it will be interesting to revisit the FCS (home ec) area. I had a wonderful teaching career and really had a hard time trying to decide if it was time to retire. But finally decided to take that move. Little did I know that there was an even more important reason for me to retire...that being that our middle grandson was diagnosed with Leukemia in July, 2017. We were getting ready to host a retirement party but plans were quickly changed when this happened. He was 5 when diagnosed...suppose to start kindergarten but that didn't happen. He just turned 6 in December, 2017. The support from so many has simply been OUTSTANDING! It blows me away just thinking about the continued support and prayers from so many.
I have just started my 19th week as caregiver to the three boys in Omaha, Nebraska so my daughter could continue as a Literacy Instructional Coach in Council Bluffs, Iowa and her husband, as a commercial real estate broker in Omaha. This has certainly been a life changing event in our lives...one that has more heartfelt emotions than I would ever be able to convey to anyone.
My husband, Dave, continues to go back and forth between Omaha and Waterloo, Iowa, to continue to take care of our home there. It reminds me of when Dave and I were first married and he was traveling as a seafood broker on the road 4-5 days a week. Dave has been retired for 3 years from a company called VGM where he worked with thousands of country clubs all over the United States in the food and beverage rebate sector of the business. I am so thankful for our relationship as it's hard to be away from each other.
Our grandson, Kane, had a rough start to his treatment in July...extremely intense as they went after the cancer in a very aggressive manner. They told us December and January would be difficult months for him and they were right...they were. However, his cancer is considered in remission at this time and hopefully we are on the downside looking toward a maintenance plan by March. Overall, his treatment will last about 3 years with continued testing and periodic treatments depending on his blood levels.
I'm thankful for my educational training as I have also been homeschooling Kane during the current school year. That has been extremely challenging as medicines for his treatment cause various kinds of physical changes...not to mention a huge responsibility for giving meds to him. Thankfully, he's a smart little boy as well as a tremendous little fighter. Patience and taking things a day at a time have been critical toward the road to recovery.
If you are on facebook, you can look at updates on TEAM KANE.
We have been strong supporters of Iowa football (38 years now) and so the wave from the fans and teams to University of Iowa Hospital Children's Hospital has taken on a whole new meaning for us. I'm hoping that many of you have seen the advertisements of the University of Iowa doing this at football games...they won the Disney Spirit Award for this tradition. We weren't able to get to a game this past season but are looking forward to next year and taking the entire family for a game...that's our goal for the fall season.
My thoughts and prayers reach out to each of you as you continue life's journey. I'm sure each of us has special stories in life that have been life changing. It's great to see so many of our classmates who have served our country...a heartfelt thanks for your service to our country and our freedoms.
I'm feeling so blessed for so many things in my life...from my family, friends, my education in Dubuque, my teaching...we've had the best of all worlds, in my opinion. God Bless each of you! Stay safe and if you're in Iowa...stay warm! Hope to see many of you later this coming year. With love, Maxine (Riedel) Barrows and Family
October 1, 2017
Not All Our Stories Have Happy Endings - Gary Muntz – RIP 2017
Mountain Royalty Finds New Home at Senior
(Click on photo for story)
Congratulations - Roy Buol, 2017 Athletic Hall of Fame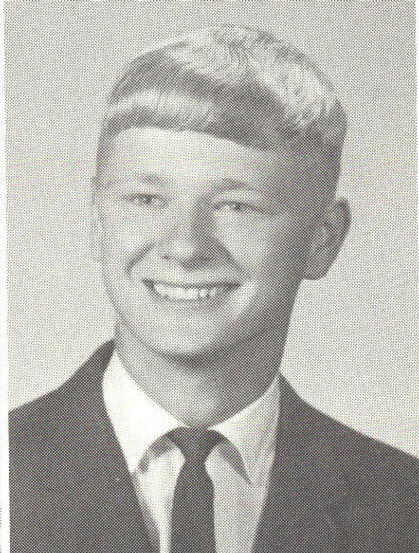 Dubuque Senior High School and the Hall of Fame Committee are pleased to announce its 26th Athletic Hall of Fame induction class. 2017 Dubuque Senior H.S. Athletice Hall of Fame inductees:
Mary Beck - Class of 1980
Roy Buol - Class of 1968
Doug Coin - Class of 1981
Mike Flemming - Coach
Zach Hodge - Class of 2006
Henry (Hank) Vollenweider - Class of 1938
Dubuque Senior High School and its Hall of Fame committee recently announced its 26th Athletic Hall of Fame induction class. The 2017 class will participate in homecoming activities Oct. 13 and 14.
Inductees will be part of the homecoming breakfast with the student council, school assembly and parade on Oct. 13. Inductees will be introduced between football games that evening against North Scott. Induction ceremonies will take place at a banquet on Oct. 14 in the new Senior cafeteria.
Roy Buol — A 1968 graduate of Dubuque Senior High School, Buol was a two-way starter for the Rams in football and participated in basketball and track and field. Buol is a retired employee of John Deere Dubuque Works (30 years of service). Since 2002 he has served as Director of Landscaping & Grounds Department at the University of Dubuque. Buol is currently in his 22nd year of public service, the last 12 as Mayor of Dubuque. Buol is a member of the U.S. Conference of Mayors Advisory Board, past co-chair and current treasurer of the Mississippi River Cities & Towns Initiative, and represents the city on several boards and committees. (Source: TH Online, August 27,2017)
Thanks Maxine Riedel (Barrows)
Maxine Riedel (Barrows) recently sent me a photo of the 20th Class Reunion, which you may now find on the Through the Years tab. See if you can find yourself in the crowd. Thanks, Maxine. If any of you have pictures from past reunions or photos taken during our class years, please email them to me (DSHS1968@outlook.com) , or if they are not in digital format, call me at 309-751-7776 and I'll arrange to have them digitized.
And a Word of Thanks
It is not an easy task to keep up with the status of 600+ classmates, and to find content for this website. So I'd like to tke a moment to thank a few of you who have provided me information and leads to other classmates. A special thanks to: Maxine Riedel, Terry (and his lovely wife Jane) Jackson, Dave Duve, Dave Uthe, Nancy Nadermann (Byrd), Scott Ferris and Vicki Jansen (Kunkle). As I say, the more help I get, the more successful (and interesting) this site will be. THANKS to all who have helped.
The Rennovation Update
The rennovation is taking shape and most of the updates are being used by students. And from what I have seen, it is incredible. Take a look on this YouTube video. If you want to keep up to date, follow @SeniorRamFam on Twitter, or like their Facebook page. And don't forget to keep up with alumni news on the Alumni Facebook page.
And Just One More Thing
Congratulations to Ron Dick and Dennis Bemboom (and Tom Paradisio, Wahlert Class of 1968) and the rest of Hampton Road for their recent induction into the Iowa Rock and Roll Hall of fame! Well deserved.
The Fiftieh Reunion
No new information on the Reunion. We'll be meeting soon, and letting you know what is going on. Meanwhile pass the information about the date along to our classmates.
That's enough for now. Stay well, love you all.
Wes