Dubuque Senior High School
Class Of 1968
April 22, 2018
It's been a long time since I've published, and I apologize for that. I've spent many hours working with the 50th Reunion Planning Committee and that has taken away time from our web page. So here we go with a few stories I have collected recently.

In the red navigation bar to the left, you will see the page tab listed directly under the Home Page tab labelled "2018 50th Reunion". Here you will find all the latest information concerning the Class Reunion. In a few weeks you should be receiving a mailing with the Calendar of Events, and the Registration Form and ReEcho Information form. If you don't receive it, let us know (see Committee Members on the page above) and we'll see to it that you get a copy.
It's going to be a great time and I hope to see you all there!
Riverside Bowl Closing
Normally I don't consider a small business in Dubuque closing a big matter. But Riverside Bowl was the location of our Senior Class party, right after graduation. The building is being / has been razed; so we say good-by to another small part of our high school history.
A Little Senior History Not Related to the Class of 1968
While many of us are familiar with the story, I'm will to bet there are several of you unaware of the story of Jay Berwanger, Class of 1932.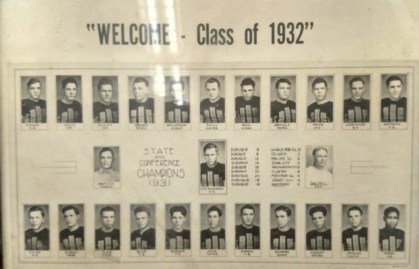 The Senior Rams were State and Conference champions in 1931. The fellow in the center of the 2nd picture is Jay, with a photo Wilbur Dazell to his right. Also notable is a photo of an African-American player, meaning Senior was an integrated team long before the civil rights movement.
So why was Jay Berwanger so important to Senior? Because Jay Berwanger was the first winner of the Heisman Trophy in 1935 for his outstanding college play at University of Chicago, where he was known as "the one man football team."
In the first ever NFL draft in 1936 Berwanger was drafted as the first choice in the draft by the Philadelphia Eagles. Because of contract negotiations the Eagles traded his draft choice to George Hallas of the Chicago Bears, but they also could not reach a contractual agreement. So Berwanger never played professional ball.
The original trophy resides at the University of Chicago. But each player was give a replica of the statue which Berwanger donated to Dubuque Senior High School, where is resides in a trophy case in the Nora Gymnasium.
Here's a link to Jay's story, followed by the photo of the trophy case at Senior. Jay Berwanger's Story
That's all for now. Love you all, stay well.
Wes