ANNOUNCEMENTS
Final letter from Mary Edginton on our Rundraising Initiative for WITS PV Tobias Bursary Fund.
Wits
15th March 2017
To all members of the graduating medical school MB,BCh class 1966
Dear Friends and colleagues,
The time has come to write a final letter to you all concerning our class fund-raising appeal for donations to the PV Tobias Bursary Fund at the time of our 50th reunion. It is my pleasure to thank those of you who donated so generously. Medical school managers have a nice fund into which to dip to support needy medical students.
The sum raised, as at 07/03/17, after almost 18 months of appeals and collections, is R690 000. This has to be a record that exceeds all other class fund raising totals, and is testament to the respect we all had for the cause, for Phillip Tobias, for our University and for one another. The amount tends to waver slightly according to the Rand Dollar exchange.
Of the 72 surviving and contactable members of the class, 38 donated (9 people twice or more). If there should be any non-donors who have experienced mind-changes and wish to donate, the account remains open for you. Find your way on the Wits website. If you have problems, ask Justine at Justine.Dangor@wits.ac.za Consider the WITS PV Tobias Bursary Fund in your wills.
I would like to acknowledge the help and support of Mike Eliastam, our overall convener. He was a fantastic source of advice and ideas, and he worked so hard for this event. The five members of the fund-raising committee were a great help, especially early in the campaign. Thank you to all of them. On the administrative side, we appreciate the help of Patricia Barber and latterly of Justine Dangor of the Wits Fund raising office. They tracked donations, tallied amounts and kept us up to date with totals.
With fond regards to you all, and very best wishes
Mary Edginton
Welcome to Wits Medical School Class of 1966.
Michael Eliastam reports on an unplanned close up look at South African medical practice. He is recovering well. Visits to the Class Creator site increased over the past couple of days so many of you know about this but for those of you not yet aware of his situation plese read below. We look forward to further medical bulletins and wish him a continued unevenful and smooth recovery. Erroll Hackner is visiting South Africa and can provide us more detail on Michael's current clinical status.
From Michael
Posted on: Apr 28, 2017 at 1:02 pm
Well, Mike Belman's reminder nudged me into telling you the following--actually I am now in Cape Town recovering from surgery for complete rupture of my quadriceps tendon in Nairobi 5 weeks ago. I was there for a family memorial, but on the day before the event, March 21, early in the morning I stumbled on a poorly lit step on the hotel's breakfast patio, and my life changed. Besides the pop I heard, and the agony, the diagnosis was self-evident because my vastus muscle above the patella was gone! After a morning at the Aga Khan Hospital, with ultrasound confirmation of the diagnosis, I was given a worthless non-rigid brace and crutches that did not know how to use. But I wanted to be at the family Memorial event in Nanyuki, so I was driven up there, and carried about by British Soldiers as I attended the various events. Then on the 24th I flew to Cape Town and had surgery the following week (my younger daughter, Monet was with me for 2 weeks)and have been in a rehab hospital till now, going to my sister's flat this coming Tuesday. My recovery has suddenly accelerated, and I am now able to weight bear and started using crutches! I will be here in Sea Point for another month at least, so anyone who wants to visit, please do..my email address is
meliastam@gmail.com, and my SA phone number is 072 435 1887.
For your listening pleasure, a sampling of the best hits of 1966.
Use Alt + Tab to show or hide music player
Hunter's Rest Feb 2, 2016. Class Photo
(for larger expandable version see under Photo link on left toolbar)
View Day 1 - 1961
View Last Day 1966
Photos can be manually enlarged when viewed on an iPad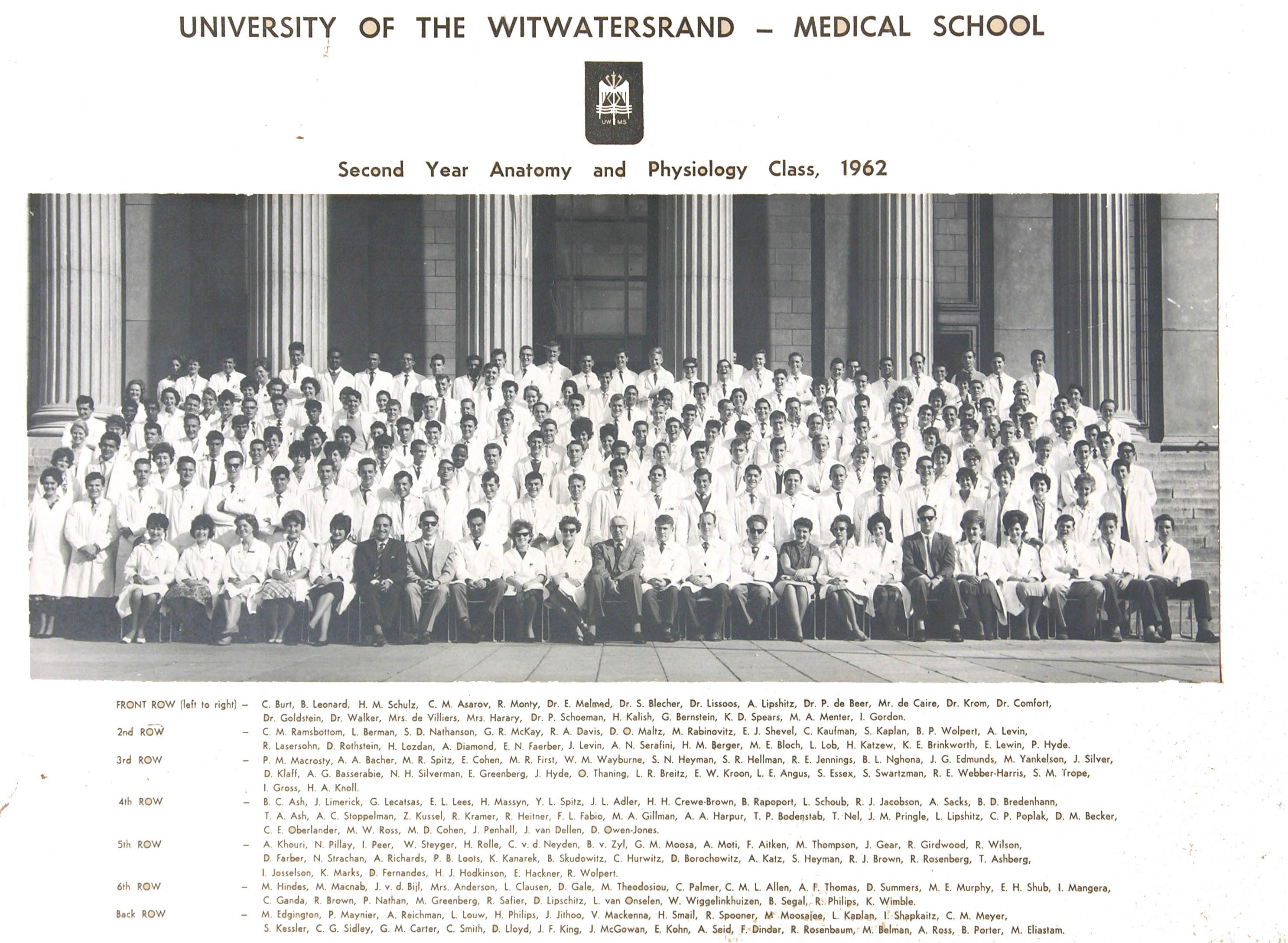 Final Year Photograph 1966
(for larger versions of these class photos please see under link "Photos" - second down on left menu column)
/000/5/9/3/28395/userfiles/file/witsgradclass66.jpg