ANNOUNCEMENTS
Our 50th Class Reunion!!
Looking forward to seeing you soon!! Event information, event registration, and room information is located on separate pages on the website. Please check them out and register soon!
We are pleased to announce our upcoming 50th class reunion celebration scheduled for Friday, May 31, 2019 through Sunday, June 2, 2019, at the Desert Diamond Casino and Hotel, 7350 S Nogales Hwy, Tucson, AZ 85756.
We'll get together on Friday night, May 31st, 2019, to say hello, have a beverage or few, and share Reunion provided appetizers while enjoying each other's company.
Saturday, June 1st, 2019, we can get together during the day to enjoy the resort and recall old times. We can meet for lunch, try our luck at the machines, or see the sights of Tucson.
Saturday night is the enchanted evening, where we'll meet in the lounge for a happy hour, then a special banquet room for a Reunion provided dinner and dance while we groove to our old familiar tunes provided by "Up All Night Entertainment". There will be displays, a slide show, a PhotoBooth to capture us with our best buds, some raffle prizes, another beautiful quilt for one lucky winner, and possibly some surprises… Want to participate?
Sunday morning we'll say goodbye over a Reunion provided breakfast where we will promise to see each other again in a couple of years.
It won't be as much fun without you and the friends you bring with you. Maybe bring a family member with you? A sister, brother, or cousin? A daughter or son who can't believe you still dance? Come on, we can tell them some stories... As long as they know where Morenci is, or that you are from there, bring them ALONG!!! PARTY with us!!! Please forward email addresses of anyone you want to receive info to Myrna at jlahaie3@cox.net so it can be sent. More news to follow, with prices, room information and reunion reservation sheets, plus additional information. It's not a party without you, and this is the 50TH!!! You've got to be there. This one will be the BEST EVER and we don't want to party without you!!!
We hope this one will have the best attendance and we will see classmates we haven't seen in a long while. With your help, let's find our classmates who have never attended, or attended only a time or two, so we can all be together again. Please check with your classmates. If they didn't receive this notice, please provide Myrna with an email address so they may be contacted. Please, everyone try to find some of our long missing classmates. It was so nice to see a few new faces at our 45th.
45th Reunion pics

Ron Osborne and Katie Pelusi Osborne
Joel Godbey and Katie Pelusi Osborne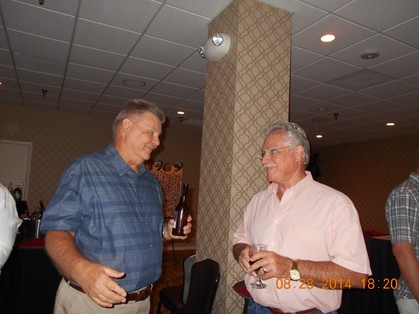 Randy Hedrick and Ron Osborne
James Edd Hughs, Sharon Farrington, and Debbie Hughs
Kelly Morrow, Joel Godbey, Audria Hogg Sullivan, Michael Cox, Laura Cox
Jackie Bradford, Tony Serna, Joe Castaneda
Sylvia Easley Stogner, Barbara Montez Roybal-Brown, Vicki O'Neal Hedrick, Linda Glassgow
Faizyar "Zabby" Fabiullah, Melinda Amijo Patrick, Leslie White Cox, Randy Hedrick, Ladell Parkhill Hoffman
James Edd Hughs, Katie Pelusi Osborne
Myrna Bull LaHaie, Katie Pelusi Osborne, Sylvia Easley Stogner
Jacque White
Carmina Gallegos Saccucci and friend
Melinda Armijo Patrick, Chris Serna Corn, Sally Subia
Michael Cox
Linda Glassgow, Barbara Montez Roybal-Brown, Janice Wood Tysoe, Faizyar "Zabby" Fabiullah
Joe Castaneda, Roberta Castaneda, Vicki O'Neal Hedrick
Dolores Perez Benavidez, Katie Pelusi Osborne, Arnold Segovia, Cecilia Lujan Segovia
Michael Cox, Myrna Bull LaHaie
Dancin' in front of the high school (to your right)
Jacque White (back to us), then left to right - Arnold Segovia, Joe Castaneda, Sylvia Easley Stogner, Chan Farrington, Roberta Castaneda, Steve Benavidez (back to us)
Rose Lee Hansen Jaquez, Joe Castaneda, Roberta Castaneda
Sylvia Easley Stogner, Randy Hedrick, Barbara Montez Roybal-Brown
James Davis, Faizyar "Zabby" Fabiullah, Chan Farrington, Jim Sullivan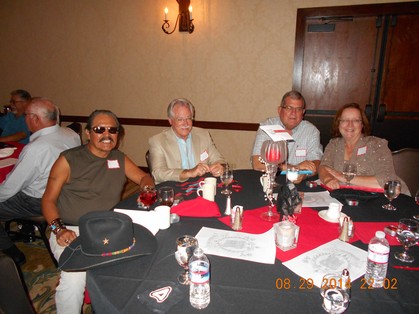 Lee J Peshlakai Jr., Ron Osbourne, John Tysoe, Janice Wood Tysoe
Michael Cox, Myrna Bull LaHaie Jackie Bradford, Katie Pelusi Osbourne
KNEELING: Chan Farrington, Joe Castaneda
FIRST ROW: Faizyar "Zabby" Fabiullah, Arnold Segovia, Myrna Bull LaHaie, Ladell Parkhill Hoffman, Jacque White, Janice Wood Tysoe, Sharlene Wood Sorenson
SECOND ROW: Steve Benavidez, Mary Jo Munoz Cervantez, Cecilia Lujan Segovia, Jackie Bradford, Vicki O'Neal Hedrick, Sylvia Easley Stogner, Joel Godbey
THIRD ROW: Tony Serna, Unknown, Ida Synder Wickizer, Rose Lee Hansen Jacquez, Melinda Armijo Patrick, Katie Pelusi Osbourne, Lee J. Peshlaikai, Jr., Randy Hedrick, Barbara Montez Roybal-Brown
TOP ROW: Michael Cox