ANNOUNCEMENTS
Can you believe it? We've been out of high school almost 50 years! Hard to believe since we're so young…
I've tried to get some information from Chan on the reunion planning for our 50th in 2019. He's pretty tight-lipped about it. I got very little information. He said it's in a very nice resort In Tucson with lots of opportunities for get togethers throughout the weekend (I'm thinking party in Chan's room?), a very nice golf course with walking trails for those who don't golf, great food (yumm), and great music. I had asked for the Beach Boys, but he said "NO" to that. I suggested they could do country too, maybe a little Texas Tornado with a beach background, but he still said, "NO!" Apparently, he has no imagination.
I think it will be nice to be in Tucson. A little cooler maybe? A few new faces maybe? If you know any of those class member's faces who haven't attended in the past, please encourage them to come. It would really be nice to have us all together once again.
I'm getting a new bottle of Aleve for the event. You're all welcome to share. It will be on my table once the dancing starts!
Please update your snail and email information, phone info, etc. on this website so you can be found for the upcoming reunion. We can't notify you if we can't find you. When you talk to your classmate friends, ask them if they have seen this notice. If they haven't, please share this info and ask them to join the site so we can keep them updated on reunion information.
Any special requests or suggestions for this reunion? Let us hear about them!
Looking forward to seeing you in 2019! Myrna
45th Reunion pics

Ron Osborne and Katie Pelusi Osborne
Joel Godbey and Katie Pelusi Osborne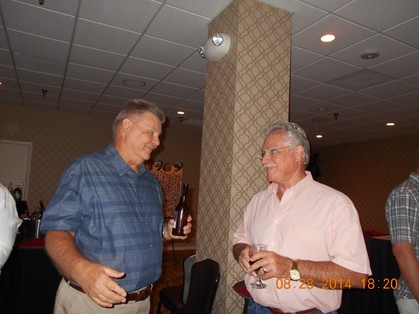 Randy Hedrick and Ron Osborne
James Edd Hughs, Sharon Farrington, and Debbie Hughs
Kelly Morrow, Joel Godbey, Audria Hogg Sullivan, Michael Cox, Laura Cox
Jackie Bradford, Tony Serna, Joe Castaneda
Sylvia Easley Stogner, Barbara Montez Roybal-Brown, Vicki O'Neal Hedrick, Linda Glassgow
Faizyar "Zabby" Fabiullah, Melinda Amijo Patrick, Leslie White Cox, Randy Hedrick, Ladell Parkhill Hoffman
James Edd Hughs, Katie Pelusi Osborne
Myrna Bull LaHaie, Katie Pelusi Osborne, Sylvia Easley Stogner
Jacque White
Carmina Gallegos Saccucci and friend
Melinda Armijo Patrick, Chris Serna Corn, Sally Subia
Michael Cox
Linda Glassgow, Barbara Montez Roybal-Brown, Janice Wood Tysoe, Faizyar "Zabby" Fabiullah
Joe Castaneda, Roberta Castaneda, Vicki O'Neal Hedrick
Dolores Perez Benavidez, Katie Pelusi Osborne, Arnold Segovia, Cecilia Lujan Segovia
Michael Cox, Myrna Bull LaHaie
Dancin' in front of the high school (to your right)
Jacque White (back to us), then left to right - Arnold Segovia, Joe Castaneda, Sylvia Easley Stogner, Chan Farrington, Roberta Castaneda, Steve Benavidez (back to us)
Rose Lee Hansen Jaquez, Joe Castaneda, Roberta Castaneda
Sylvia Easley Stogner, Randy Hedrick, Barbara Montez Roybal-Brown
James Davis, Faizyar "Zabby" Fabiullah, Chan Farrington, Jim Sullivan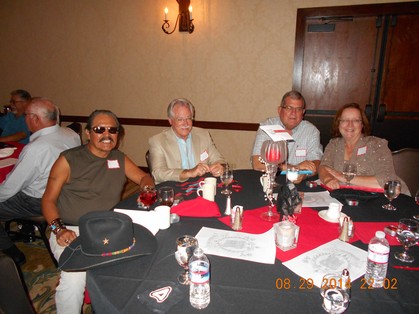 Lee J Peshlakai Jr., Ron Osbourne, John Tysoe, Janice Wood Tysoe
Michael Cox, Myrna Bull LaHaie Jackie Bradford, Katie Pelusi Osbourne
KNEELING: Chan Farrington, Joe Castaneda
FIRST ROW: Faizyar "Zabby" Fabiullah, Arnold Segovia, Myrna Bull LaHaie, Ladell Parkhill Hoffman, Jacque White, Janice Wood Tysoe, Sharlene Wood Sorenson
SECOND ROW: Steve Benavidez, Mary Jo Munoz Cervantez, Cecilia Lujan Segovia, Jackie Bradford, Vicki O'Neal Hedrick, Sylvia Easley Stogner, Joel Godbey
THIRD ROW: Tony Serna, Unknown, Ida Synder Wickizer, Rose Lee Hansen Jacquez, Melinda Armijo Patrick, Katie Pelusi Osbourne, Lee J. Peshlaikai, Jr., Randy Hedrick, Barbara Montez Roybal-Brown
TOP ROW: Michael Cox