ANNOUNCEMENTS
The Morenci Class of 1969 45th year class reunion was held at the Chandler San Marcos Resort August 29-31, 2014. We had approximately 60 classmates and guests in attendance between the Friday night happy hour, and Saturday lunch and dinner. Our classmates and their guests attended the functions as their time allowed and it was really enjoyable to see both the familiar faces, and faces that hadn't been seen in some time.
It has been a pleasure attending these events the past 25 years and an honor to have been trusted to be involved in the planning of almost all of them. I think this last reunion was, for me, the most enjoyable. While the planning portion was quick and a little stressful, the end result was very enjoyable. The dancing was great in that I didn't care who was watching. So, in retrospect, my apologies to anyone who did happen to watch me, because I danced until I almost couldn't anymore. Those of us up there were having a ball! Join us next time!
Seriously, looking around the room at the smiling faces, and hearing the stories being told at the different tables reminded me of being home. "Home" being back in Morenci. Pick a night, pick a dance, pick a football game, pick a slumber party, or pick any get together, it was home. The faces I was seeing at the reunion weren't any older; the bodies I saw at the reunion tables weren't any different than those I remembered from the 60's. The stories took me right back there and I was reliving high school again, but it was more fun because there was no curfew, there was total acceptance of everyone, and the DJ played "We are family" which seems to have become our theme song. We really are family. We can't go anywhere without running into someone from Morenci, and we still care about each other. Let's continue to stick together.
Please update your snail and email information, phone info, etc. on this website so you can be found for the next reunion and any parties we can convince someone to throw in the meantime! We can't notify you if we can't find you!
Chan Farrington has agreed to plan the 50th reunion. If there are ideas you have or something you want to change, let him know. I'm sure he would love your input. If you want to help, offer! See you at the 50th!
I love you all - very much...Myrna
45th Reunion pics

Ron Osborne and Katie Pelusi Osborne
Joel Godbey and Katie Pelusi Osborne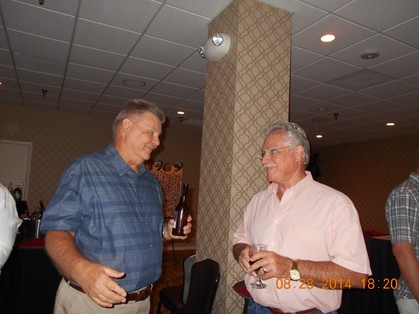 Randy Hedrick and Ron Osborne
James Edd Hughs, Sharon Farrington, and Debbie Hughs
Kelly Morrow, Joel Godbey, Audria Hogg Sullivan, Michael Cox, Laura Cox
Jackie Bradford, Tony Serna, Joe Castaneda
Sylvia Easley Stogner, Barbara Montez Roybal-Brown, Vicki O'Neal Hedrick, Linda Glassgow
Faizyar "Zabby" Fabiullah, Melinda Amijo Patrick, Leslie White Cox, Randy Hedrick, Ladell Parkhill Hoffman
James Edd Hughs, Katie Pelusi Osborne
Myrna Bull LaHaie, Katie Pelusi Osborne, Sylvia Easley Stogner
Jacque White
Carmina Gallegos Saccucci and friend
Melinda Armijo Patrick, Chris Serna Corn, Sally Subia
Michael Cox
Linda Glassgow, Barbara Montez Roybal-Brown, Janice Wood Tysoe, Faizyar "Zabby" Fabiullah
Joe Castaneda, Roberta Castaneda, Vicki O'Neal Hedrick
Dolores Perez Benavidez, Katie Pelusi Osborne, Arnold Segovia, Cecilia Lujan Segovia
Michael Cox, Myrna Bull LaHaie
Dancin' in front of the high school (to your right)
Jacque White (back to us), then left to right - Arnold Segovia, Joe Castaneda, Sylvia Easley Stogner, Chan Farrington, Roberta Castaneda, Steve Benavidez (back to us)
Rose Lee Hansen Jaquez, Joe Castaneda, Roberta Castaneda
Sylvia Easley Stogner, Randy Hedrick, Barbara Montez Roybal-Brown
James Davis, Faizyar "Zabby" Fabiullah, Chan Farrington, Jim Sullivan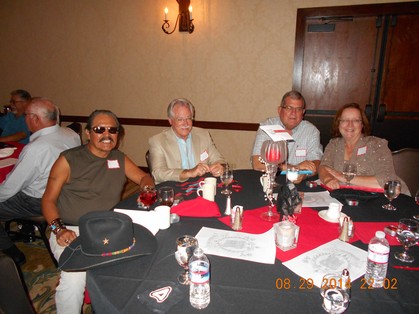 Lee J Peshlakai Jr., Ron Osbourne, John Tysoe, Janice Wood Tysoe
Michael Cox, Myrna Bull LaHaie Jackie Bradford, Katie Pelusi Osbourne
KNEELING: Chan Farrington, Joe Castaneda
FIRST ROW: Faizyar "Zabby" Fabiullah, Arnold Segovia, Myrna Bull LaHaie, Ladell Parkhill Hoffman, Jacque White, Janice Wood Tysoe, Sharlene Wood Sorenson
SECOND ROW: Steve Benavidez, Mary Jo Munoz Cervantez, Cecilia Lujan Segovia, Jackie Bradford, Vicki O'Neal Hedrick, Sylvia Easley Stogner, Joel Godbey
THIRD ROW: Tony Serna, Unknown, Ida Synder Wickizer, Rose Lee Hansen Jacquez, Melinda Armijo Patrick, Katie Pelusi Osbourne, Lee J. Peshlaikai, Jr., Randy Hedrick, Barbara Montez Roybal-Brown
TOP ROW: Michael Cox