Rhein Main Air Base
1950-2005
Aircraft Mechanics Memorial
Aircraft Mechanic's Memorial Monument

FOLKS --- Your Help is NEEDED
A retired Air Force member has designed a memorial monument to
recoginize all Air Force Aircraft Mechanics.

This is truly one of the best projects you can get involved with.
PLEASE, PLEASE, PLEASE -- MAKE A DONATION
I sincerely ask you to make a donation to help fund this this outstanding
Aircraft Maintenance Monument project.

Please make a significant donation towards the purchase and upkeep of the Mechancis and Maintenance Teams 3D relief monument. Lets make a significant contribution --
knowing that NO aircraft flies without the dedicated men and women who maintain them day in and day out.

Either you send your donations to Jerry Haines directly or during the reunion, I will accept donations and will send them to him with your name and on behalf of the Rhein Main
Veterans Reunion Group.

THIS IS AN AWESOME PROJECT
To Be a Part of of the memorial monument that will be placed in the USAF National Air Museum MEMORIAL GARDEN
Anyone sending a donation to Jerry Haines, please let me know the amount and I will track the
amounts and will post our running total. (Please let me know if you want your name published
or anonymous).
Please make a donation in memory of your favorite person / organization
$1500 Warren J. 435th OMS Enroute Maintenance Reunion Group
$ 500 Johnson F. 435th OMS Enroute Maintenance Reunion Group
$ 500 Anonymous Aircraft Mechanic Momument
$1000 Fessler, B 435th OMS Enroute Maintenance/ QA
$ 500 Anonymous Aircraft Mechanic Momument

PLEASE KEEP YOUR DONATIONS COMING

Aircraft Mechanics and Maintenance Teams 3D Relief Monument
The monument will be erected in the Memorial Gardens, at the National Museum of the USAF,
WPAFB, OH.

Jerry Haines is in the process of obtaining donations to create a 3D relief monument to recognize the thousands of aircraft mechanics and maintenance teams.

Mr. Haines, came up wth the following idea:
Mechanics and Maintenance teams are underrepresented in the memorial garden
at the National Museum of the USAF.  He and Larry at Dodd's Monument have
designed a seven-foot 3D relief statue and hope to raise enough funds
to install it by next summer or fall.

Mr. Haines was a mechanic with the 316th TAW, the 91st Bomb Group and
the 463rd Airlifters Assn.  He has hosted many maintenance reunions.
Jerry retired in his mid-70's as a mechanic with the 445th Air Wing
here at WPAFB.

There are no statues for Mechanics in the park (plaques, yes, statues, no)
and he'd like to rectify that.

*******************************************************

My name is Jerry Haines and I am looking for assistance to raise $38,000.00
to help pay for a monument that will be dedicated to the Aircraft Mechanics
of the United States Air Force.  This monument will stand proudly at the
United States Air Force Museum Memorial Garden.
I served in the Air Force for twenty years and reminisce frequently with
old friends of our experiences and travels that led us around the world
to do our job as an aircraft mechanics. After visiting the
Museum's Memorial Garden there were memorial for Pilots, Navigators,
Engineers and Load Masters. But I noticed there was nothing to honor
the unsung hero the "Aircraft Mechanic".
This request is in hope that you would be able to make a generous donation.
The money raised will be used to cover the costs of the monument that will
be carved in granite. I am enclosing a copy of the monument which will
include the Aircraft Mechanic's Creed. The actual dimensions will
be 7' 1 inch in height and 40 inches in width. It is my hope to dedicate
this memorial in July 2020, an actual date will be determined upon
further discussions with the Air Force Museum and Dodd's Memorials.
You have no idea how much it means to me to be able to dedicate a
memorial to my fellow men and women who honored the 'creed'.
Thank you in advance for your anticipated support.
Thank you,
Gerald Haines

Please make your checks payable to: Dodd's Memorials
Mail to: Gerald "Jerry" Haines
2411 S. Tecumseh Road
Springfield, OH 44502

http://www.classcreator.com/Dayton-Ohio-Air-Force-Maintenance-Statue-1947-2023/class_index.cfm

Any questions: gerald_haines@yahoo.com
National Air Force Museum
Wright Patterson, AFB, OH
https://www.nationalmuseum.af.mil/
~~~~~~~~~~~~~~~~~~~~~~~~~~~~~~~~~~~~~~~~~~~~~~~~~~~~~~~
AIRCRAFT MECHANICS CREED
UPON MY HONOR I swear that I shall hold in sacred trust the rights and privileges conferred upon me as a certified mechanic. Knowing full well that the safety and lives of others are dependent upon my skill and judgment, I shall never knowingly subject others to risks which I would not be willing to assume for myself, or for those dear to me.
IN DISCHARGING this trust, I pledge myself never to undertake work or approve work which I feel to be beyond the limits of my knowledge nor shall I allow any non-certified superior to persuade me to approve aircraft or equipment as airworthy against my better judgment, nor shall I permit my judgment to be influenced by money or other personal gain, nor shall I pass as airworthy aircraft or equipment about which I am in doubt either as a result of direct inspection or uncertainty regarding the ability of others who have worked on it to accomplish their work satisfactorily.
I REALIZE the grave responsibility, which is mine as a certified airman, to exercise my judgment on the airworthiness of aircraft and equipment. I, therefore, pledge unyielding adherence to these precepts for the advancement of aviation and for the dignity vocation.
Jerry Lederer Founder, Flight Safety Foundation.
~~~~~~~~~~~~~~~~~~~~~~~~~~~~~~~~~~~~~~~~~~~~~~~~~~~~~~

DEDICATION CEREMONY
I'm already planning to attend the Dedication Ceremony of this proposed beautiful statue,
that is described above recognizing the thousands of USAF Aircraft Mechanics.

The ceremony is hoped to take place, sometime July 2020.
The details will be published, when they become available.

You will want to attend this presentation ceremony to the USAF Air Museum.
The ceremony is moving and rewarding.
EXPECT A MINI REUNION CELEBRATION

When the 435th OMS Enroute Maintenance Section presented their
Plaque to the US AIR FORCE MUSEUM, the ceremony was awesome.
The Enrouters that attended this ceremony, will always remember it.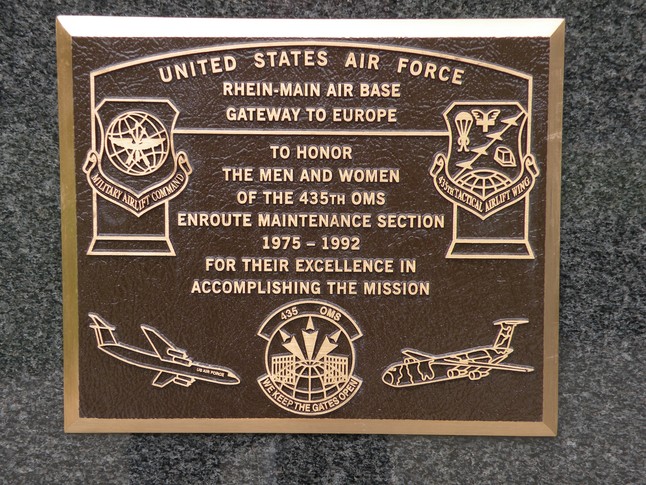 http://www.classcreator.com/435thOMSENROUTEMX/class_custom7.cfm