Billings Senior High School
Class of 1967
Welcome to the Billings Senior High Class of 1967 website!
If you are new to our website, please take the time to click on "First Time Visitors" for help in registering and navigating the pages. Also please edit your profile and complete or correct your contact information and add photos. Please limit the number of photos on your profile to six (6). There is a maximum amount of space allotted on our website, and we want to be able to allow all of our classmates to not only download photos but to correspond with one another for years to come. Check out the photo gallery tab to view memorable pictures of our senior class, favorite places, and the iconic murals.
Please help if you have information on any of the missing classmates. Feel free to use the "Contact Us" button with questions or important information.
This website may be subject to change, so remember to check it often for updates and new member (classmates) profiles.
Fun times were had by all at our 55th. It was wonderful to see cherished friends and classmates. We also got a wonderful surprise! the BSH Cheerleaders put on a show for us. There is a video below under the photos taken at the 55th reunion. You can view pictures of all our reunion events in Photo Gallery. Also below are pictures of our 50th reunion as well as our 70th Birthday party.
If you live close to Billings, we have a get together the first Monday of every month at 5:30 PM at Tiny''s Tavern at 323 N 24th Street in Arnie's Room.
55TH REUNION
Connie Dye Kellogg and Marcia Ennis Mack
Mark Randak and Leroy Griffing
Sitting: Robin Boucher Nash, Connie Muck, Vicki Damson, Chuck Damson Standing: Rick Orr and Bill Ehresman
Mark James, John Langeliers, Nickie Langeliers, Dona Schlenker Cranston
Bruce Hamm and Marilyn Hamm
Tim Bergstrom, Charlotte Ginder Fannon, Diane Hunter, Bob Fannon
Donna Blankenship, Patty Mills Dreezen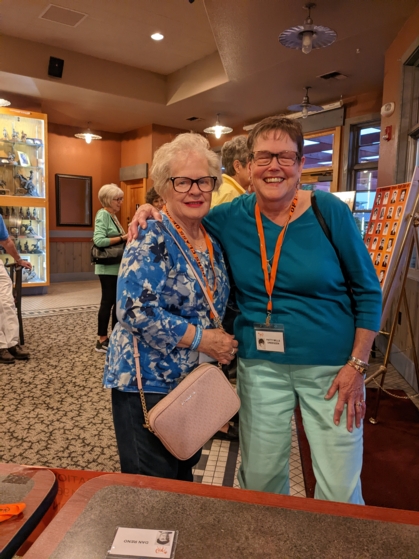 Andy Hilario
Susan Hexem Griffing
Marcia Ennis Mack and Kerry Lineback Donohoe
BSHS cheerleaders with Terry Roods Bergstrom and Charlotte Ginder Fannon

70TH BIRTHDAY PARTY
Sitting on floor: Dona Schlenker Cranston, Lorna Veraldi, Sitting on chairs: Rose Walker, Marcia Ennis Mack, Tim Bergstrom, Dona Hicks Lambrecht, Patty Mills Dreeszen, Kerry Lineback Donohoe, Dick Richard Willkom, John Collins, Bob Garritson Back standing: Charlotte Ginder Fannon, Scott Galles, Jim Wright, Debbie Wright Clevenger, Ron Hunter, Darla Johnson Dunham, Ginger Paddock Landreth, Nancy Hardy, Bill Jackson, Robe
rta Hehn Cadotte, Nancy Graf, Tim Ennis, Connie Dye Kellogg, John Langeliers, John Armstrong, Paul Mundschenk, Phyllis Jenkins Galles, Mike Brophy, Bill Ehresman, Connie Muck Ray, Bruce Hamm, (hidden Tom Shaughnessy) Dick Morrow, Robin Boucher Nash, Chuck Damson, Carolyn Flynn, Warren Holmes.
50TH REUNION