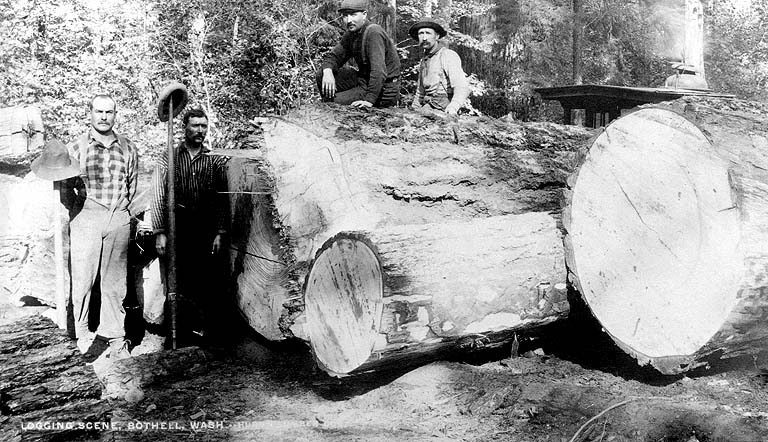 1890 logging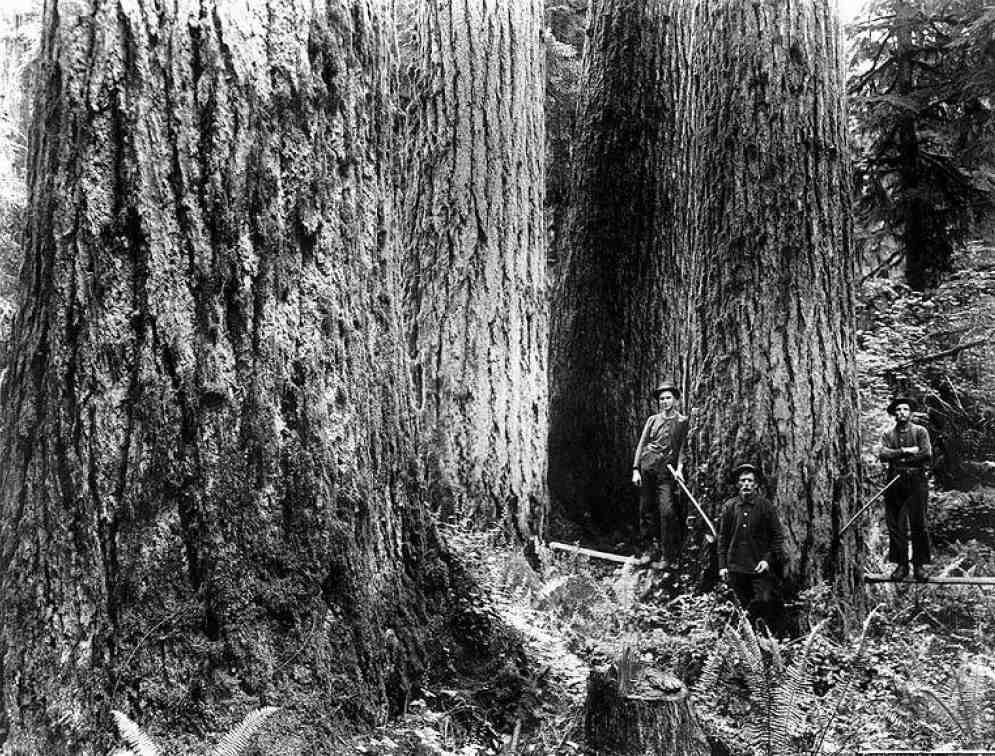 Giant Trees that were Logged
1947 Log Parade Bothell
Early Ferry
Ox Cart
George Bracket
The National Homestead Act of May 20, 1862, signed by Abraham Lincoln, stimulated homesteading of 160 acres per family for more than just timber claims. When the first permanent settlers arrived in the Bothell-Woodinville area around 1871, the area along Squak Slough (now the Sammamish River or Sammamish Slough) was inhabited by the Simump tribe. (Sammamish is another name for the Simump tribe.)
Squak - a corruption of the Indian name Squowh, Squax or sqwa'ux (three common attempts at creating English spellings mimicking the native pronunciation and pronounced by the natives as if spelled Isquowh) - simply meant swampy lowland area. This was an accurate description of the original area before later changes radically altered the valley drainage.
The only transportation was by boat on the slow moving Squak Slough that flowed a sinuous 28 miles from Lake Sammamish to Lake Washington - though only 10 miles as the crow flies. The difference in altitude (from sea level) between the level of the water in Lake Sammamish and the level of the water in Lake Washington ranged from 5 to 8 feet - depending on the season. This small elevation difference resulted in a slow moving river. The entire length was navigable by shallow-draft steamers from Lake Sammamish to Seattle, although obstructions made for a haphazard journey. A major navigational advance occurred in 1884, when a 42-foot scow named the Squak, built at shipyards in Houghton and powered by a 12-horsepower steam engine, began running the river.
In 1876, transplanted Canadian George Brackett bought land and began commercial logging with ox teams from a camp located on the north bank of the Squak Slough in what is now the heart of downtown Bothell. Squak Slough was used to float logs and coal barges from Lake Sammamish to Lake Washington. Often logs and snags jammed the river with the result that navigation at times was difficult. The mouth of the river was east of its present position. The logging camp became Brackett's Landing - the same name as a waterfront park in Edmonds.(In 1884 he platted Edmonds and was its first mayor in 1890.) Logging was a mainstay of the area until the early 1910s.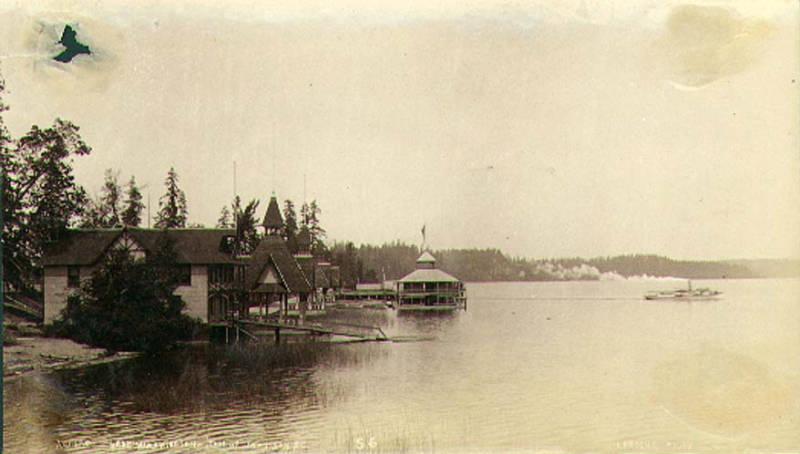 Madison Park on Lake Washington 1892
Bothell Steamer on Lake Washington
Transportation for freight and passengers to Seattle was originally via boat. Steam boats from Bothell to Madison Park on Lake Washington sailed on a regular schedule until 1916. Railroad connections and then paved roads replaced the nostalgic steamers.
The influx of settlers into the Bothell, Woodinville and Kenmore area slowly increased the demand for better transportation and schooling for their children.
The following pages chronicle the founding and growth of the Bothell School District #46 answering these needs.