Colonel White

High School

-- Dayton, Ohio


60th Reunion rescheduled for Aug. 26 & 27, 2022
The Reunion 61 for 61 is a go.
Below you'll find specifics and a registration form. This is likely our last far reaching reunion. We hope that many of you will be able to join us in greeting friends face-to-face for two special evenings of smiles, warm hugs and endless shared memories of times together that can feel like yesterday.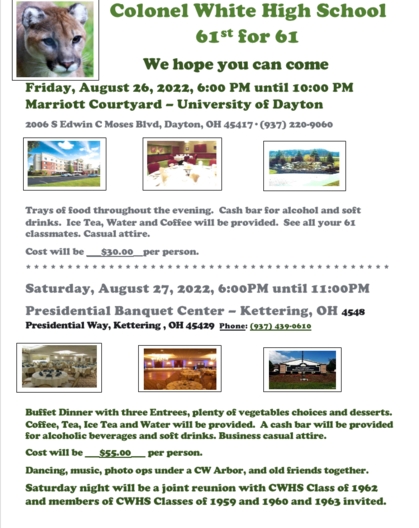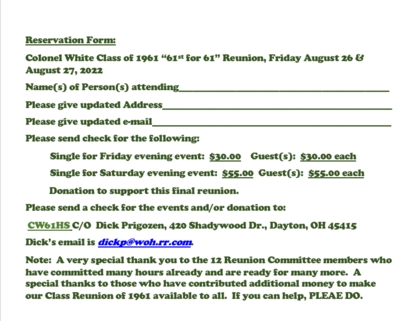 Photo by Reunion Photography (www.kedespo.com/reunion/)
Key to 50th Reunion Photo
(1) Judy Nieman Bergdahl, (2) Sandra Best Hahn, (3) Patty Grossman Paff. (4) Cindy Graves Sharp,
(5) Susan Burd Reed, (6) Barbara Painter Thomson, (7) Rose Finke, (8) Kathy Miller Beck
(9) Linda Wertz Swisher, (10) Mary Geis Howe, (11) Sue Dalton Newman, (12) Bruce Hain,
(13) Nancy Rohrer, (14) Sharon Cryder Raflick, (15) Aileen Naiman Adams, (16) Barb Steiner Fuller
(17) Bill Blackmore, (18) Dave Hammond, (19) Jeri Ward Portnoy, (20) Amanda Vegso Meyette,
(21) Sally Schaefer James, (22) Bonnie Puterbaugh Smith, (23) Doris Teitelbaum Snider
(24) Bob Klein, (25) Lydia Nash Walsh, (26) Sally Spears Talty, (27) Bob Graves
(28) Stevie Jacobson Saeks, (29) Calvin Rose, (30) Bill Mortiz, (31) Joe Apple, (32) Phillip Faulkner
(33) Barry Macy, (34) Bruce Colley, (35) Doug Levy, (36) Marjorie Holycross Zima,
(37) Amy Lamden Burton, (38) Kay Williams Denny, (39) Kathy Weldy Carter, (40) Bonnie Keller Rolf
(41) Carl Moyer-faculty, (42) Dick Prigozen, (43) Nathan Schultz, (44) Ken Kley, (45) Don Weir
(46) Marcia Kramer Deddens, (47) Bonnie Gillespie Goldner, (48) Ted Payne, (49) Steve Stamas
(50) Jane Barger Henry, (51) Joanne Fowler Prater, (52) Pat Geer Mowrey
(53) Marilyn Yokers Harrison, (54) Sharon Bellamy Krauss, (55) Barb Frech Vierling
(56) Carol Zimmerman Frank, (57) Sandy Meadows Chaney, (58) Bill Gaines, (59) Bev Deal Petrina
(60) Roger Harris, (61) Don Mills, (62) Cecelia Thurston Beaman, (63) Bill Engelhardt
(64) Noreen Moldolf Horrowitz, (65) Pete Briedenbach, (66) Larry Schollenberger, (67) Kent Allread
(68) John Weaver, (69) Bob Crouch, (70) Tom Robinson, (71) George Pavlakos, (72) John Williams
(73) Jim Petachi, (74) Biff Backus, (75) Charlotte Wainman Secrest, (76) Dale Floyd
(77) Harley Friedman, (78) Barb Sears Cooper, (79) Bob Cosler, (80) Steve Robinson
(81) Nelson Weine, (82) Jack Evans, (83) Doug Deal, (84) Pat Langley, (85) Dave Thomson
(86) Dick Yanko, (87) Dave Shoup, (88) Ron Wiedenheft, (89) Allan Wool, (90) Aaron Burke
(91) Mark Weinstein, (92) Dick Miller, (93) Ray Louis, (94) Jim Ratliff (not in picture)
(95) Karen Decker Smith (not in picture)