Jenkins Independent Schools
Classes of 1912 - 2022
Early Pics
Check out this link for more Jenkins Pictures
Copy and paste in browser
http://photos.twincommonwealth.com/thumbnails.php?album=3
Goodwater St. 6-5-1914
Lakeside Residence of O. F. Jenkins
Jenkins Park and Power House
Lakeside From Dam Winter (Empty)
Dam Looking Towards Lakeside (Early)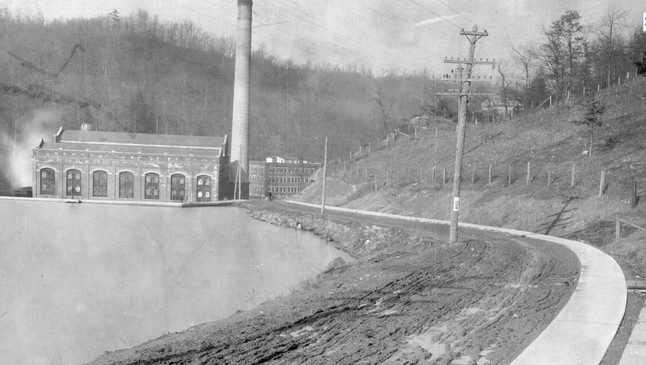 Lakeside Towards Power House (Early)
Lake Looking at Jenkins from GM House
Lakeside Full Early Winter
Lake Early Winter (Full)
Lake Full
Lake Full Looking at Power House
Sailboat on Jenkins Lake
Oak Street Look Towards GM House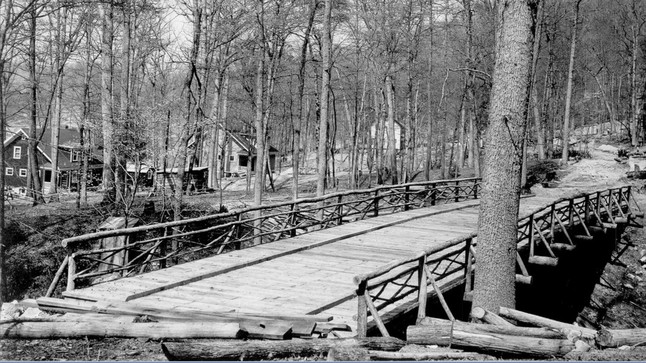 Rustic Bridge. Looking down Oak Street. Houses in front are across from the Lakeside Park and Softball Field 5-11-1912
GM House and Hotel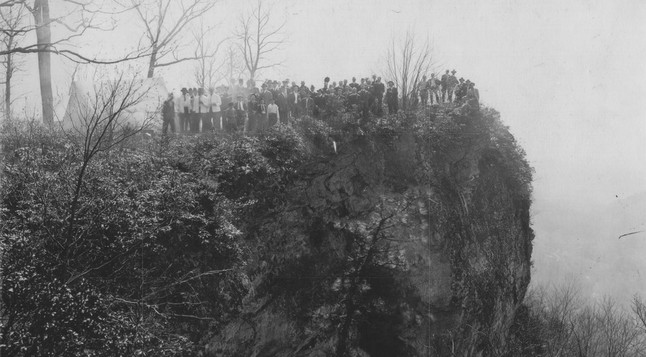 Raven Rock Outing 1919
Inspection Party at Still 4-20-1919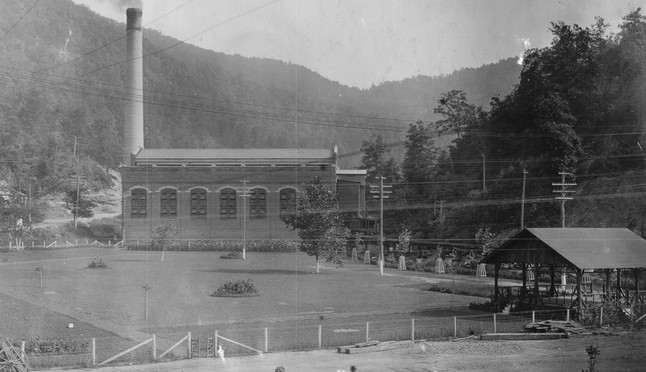 Jenkins Park and Bandstand
Jenkins Park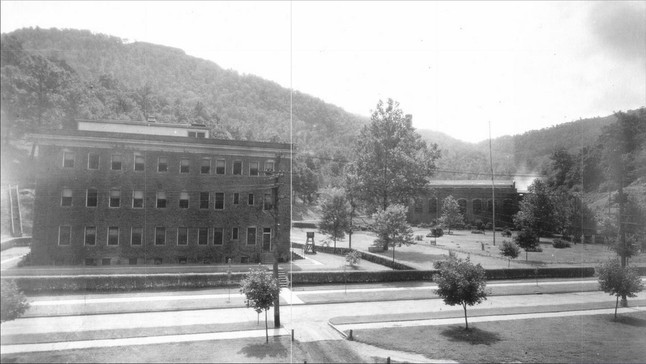 Jenkins Park Office Building and Power House
Houses No. 203 Mine 1-10-13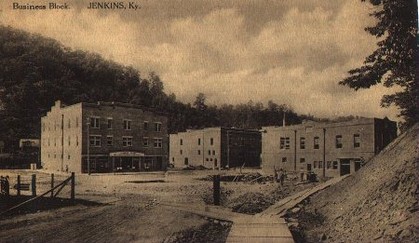 Main Street from Lakeside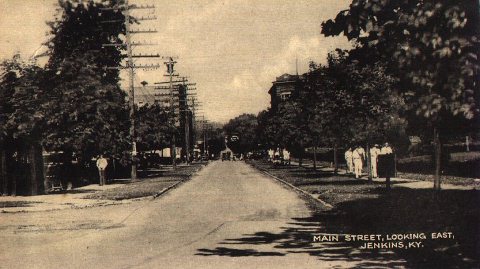 Lump of Coal being loaded for the Pan American Exposition 1915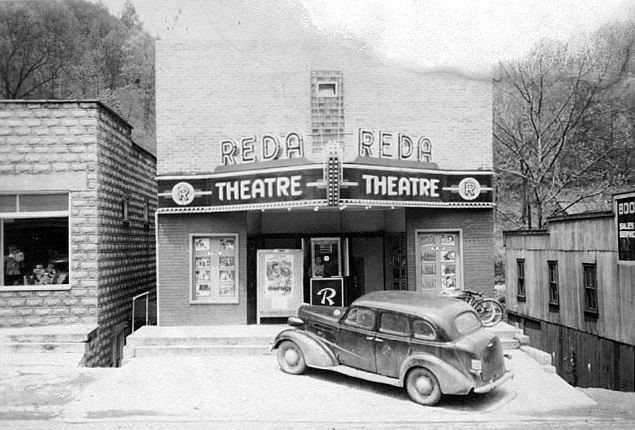 REDA Theater Burdine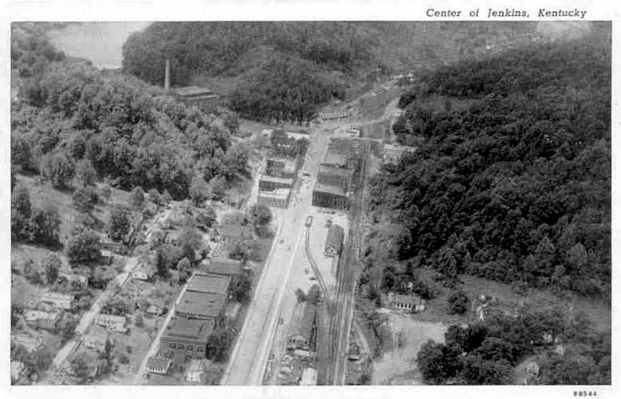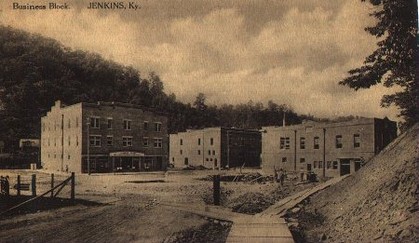 Before the Rec Center was built where the walkway separates.
Main Street Notice Hospital in Background
Jenkins Recreation Building
Jenkins School 1916
Jenkins Hospital
Methodist Church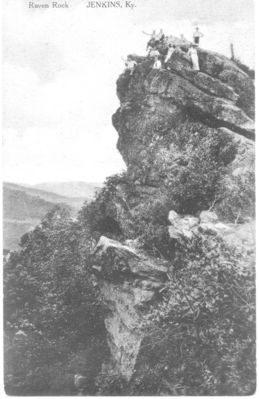 Picture Rock or Raven Rock
Jenkins from Ravens Rock Early 20's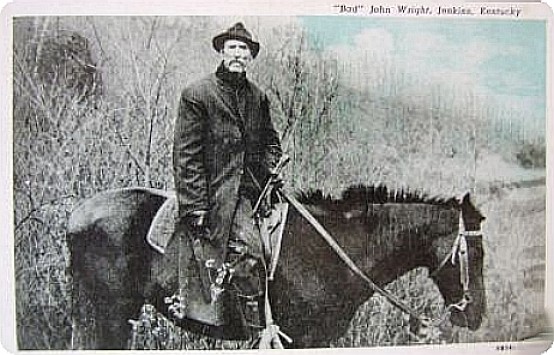 Company Store 1912
Jenkins YMCA 1912
Mine 206 Jenkins
Log Found in Coal in Mine 202 8-30-1912
Jenkins Club House
Jenkins Main Street 1920
Downtown Jenkins 1936
8-23-1923
Jenkins singing on the mountain
Lakeside Drive 1930
Jenkins Miners Go To Work 1935
Jenkins Miners Lunch Break 1935
Jenkins Loading Dock 1910
Jenkins and Yards 1910
US 23 Pound Gap
Burdine #2 Bottom. See road under railroad center right. Burdine School and Burdine Freewill Church would be at the right out of sight.
Railroad Side Track Near # 203 Houses
Jenkins Aerial View 1945
Dunham Prep Plant Around 1950
When Built Was The Largest Coal Preparation Plant In The World.
Could Run Approximately 6,000 Clean Tons of Coal per Day.
Dunham Prep Plant Wide View
Home of Cavalier Coal
The Best Coal In The World
City of Jenkins Mid 2000
Marshalls Branch 1935-40
Front of Jenkins Schools around 1913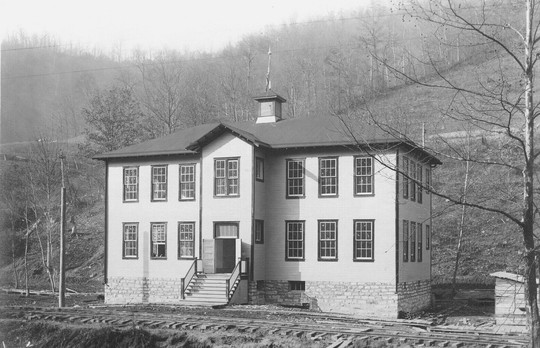 McRoberts School Building around 1912
Burdine-July 8, 1913
Dunham Store Sept 22, 1913
Provided Drinking Water for Jenkins and Surrounding Area. Eventually known as the Jenkins Kiwanis Club Swimming Pool.
Construction of Jenkins Dam (Elkhorn Dam) June 1912. This was built to run the electric generators to provide the town of Jenkins and surrounding coal properties electricity to operate the mines. This was also to become the primary water source for Jenkins.
Elkhorn Dam July 31, 1912
Elkhorn Dam Oct. 14, 1912
Elkhorn Dam after completion and water flowing over the dam.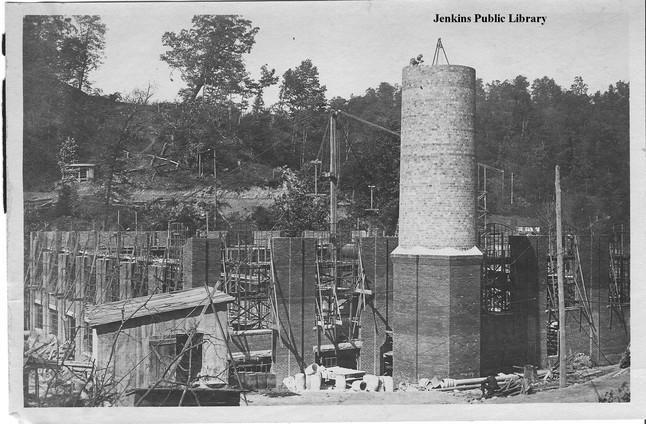 Beginning Construction of Power Plant and Smoke Stack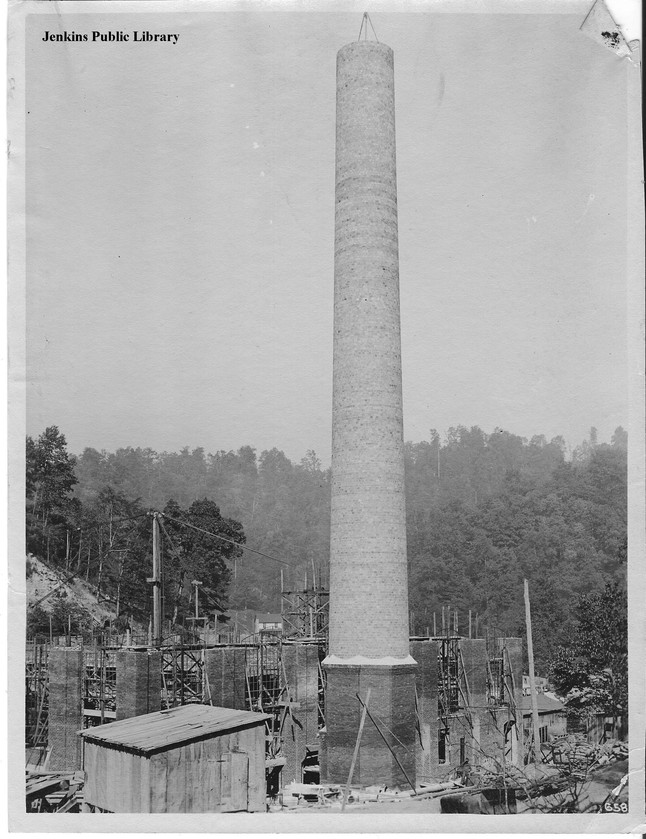 Power Plant Smoke Stack Near Completion
Power House and Smoke Stack in Operation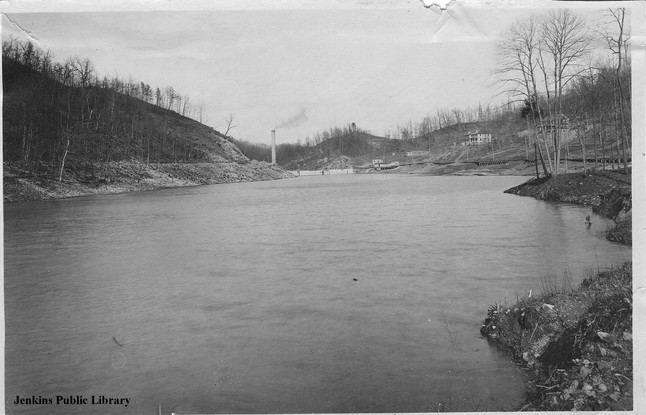 Looking Towards Power Plant from
Brick Plant in Jenkins August 15, 1912. All of the brick used in Jenkins was manufactured at this plant.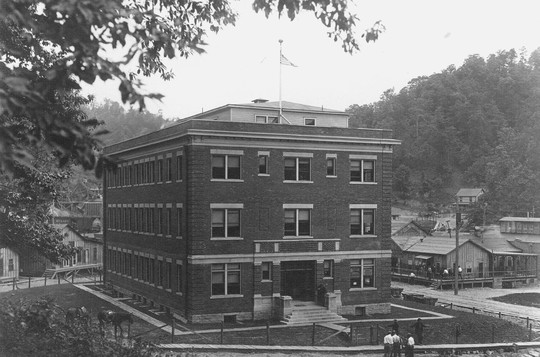 Consolidated Coal Company, Main Office Building July 1913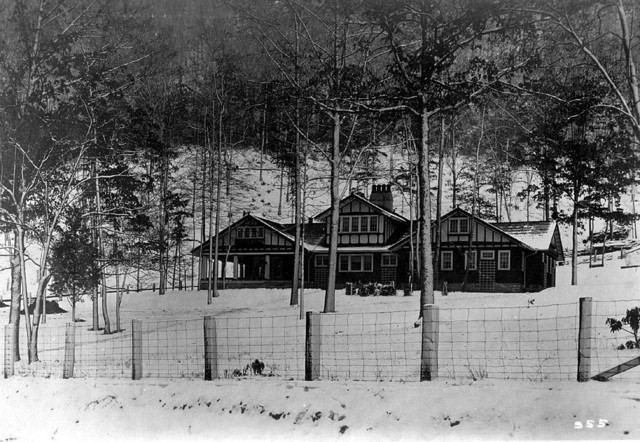 General Managers House 1914
General Managers House 1914 from the rear. Notice side porch on the Jenkins Hotel on left.
Lakeside Hotel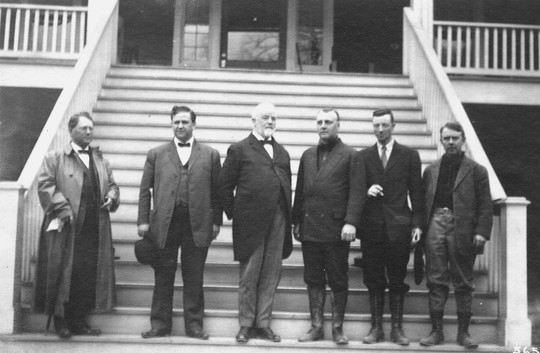 John C.C Mayo, Mr. Buckingham and other unidentified persons standing in front of the Jenkins hotel on Lakeside. Mr. Mayo was the person who put together this large tract of land which became Consolidated Coal Company and was the person who got the C & O Railroad to put the rails from Ashland to Jenkins. He was an associate of people like Andrew Carnegie, Franklin Roosevelt, Henry Ford, Harvey Firestone and other "mover and shakers" at the turn of the 20th century.
View down Oak Street on Lakeside about 1914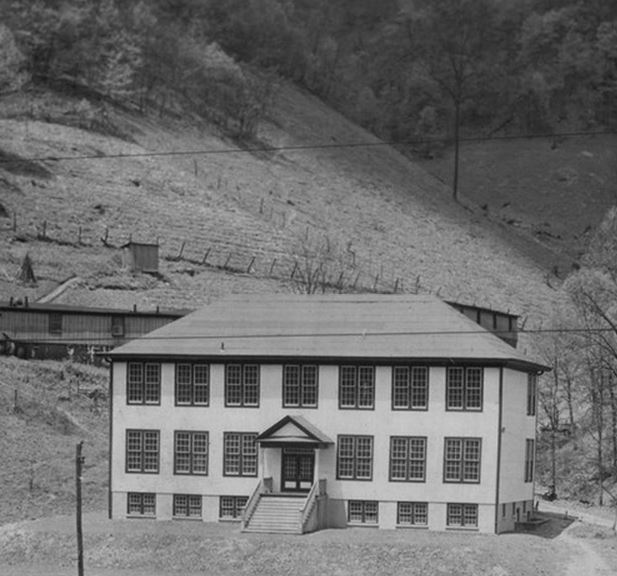 New McRoberts School Building
McRoberts Recreation Building
View of McRoberts Looking From Shea Fork. See McRoberts Store near back of picture.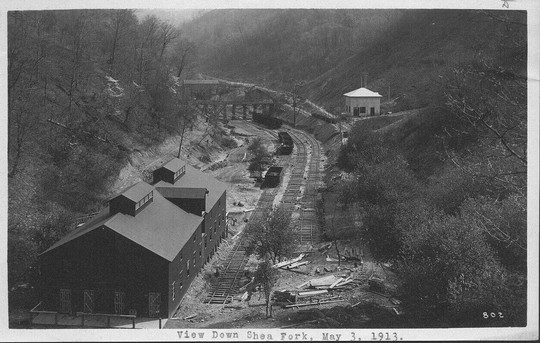 Meat Shop and Store in McRoberts. Another example of how Consolidated Coal Company gave great thought to providing the necessities of life for the miner's who worked in such remote areas of their vast holdings.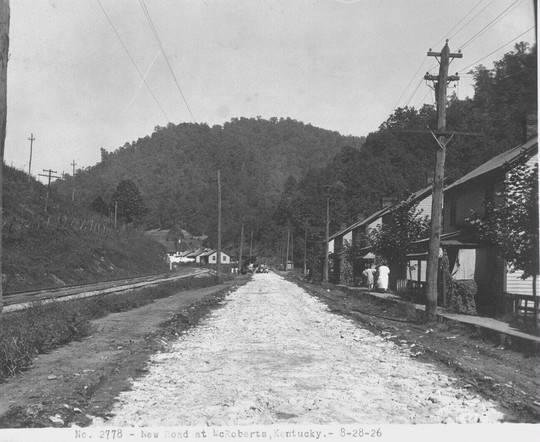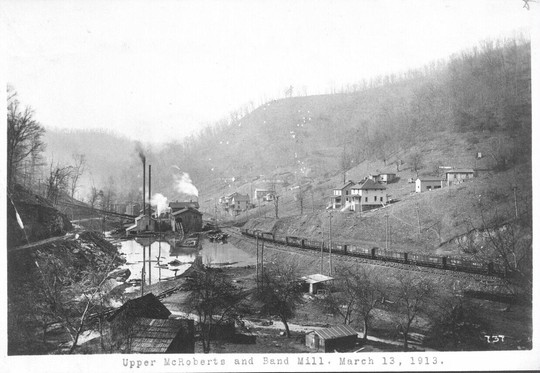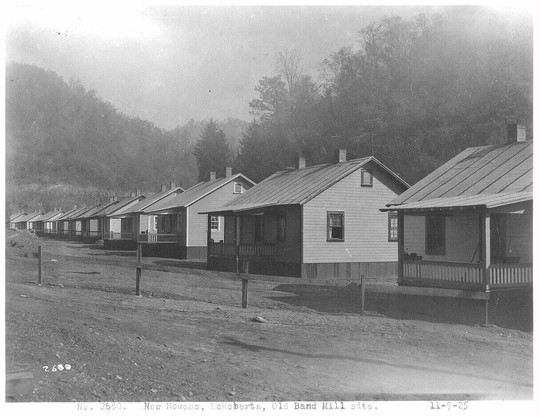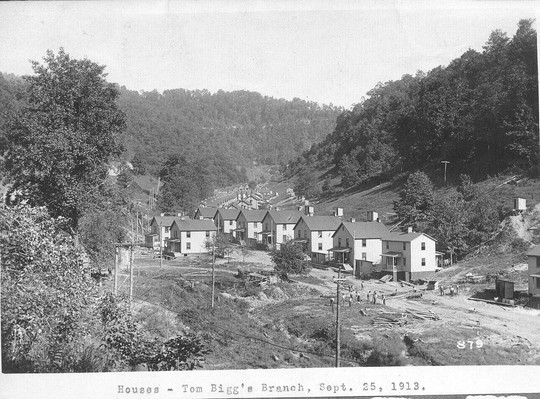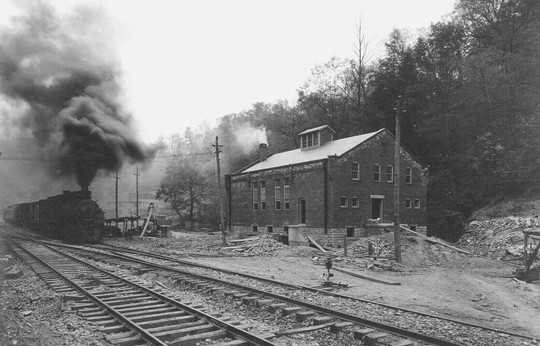 Bakery in Jenkins May 6, 1913. Provided the fresh bread to the growing coal communities of Jenkins, Dunham, Burdine, and McRoberts.
View of Jenkins from Pound Gap showing the lake and power plant. It has been told that this power plant provided power to Van Lear which was another coal property owned by Consolidated Coal. Van Lear is also the homeplace of Loretta Lynn.
Mr. Snapp while at Van Lear around 1920.
C.V Snapp and others in Jenkins taken in 1934.
Mr. Snapp served with Teddy Roosevelt from June 20, 1898 to August 23, 1899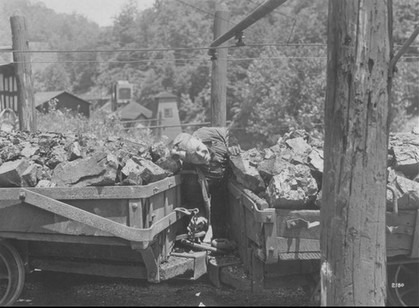 Most Dangerous Profession--Miners Should be Honored and Respected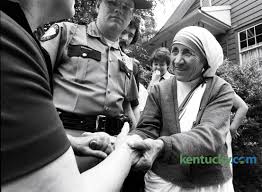 Mother Teresa on her visit to Jenkins.
I had the privilage to spend the day with her at the request of Father Randall to film her visit.
She asked Trey and Barbi if they wanted to go to Calcutta with her. They were ok with it but Mom
and Dad had to intervene.
Durward
Early Jenkins from #204 includes Jenkins Graded School, Methodist Church (built in 1913) and Division Shops.
Goodwater
Oak looking from behind GM House towards Goodwater
Miners waiting to go to work
Jenkins looking down from the top of Wheaton Hollow near Raven Rock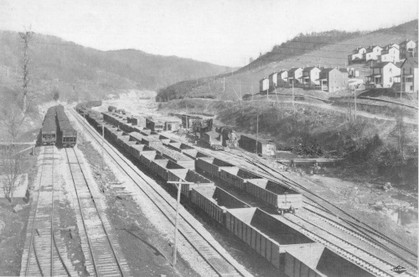 Coal Siding below Jenkins towards Camden
MIne 201---1911
Jenkins 1914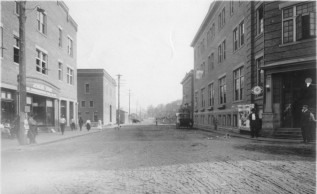 Main Street Jenkins 1920
Company Store and Warehouse on left
Recreation Building and Drug Store on Right
Mine 205
Mine 207 Fire Fighting Equipment
Miners going to work 1937 Pic #1
Miners going to work 1937 Pic #2
Jenkins Coal 1915
No. 108 Mudtown 1918
Jenkins Panorama
Jenkins Prep Plant
#202 Houses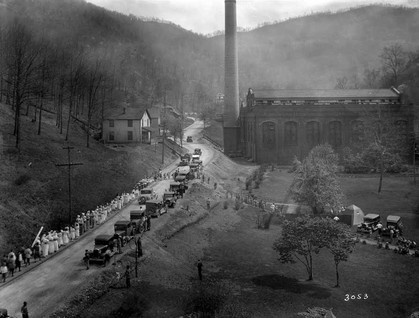 May Day 1932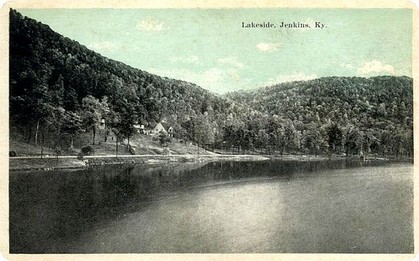 Jenkins Baseball Field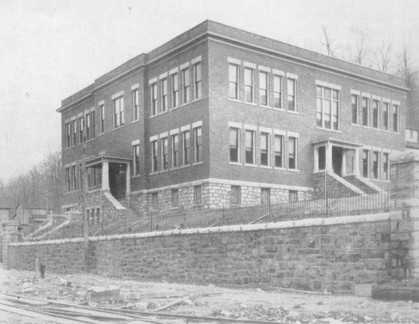 Jenkins Schools approximately 1913-14
View of Sharon Heights Hospital from the city park. 1913-1914
New Ambulance for Sharon Heights Hospital. Man in the center is Ransom Jordan owner of Dodge Dealership in Jenkins.
Jenkins Dairy--Later the Golf Course
Play left side 2 up 1 back and then the right side 3 up to back for 9 holes.
Sometimes became dodge ball with golf balls.
Later a cut was made which let you play starting on the left hollow and
come out on the right hollow
Wide shot of Jenkins taken from Raven Rock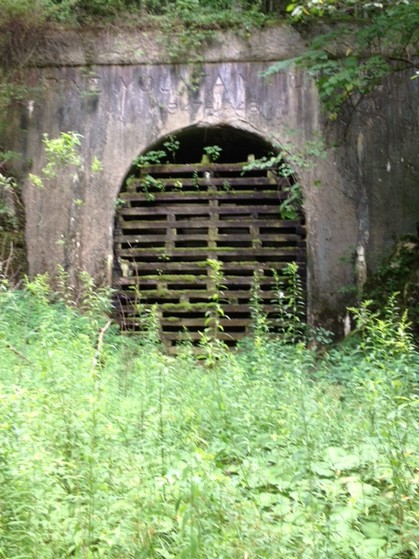 Jenkins/Pound Tunnel 1947-1949 Jenkins/Pound Tunnel 08/12/12
Old Jenkins Jail
Bad John Wright
General Managers House 1-15-1914
Visitors at General Managers House
Kindergarten Class in Burdine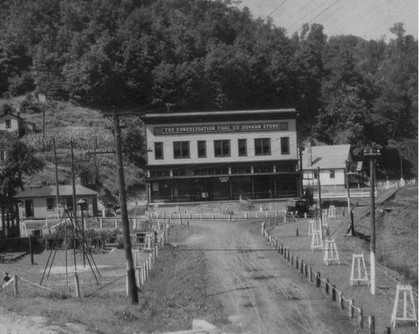 Dunham Store
McRoberts looking at "The Green". Company Store on right.
McRoberts Store, Meat Market and Gas Station
Drug Store Building around 1914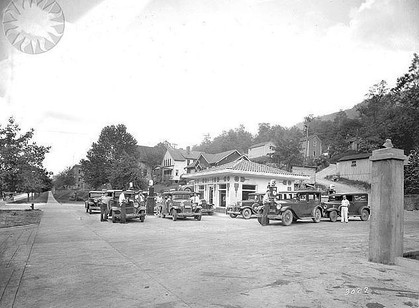 Gas Station in Jenkins
"C.V.Snapp" Home Lakeside around 1914
Mr. Snapp was an educator in Van Lear, KY around 1920 before coming to Jenkins. Did you know that he served in the Spanish-American War from June 20, 1898 to August 23, 1899? He was Superintendent of Jenkins Independent Schools from 1929 to 1961.
House beside "C.V Snapp" Home That Was Demolished in 2009. C.V .Snapp Home Still Stands.