Jenkins Independent Schools
Classes of 1912 - 2022
JIS Sports
1954 Cavalier Football Team
Last Line Should Read Larry Horner instead of Homer
1951 Jenkins Football team with coach Freeman and Principal Roger Wilson.
Back row, L-R-Coach Freeman; "Poss" Cantrell; Thurman "Bear" Tucker; Johnny Mullins; Ronald Scott; Ronald Irwin; ___ Carswell; Burton Bradley; Gary Howard; "Diz" Pack; Bobby "Cobb" Collier; Mr. Wilson;......Middle Row-L-R. "Mustard" Litton; Raymond Ricketts; Jack Horner; Frank "stink" Mink; Carl Bain; Virgil Sweeny; F.D. Toth; ___ Marshall; Jonah Anderson; Coach Paul King; ___ Chandler, Mgr.; Front Row, L-R. "Pap" Blankenship, Mgr.; Coach "Moose" Martin; Unknown; Truman Sexton; Phil Bradly; Larry Newman; Bobby "Bird" Branham; Percy Elkins; Burton Arnett; Roger Blevins; Unk. .... UNK (Unknown)
http://www.baseballinwartime.com/player_biographies/burpo_george.htm
Milt Ticco
Did you know that Jenkins had an All American who played for Adolph Rupp in 1942-43. His name was Milt Ticco.
See the memory page for a little more about him and a link to the site about him and others.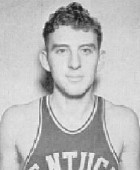 UK All American Milt Ticco
http://www.bigbluehistory.net/bb/Statistics/Players/Ticco_Milt.html
Thanks to Doyle Caudill for the information.
George Burpo
Date and Place of Birth: June 19, 1922 Jenkins, Kentucky
Baseball Experience: Major League
Position: Pitcher
Rank: Unknown
Military Unit: US Navy
Area Served: United States
Created December 17, 2007.
Copyright © 2007 Gary Bedingfield (Baseball in Wartime). All Rights Reserved.
Used by Permission from Gary Bedingfield. 2/9/09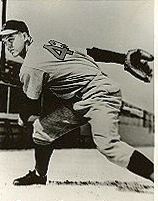 George H Burpo was born on June 19, 1922 in
Jenkins, Kentucky
. At 17, the big left-hander was signed by the Cincinnati Reds and sent to
Muskogee
in the Western Association.
Burpo threw hard and wild. He was 1-4 at Muskogee and spent the next two seasons with the Tucson Cowboys of the Arizona-Texas League. In 1940, he struck out 18 against Albuquerque and still lost the game. Then, in 1941, he pitched a no-hitter. There were times when he was virtually unhittable.
"He won't get to the big leagues overnight," said his manager at Tucson, Pat Patterson, "but he can't miss getting there. Sure, he's wild, but that's the purpose of minor leagues - to help give kids like him needed experience. After all, if he didn't have any weaknesses, he would be up there now, and not in a class D league."
The Reds looked at Burpo during spring training in 1942 before assigning him to the Birmingham Barons of the Southern Association where, despite a respectable 7-7 won-loss record, he managed to set a Southern Association record by walking 12 batters in a game.
Burpo entered military service in 1943 and served with the Navy in Oklahoma. He pitched regularly in the Oklahoma State Service League. On one occasion he struck out 19 of 21 men who faced him. Another time he pitched three innings and struck out all nine batters. "When we didn't play for a couple of weeks I'd find that my control would be off," he told the Tucson Daily Citizen on December 8, 1945. "But if I could pitch regularly and without too long a lay-off, I would have better luck."
Burpo was discharged from service at the end of 1945. He made his major league debut with the Reds on June 9, 1946, and appeared in two games for a total of two-and-one-third innings. True to form, he walked five batters. He spent the remainder of the season with Syracuse in the International League and joined the Columbia Reds in the South Atlantic League in 1947.
"I saw [Burpo] pitch half a game in the first inning," reminisced Columbia teammate Ed Schlensker in the Hamilton Journal-News on February 17, 1974." Manager Walker would make Burpo take the regular pitchers' pregame workouts even on the day he pitched plus maybe 10 or 15 minutes of "pepper" to help tire him out because it was apparent the only time George could consistently get the ball over the plate was when he was tired."
Burpo was 9-13 with Columbia and had an ERA of 5.17. He was with the Seattle Rainiers in the Pacific Coast League for spring training in 1948, but was released to Tulsa and then purchased by Denver. He retired from the game before the season was out.
George Burpo later operated the Moore Business Forms company in Albuquerque and participated in old-timer's games in the 1970s.