Jenkins Independent Schools
Classes of 1912 - 2022
ANNOUNCEMENTS
| | |
| --- | --- |
| • | The class of 1970 will definitely have a reunion this year on Friday and Saturday of Jenkins Days, August 26th and 27th, 2022. We're attempting to reach everyone but if we've missed you, please contact Catherine (Williams) Tucker at tuckersbigblue@gmail.com |
| • | The 1962, 1976, 1978, 1993, and 2017 yearbooks have been posted to the Yearbook Link page. |
JHS classes from 1958- 64
Jenkins High School "Get Together," July 26th, 2022 YOU ARE INVITED!
Sixty years and more have passed quickly. Several of us who attended JHS in late 50s and early 60s plan to gather in Lexington, KY. to see classmates/spouses/friends and share JHS and Jenkins memories.
The information for our "Get Together" is:
 We will meet at the City Center Marriott Hotel in Lexington, KY. , 2-8 pm, on Tuesday, July 26th. City Center is a beautiful, new development by Phil Greer (class of '64). We will gather there at 2 pm in a private space overlooking downtown Lexington to renew JHS acquaintances. Later, we will share a nice buffet dinner at 5 pm with ample time afterwards to continue visiting.
 We are sending this information by email only targeting JHS classes from 1958- 64 for which we have email addresses. Please help us promote this event by sharing this invitation with your JHS friends and classmates.
 Advanced reservations are required. A reservation form is attached. The costs for the buffet dinner is $45 per person. Complimentary parking is included in the underground Marriott Hotel parking garage. To finalize the buffet planning and parking reservations, we need the reservation form returned with the $45 per person fee by June 7. We request that both be mailed by June 2 to: Frances Howard, 4004 Warbler Hill Circle, Lexington, Ky. 40514. Checks should be made payable to: 2022 JHS "Get Together." To meet event guarantees, reservation fees are non-refundable unless the event is cancelled.
Hotel Information
For JHS graduates who live outside Central Kentucky, we have arranged special rates at the City Center Marriott Hotel and at the Hampton Inn Lexington Medical Center, (only 10 minutes to City Center). Blocks of 15 hotel rooms are being held at each hotel for the nights of July 25, 26 and 27 . The hotel reservation cut-off date is June 7 to get the special rates.
Individuals must make their own reservations directly with these hotels-first reserved, first served-until the room blocks are gone. One night deposit is required for Marriott. You are encouraged to contact and confirm your reservations early. These are special rates.
City Center Marriott Hotel (downtown)
Phones: 1 (800) 228-9290 or 859-253-1000. JHS event M-MXRE4CN Rate: $159 plus local hotel taxes. (includes complimentary parking) Hampton Inn Lexington Medical Center (1953 Nicholasville Road) Reservation phone number 859-313-9000. Reserve under JHS classes.
Rate: $114, plus local hotel taxes(includes complimentary hot breakfast and free parking. Additional info: In June, we will connect JHS graduates for other informal activities and gathering and dining on Monday, July 25 and Wednesday, July 27. Lexington has popular visitor and dining options close to both hotels. City Center has a Jeff Ruby's Steakhouse, ItalX and a rooftop Infinity Café. Lexington Green, Joseph Beth Book Store, Fayette Mall, and the Summit are located just down Nicholasville Road. We look forward to seeing many of you on July 25, 26, and 27. Mickey Jo Combs ('58), Bill Howard ('60), Frances Howard ('61), Raynor Mullins ('61),Billie Davis ('61) Betty Smallwood ('61) and Phil Greer ('64). Reservation Form: July 26 JHS "Get Together" Name:______________________________ JHS Class______ Contact Information: Email___________________________ Phone__________________________ Names of others who will attend July 26 event with you. _________________________________________________ Arrival Date (please circle) 25 26 Other______________ Estimated Arrival Time_______________ Estimated Departure Date/Time_______________________ Hotel Reservations Made (please circle) Yes No Hotel (please circle) Marriott Hampton Other Hotel ________________________ Staying with family/friend (please circle). Yes No Please print and complete this reservation form and include a check to confirm your advance reservations for July 26 ($45 per person). Mail reservation form and check to Frances Howard at 4004 Warbler Hill Circle, Lexington, Ky. 40514. Reservation checks should be made payable to: 2022 JHS "Get Together". Reminders: Hotel reservation cut-off date for special rates is June 7. Advanced event reservations are non-refundable, unless the July 26 event is cancelled.
Welcome to the Jenkins High Classes Of 1912 - 2022 web site. Please join us to be added to the site the year that you would have graduated. You can offer any other information on your profile page that you wish to share.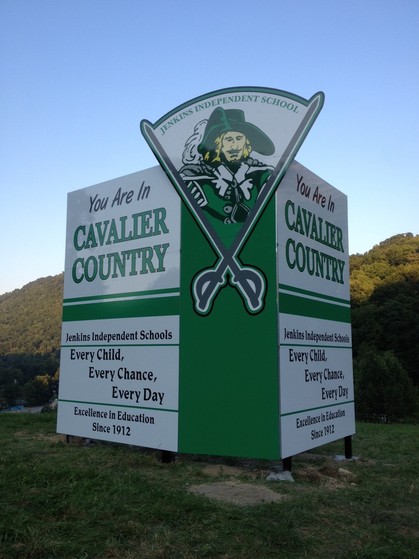 WELCOME BACK OLD FRIEND!
08/22/2012
Link to the Jenkins Independent School System Website
http://www.jenkins.kyschools.us/
Interview with Undertaker George McCoy
One of the sayings was that the company brought you into the world with the company Dr. (Dr. Perry) and took you out of the world with the company undertaker (George McCoy)
Article about the Clubs and Organizations of Jenkins
Interview with Bad John Wright
LINK TO 1973 JENKINS HISTORY BOOK
http://penelope.uchicago.edu/Thayer/E/Gazetteer/Places/America/United_States/Kentucky/Letcher/Jenkins/_Texts/HJK/D*.html
The Jenkins Education Foundation
The Jenkins Education Foundation is asking for your help. Since being established to help enhance the experiences of the students of the Jenkins Independent School System, the Foundation has been able to
help provide playground equipment for the Burdine Elementary building, and fund needed repairs and updates to the sports fields.
The Foundation is incorporated as a non-profit and has taken ownership of the football and baseball field from the Athletic Field Commission, which is no longer in existence.
The Foundation officers are the present elected school board members of the Jenkins Independent Schools and hold their meetings as needed after the regular school board meetings on the fourth Tuesday of the month. The present members are :
Chris Bentley
, Chair,
Eileen Sanders,
Vice Chair, Charlotte Mullins
,
Paulette Sexton and
Sarah Brown
,
If you would be interested in helping the Foundation please make your contributions to:
The Jenkins Education Foundation
C/O Sarah Brown, Treasurer
Jenkins Independent Schools
P.O. Box 74
Jenkins, KY 41537