Jenkins Independent Schools
Classes of 1912 - 2019
In Memory
William Halliburton Greer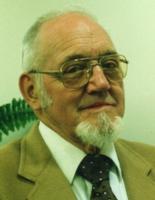 William HalliBurton Greer II, known by many and loved by most, finished his journey here on earth on March25, 2020 to go to be with his Lord and Master Jesus Christ.

Born April 9th, 1926, HalliBurton was the third (middle) child of H.E. & Mary Lee Greer. His name the same as his father's older brother. He was born and raised in Hazard.
In 1957, having completed his Vocational Agriculture degree at UT at Knoxville, he accepted a teaching position at Tipton Hill High School, Relief, NC (Mitchell County. In 1972, he returned to Hazard to care for his aging parents. There he taught at Hazard High School and later accepted a position of Principal at Jenkins High School, Jenkins, Ky where he remained until his retirement in 1993.

Throughout the years though his career was in education, he proclaimed the Gospel of the Lord Jesus Christ. He began his "journey" in the pulpit from the encouragement of Wade Kegley at Broyles Ave Church of Christ in Erwin, Tn. In Hazard, he was a member of the body of Christ that met at Lothair Church of Christ and later at Hazard Village Church of Christ. At both congregations he would often serve as a minister.

He was preceded in death by his wife of 65 years, Ben Wyley, and his grandson Wm HalliBurton (Burton) Greer IV, and is survived by his daughter: Mary Emma Tissue; his son: William HalliBurton Greer (Glenda); two granddaughters: Tabitha Lynn Willes (Rex); Meghan E. Greer; and two great grandchildren: William and Fiona Willes. Among his siblings, he is survived by his youngest brother, Col. James McKay Greer.

The time and place for a memorial will be announced at a later date.