Jenkins Independent Schools
Classes of 1912 - 2019
In Memory
William Austen Vanover - Class Of 2013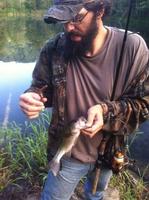 PAYNE GAP, KY- William Austun-Le Vanover, 25, passed Thursday August 13, 2020 due to injuries sustained in an automobile accident.
Austun was a free spirit, he believed in the Lord, but no particular denomination. He was an avid outdoors man, his three priorties were hunting, fishing and spending time with Shelby. He enjoyed life and was one of the few people who could truly say he did what he enjoyed doing. His sister Arissa called him "The Dollar Store Duck Dynasty". Austun was an employee of H2O Roof Contracting.
Austun was preceded in death by his children William Bow Vanover and an infant twin; and his grandfather Bill Marcum.
Survivors include his fiancé and companion of 7 years Shelby Palmer of the home; his mother, Cynthia Lewis and step-father Tom Lewis-Pikeville, KY; his father William Vanover-Payne Gap, KY ; His sister Arissa Vanover-Payne Gap, KY; his grandmother, Mildred Marcum-Payne Gap, KY; his grandmother Carolyn Vanover-Whitesburg, KY; uncle, Randy Marcum and wife Lisa-Payne Gap, KY; uncle, Tim Vanover and wife Susan -Whitesburg, KY, aunt Jill Vanover-Whitesburg, KY; nieces Nevaeh Davis and Calliopi Palmer; special friend, Tim Richardson-Payne Gap, KY and Patrick Sturgill- Jenkins, KY and a host of other friends and family members.
Funeral services will be conducted at 7:00 pm Sunday August 16, 2020 in the Baker Funeral Home Chapel with Reverend Frankie Holbrook officiating. The family will receive friends from 5:00 pm until time of services.
We will be following state mandated occupancy and social distancing standards in the funeral home. Masks must be worn at all times and will not be provided by the family or the funeral home.
Graveside services will be conducted at 1:00 pm Monday August 17, 2020 at the Sam Bentley Cemetery in Payne Gap, KY where Tim Richardson, Patrick Sturgill, Randy Marcum, Bill Vanover, Tom Lewis and Matthew Palmer will serve as pallbearers. Family and friends are
asked to meet at Baker Funeral Home by 12 Noon to prepare to go in
procession to the cemetery.
Baker Funeral Home-Pound, VA is serving the family of William Austun-Le Vanover