Jenkins Independent Schools
Classes of 1912 - 2019
In Memory
Ruby Cooper (Adams)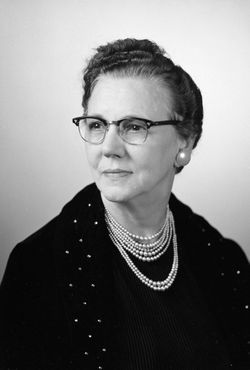 Ruby Cooper Adams
BIRTH
18 May 1902
DEATH
19 Apr 2002 (aged 99)k
London, Laurel County, Kentucky, USA
BURIAL
Elmwood Cemetery
Mount Vernon, Rockcastle County, Kentucky, USA
Ruby Cooper Adams, age 99, of Billows, Kentucky, a native of Rockcastle County, Kentucky, died Friday, April 19, 2002, at Marymount Medical Center, in London, Kentucky. She was the daughter of the late Leila Mae Teague and John Lewis Cooper, and was preceded in death by her husband, Claiborne Bascom "C.B." Adams.
Funeral services were held Tuesday, April 23, at the Cox Funeral Home Chapel, in Mount Vernon, Kentucky, with burial following in Elmwood Cemetery.
Published in The Sentinel Echo (London, Kentucky) on April 19, 2002
Mrs Adams taught Math at Jenkins High School in the late 50s-early 60s. I'm including her husband's obituary because, even though he was not a Jenkins graduate, he worked for Consolidation Coal/Beth-Elkhorn and was active in the community.