Jenkins Independent Schools
Classes of 1912 - 2019
In Memory
Earnest "Ernie" Lowell Lively - Class Of 1953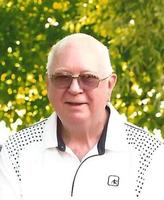 Earnest 'Ernie' Lowell Lively, 84, of Hot Springs, South Dakota, passed away August 21, 2020, at his home in Hot Springs.
Ernie was born December 25, 1935, in McRoberts, KY to Clarence and Elsie (Philkenton) Lively. Ernie's father was a coal miner and he and his friend, Jim, would walk along the railroad tracks and pick up coal to heat their homes. Ernie avoided living that life of poverty by joining the U.S. Air Force in 1954. Ernie proudly served in the U.S. Air Force until his honorable discharge in 1977. While serving in the Vietnam war, he was a B-52 bomber engine mechanic. Ernie was a 1st Sgt at Vanderburg Air Force Base. After his military discharge he worked at the Elks Club as a bar manager and also worked at the VA Center for 17 years until his retirement in 2001.
Ernie will best be remembered as a family man and one who would help anyone in need.
Ernie is survived by his wife, Charlene Lively of Hot Springs; sons, James (Shelly) Lively of Hot Springs; Tracy (Denise) Lively of Rapid City, SD; Terry Lively of Colorado Springs, CO; daughters, Belinda (Greg) Frohman of Hot Springs; Margrethe (Rob) Mason of Hot Springs; Janice (Ross) Sirek of St. Louis Missouri; stepson, Jeff Harper of Scottsbluff, NE; sisters, Joyce (Wayne) Haines of VA; Mary Jane Lively of TN; 19 grandchildren and 28 great grandchildren.
Predeceasing Ernie were his parents; his stepson, Michael Harper and his sister, Edna Lewis.
Visitation will be held 5:00 p.m. until 7:00 p.m., Friday, August 28, 2020, at Chamberlain McColley's Funeral Home in Hot Springs, SD.
Funeral services will be held 10:00 a.m., Saturday, August 29, 2020, at Chamberlain McColley's Funeral Home with committal services following at Evergreen Cemetery in Hot Springs.
A memorial has been established in Ernie's name to benefit the Michael J. Fitzmaurice State Veterans Home in Hot Springs.