Marin Catholic

High School




Class Of 1971
!! POSTPONED !!
50th Class Reunion
50th Marin Catholic High School Reunion—Class of 1971
The Trident Restaurant, Sausalito.
Plans are underway with organizing a Marin Catholic High School Reunion—Class of 1971. It will be our 50th Reunion (shhhh….just don't tell anyone it will be our 50th)
This is a significant milestone in our lives. Let's celebrate our continuing journeys!
Here are the event details. Save the date so you can join and participate in the fun!
Date:
Location:
Time:
Cost:
Menu: There will be plenty of appetizers. This is a "mingle mixer" or "cocktail party" type program. The event includes heavy hors d'oeuvres, no-host open bar, and spectacular views.
Payment: For those who still have checks, make check out to: "Marin Catholic Reunion 1971"
and mail to: Brian McCarthy, 502 Ava Ave, Rohnert Park, CA 94928
NOTE: We will most likely be adding PayPal or Venmo as another payment option in the near future.
RSVP:
Entertainment: YOU ! While there will be no live band, we will have background music playing your favorites from last century. WE (the attendees) are the real entertainment. So, bring your unique perspectives; share lessons learned; contribute your observations on life; and bring your enthusiasm and upbeat attitude along with lots of smiles and laughs. It'll be FUN!
More info? Want to volunteer? "The Committee" is growing:
Contact:
Debby (Cuneo) Escareno debbyescareno@gmail.com 707.287.2657
Molly Sims Simmers12@gmail.com 707.695.6603
Tim Thompson: hotelsalestmt@aol.com 305.240.3316
Gail (Tovani) Piro gailannpiro@gmail.com 415.871.3316
Kathryn (Julie Saroka) Gondak : family505@aol.com 415.272.2615
Volunteers: We need you to spread the news via text messaging, postings, calling, and a little friendly arm twisting. Resurrecting old photos is always fun to have on display at the event or use to build excitement for the event (let alone make classmates blush or laugh). Either way, if you have them, send photos to: HINT: Maybe YOU can volunteer......
Promotion: We will continue to use our Reunion Website: http://marincatholic71.com/
This link will point you to a secure site:
https://www.classcreator.com/Kentfield-CA-Marin-Catholic-1971/class_index.cfm
Note: The committee may start a Facebook page or group site.
Side Entertainment:
May include slide show/video of youthful exuberance (Hint: This is a "casting call" for a director, editor, writer, photo/video collector and/or manipulator, etc…)
"Living the Dream"—your brief definition of what that means
Stories / Rumors / Did you know?: Written recollections (or short videos) of stories or rumors that were forgotten, never solved, or you never knew.
What about COVID-19?
Oh yeah—the pandemic! We realize that some/many of us may still be in hibernation or in seclusion. We all respect that. Committee members decided to move forward with a celebration. It's important to not only reconnect, but to touch base and check in with people we care about. We will honor sentiments, rules imposed by the County Health Department, or other impacts if the virus comes roaring back. A postponement or even cancellation would be prudent if public officials re-enact limitations on event gatherings.
The Trident
558 Bridgeway, Sausalito, CA 94965
​415.331.3232
History of The Trident
http://www.sausalitohistoricalsociety.com/2020-columns/2020/8/5/new-chapter-in-the-history-of-the-trident
Logistics heads-up: The Trident does have limited valet parking. Sausalito does have other parking options. We'll provide more details later.
# # #
BELOW is our PREVIOUS 2016 Reunion
The Reunion was FUN!
The short story
Great to see everybody. Everybody had a good time.
Photo Review: Some select, "authorized and approved"(?) photos have been posted. More will come…..and hopefully, more will come from YOU—the participants. (See below on how to upload your photos onto the class website.)
Yes, thanks to those organizers—Tim, Debby and Brian—but THANKS to you for showing up and being "the entertainment." A party without entertainment is dull and boring (two of the most feared words in the English language—to be accused of being "dull or boring"). We also want to THANK those classmates who called, posted, emailed, and talked to fellow classmates to encourage attendance at the reunion. We also want to thank that drum-playing classmate who provided the music for the night! Your efforts are appreciated!
A classmate wrote after the event that sums it all up: "We really have a nice group of people."
Congrats to all of you for participating. We hope you had fun!
Let's try to make an effort to have more frequent and smaller group gatherings to add more humor into our lives! It takes a little energy to get together for lunch, dinner, dancing, hiking, biking, lectures, movies or just walking. Heck, one small group created a regional Fishing Tournament as a 'hook' to get folks together. The extra effort results in great laughs and brings additional joy to our individual journeys.
Continue to live your dream…..
SEE PHOTOS OF THE REUNION UNDER MENU TITLED, "Photos of 2016 Reunion"
************************
If YOU would like to share your photos on the Class Website, you can email your photos to Brian ( breen5031@gmail.com ). Photos will be posted under the menu: "Photos of 2016 Reunion"
OR….create your own Gallery of Photos. Here's how:
Go to the class website:
Left side MENU, 2nd item: "Classmate Profiles"
FIND your name and click your name.
Click on EDIT PROFILE (to the right of your name at the top)
Top right should say: "Click to Add Photo" (so, click it)
You should see a message:

Select the photos you would like to share with the class. All shared photos will be marked with a . Click and drag thumbnails to adjust sort order.

Top left: "UPLOAD a new photo". This is where you have to find one or more photos on your hard drive. You can "drag and drop". When you are finished, click the "DONE" button.
Your UPLOADED photos will be seen under the Menu on the left: "Classmates PHOTO Gallery".
....more coming soon......instructions on how YOU can add YOUR photos to your Gallery....or have them posted onto this website.
Thank you!
Tim Thompson (aka "Cheer Leader") hotelsalestmt@aol.com 305.240.3316
Debby Escareno (Cuneo) (Vice President of Operations) debbyescareno@gmail.com 707.287.2657
Brian McCarthy (ticket taker / treasurer) breen5031@gmail.com 707.291.5031
The original invite........
YOU'RE INVITED to our 45th Reunion in 2016
Class Reunion--1971 Marin Catholic High School

Date: Saturday, October 1st, 2016
Location: Rooster Run Golf Course
EVENT CENTER
2301 E Washington St
Petaluma, CA 94954
Time: 6pm – 11pm
Meal: Extended Cocktail / Reception type program with heavy hors d'oeuvres, appetizers, sliders, dessert sweets, tea and coffee.
Bar: No Host Bar
Cost: $56 per person
Dress: Casual
RSVP deadline "IF" paying by check is Friday, Sept. 23rd
(note: the deadline for accepting credit cards has come and gone. Sorry! You can pay for the reunion by sending in a check).
ALL RSVP'S are due on/by September 23rd!
Visit our Reunion Website (ok, I think you are already here)
To
REGISTER

for the event and/or

PAY

, click on the

"Pay for Reunion Here"

from the menu on the left side of the HOME web page.
Credit cards are not being accepted after September 15th. If paying by check, make check out to: Marin Catholic Reunion 1971 and MAIL to:
Brian McCarthy, 502 Ava Ave, Rohnert Park, CA 94928
NOTE: We need a final count by Sept. 23rd.
Event location website: http://www.roosterrun.com/event-center
We have had a great response to date (60 people!!). We have sent out global emails to those classmates who have provided an email, either on this site or the list we received from Marin Catholic. We have sent out a postcard to all known addresses. YOU can help by spreading the word and removing all doubt that we tried to get the news out about our reunion. Letting people know is one thing; getting people excited to participate may be another thing. So, let's promote it. Why deprive anyone of having fun?
*************************************************************************************
MORE UPDATED INFORMATION TO COME......
SAVE the DATE:
Saturday, October 1st, 2016, Rooster Run Golf Event Center in Petaluma, CA
PLEASE KEEP POSTING, UPDATING & CHECKING-IN.
THANKS EVERYONE !!
WELCOME !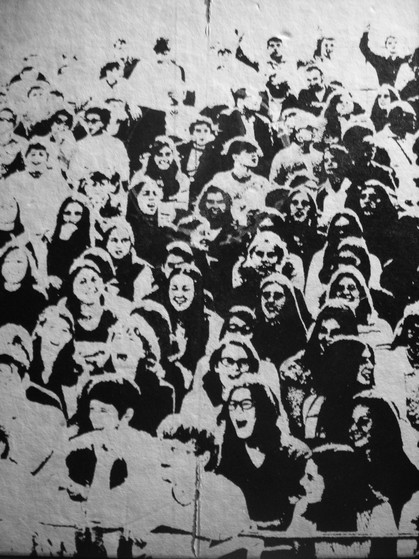 WE'RE LOOKING FOR YOU...
Marin Catholic High School, Class Of 1971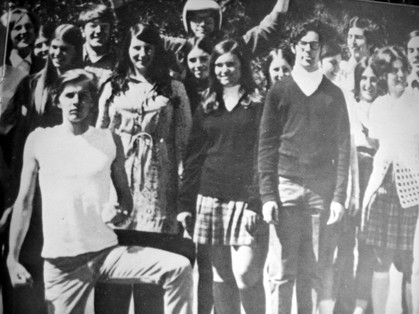 In 2016, it will be 16,425 days since we were Seniors at MC
And, you know what that means...
OUR 45TH CLASS REUNION WILL BE SOMETHING TO CONSIDER.
PLEASE REGISTER: CLICK-ON

'CLASSMATE PROFILES'

LOCATED TO YOUR LEFT, IN THE YELLOW BOX,

TO UPDATE YOUR INFORMATION AND CONTACT CLASSMATES
PLEASE CONTRIBUTE PHOTOS: CLICK-ON PHOTO GALLERY
PLEASE HELP US WITH INFORMATION ON THE 'IN MEMORY' PAGE
THE 1971 HISTORY/VIDEO PAGE IS QUITE THE TRIP DOWN MEMORY LANE, OR IS THAT THE MIRACLE MILE
IF YOU'RE SO INCLINED, PLEASE CALL A FEW FRIENDS, GIVE THEM THIS WEB ADDRESS AND ASK THEM TO SIGN-UP.
KEEP CHECKING-IN FOR UPDATES.
THANKS.
WE APPRECIATE YOUR SUPPORT.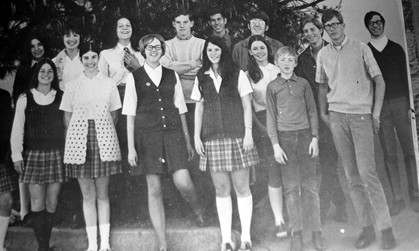 "You can understand and relate to most people better if you look at them - no matter how old or impressive they may be - as if they are children. For most of us never really grow up or mature all that much - we simply grow taller. O, to be sure, we laugh less and play less and wear uncomfortable disguises like adults, but beneath the costume is the child we always are, whose needs are simple, whose daily life is still best described by fairy tales."
-Leo Rosten:
American Educator
This website is yours to enjoy and will remain active so you can keep in touch with fellow classmates.