ANNOUNCEMENTS
"Celebration of Champions" is the 2022 May Day theme. Below is information for our class of 62 Champions!
Our 60th class reunion will be held starting at 5:30 pm on Friday, May 13th, 2022, at the Opera House Ballroom. Come enjoy the 109th All Schools Day (MAY DAY) parade in the morning and join your classmates later that afternoon. We will be visiting and reminiscing before enjoying a catered dinner at 6:15. More entertainment and visiting will continue after eating. Detailed Information will be sent to you in another email as we get closer to the event including where to make your reservation.
The volunteer reunion committee has voted to close out our bank account by spending the remaining balance of $471.27 for our reunion expenses. Therefore, the minimum cost to you could be $0 and the maximum $10.00 per person depending on how many attend the reunion. That amount wlll be determined after the reservations are made no later than May 1st.
Has anything changed in the last twelve or so years in your family since our website started? Many or most of you need to update your current information in your profile on our class of 62 website, especially your email address and telephone number. Many of us have dropped our landlines and use only our cell phones. On the left side of our website screen go under Member Functions, Edit Profile, and make your changes. Make sure to go to the bottom of the page and SAVE your changes.
If you have any questions, I'll be happy to try and answer. Carol Kemp Engelland 1/17/2022
---
We received word that Janna Broadbooks Worden passed on Christmas Day in Utica, NY. Janna was a guest member of our class. Her husband, Bill, graciously shared her obituary with us. It can be viewed at Classmates>In Memory, under Guests. Carol Kemp Engelland 12-31-21
---
Recently several of us along with Dean Elliott's family gathered in front of the Elliott Insurance Agency to view the memorial bench the "May Day Bunch" purchased in his memory. For many years a group of us spent May Day with Dean and Donna, viewing the parade together, and then enjoying a BBQ at the Elliott's after the parade. Pictured around the bench are Donna Elliott, sons Chris and Andy Elliott, and daughter, Jamie. The rest pictured are the "May Day Bunch" including Richard Patton, Jim Schoen, David Link and wife Anita, and Bill and Carol Engelland.
9/14/21 Carol Kemp Engelland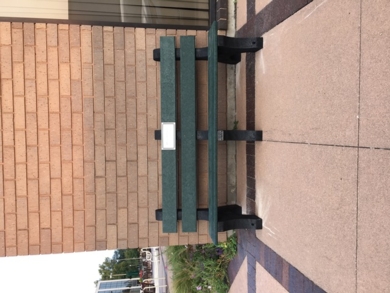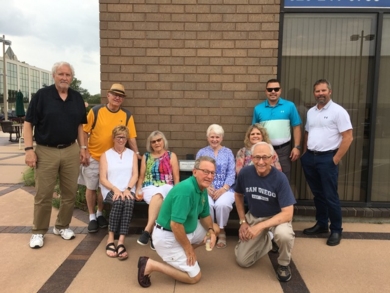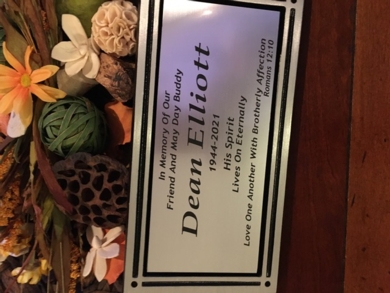 ---
New to the site? If you're a classmate and haven't joined, please do so by moving the mouse cursor over Classmates at the top and then click on Member Profiles and your name. If you were a classmate but didn't graduate from MHS, click on Contact Us on the left to become a guest member. If you would like to know more about what you're getting yourself into, click on All You Want To Know on the left and Sign Up Info. Lane Apr 2010
---
Tired of scrolling and searching? Go to your favorite Home Page topic with a click on a headline below. You can return here by clicking on your browser's back arrow at the top of the screen.
Your Daily and/or Weekly Golden Oldies Fix
---
---
Your Daily and/or Weekly Golden Oldies Fix
You have two options:
1. To hear a 5-song medley of oldies from the 60s that changes every day, just click on the jukebox. Click on the play button when you get to the site.
This link opens in a new window with a new tab. You'll need to go back to that tab to turn it off if you don't want to listen to all five songs! To keep listening while you browse on our site, just click on your tab with the M on it.
2. To hear the weekly #1 song hits from all the years we were in high school, click on Weekly Top Hits 1958-62 in '60s Music & History. These songs change weekly, and they are not archived, so you're going to want to check back every week to get your musical nostalgia fix. Carolyn 4/27/11
---
The 1962 Yearbook is below in its entirety.
---
The 1961 Yearbook actually contains our Junior, Sophomore, and Freshman class photos. Some things in life just follow you forever!

Click here to see all MHS and McPherson Links
---
Our home page has had 124,528 visits since the website began on April 13, 2010. Each visitor is counted only once a day, no matter how many returns are made to the home page. The number is updated here daily.
---
Flag Counter (since 9/6/11). Click on the box for more vital info.
---