In Memory
Maximilliam Felix Jerozal - Class Of 1965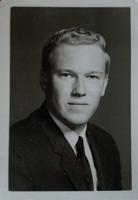 Maximilian Jerozal, Jr.
He passed away
in peace on 1/26/2021
Class of 1965
Obituary
Maximilian 'Max' F. Jerozal, Jr., 73, entered into eternal peace on, January 26, 2021 at Mary Washington Hospice of Fredericksburg, Virginia. Max was born in Springville, New York on June 1, 1947, a son of the late M. Sgt. Maximilian and Virginia Jerozal. Member of St. Andrew's Catholic church in Myrtle Beach, S.C., where he was an altar boy, a boy scout (Eagle scout, Order of the Arrow, and earned Ad Al tare Dei medal). Max graduated from Myrtle Beach High School class of 1965. He played football, basketball, National Honor Society.He graduated from the University of Dayton, Ohio 1969 receiving the Bachelor degree of Technology in Electronic Engineering. He also received his Master's degree from University of Dayton, Ohio in Computer Science (1974) and was a member of I.E.E.E.
Throughout his working career he was an independent computer programmer/consultant, working on several federal contracts.
He was a member of the Nativity Catholic Church (1977-2006), Longwood, Florida. Where he was a Third-Degree Knight of Columbus.
He was the brother of Elaine (Jerozal) Kozielski of Titusville, FL. and William L. Jerozal of Fredericksburg, Virginia. He is also survived by his cherished nieces and nephews, Eric Kozielski, Bridget Kozielski, Thomas Kozielski, Brooke (Jerozal) and husband Justin Marsden, Melanie Jerozal, Brian and his wife Morgan Jerozal and Matthew and his wife Dana Jerozal; his adoring great nieces and nephews, Gannon Kozielski; Kaitlyn, Reagan, Brady, and Harrison Marsden; Shayne and Luke Jerozal and Laila Jerozal.
Graveside services will be held on April 10, 2021 at 11 am at Oaklawn Park Cemetery in Lake Mary, Florida. Donations can be made to St. Jude Children's Hospital in lieu of flowers.
To send flowers to the family or plant a tree in memory of Maximilian Felix Jerozal, please visit our floral store.