Class of 1970 Scholarship
Napa High Class of 1970 Scholarship has been created and the first deserving Napa High Senior will be awarded this scholarship in June 2015!! We have chosen to award a $500 scholarship each year and hopefully will raise enough money to increase the amount in the next years.
We have set up the scholarship through Napa High's Scholarship Program and they will be handling the funds that we donate, but our Reunion Committee represenatives Scott Sedgley and Shirley Clauss will be choosing the recipients each year. They will base their choice on: Financial Need, School Involvement, Community Involvement, pursuing higher education after high school graduation!
We will have a table at our Fun Golf Tournament for players to donate to this worthwhile cause. We will also have a table at our Reunions so classmates can also donate to the Scholarship Fund at that time. Since we will only be meeting every 5 years and we know that not all classmates will attend the Golf Tournament or the Reunion, we have made it possible for those of you who want to donate on a yearly basis to do so any time you would like!
To Donate to the Scholarship Fund:
Make check payable to Napa High Scholarship Program. In the bottom left corner of your check...in the Memo area...please write Class of 1970! That will ensure that it goes to our scholarship fund. You can also include a written statement that you want the donation to go to the Napa High Class of 1970 Scholarship Fund. Then mail the check to:
Napa High Scholarship Program
Attention: Allison De Lorimier
2475 Jefferson St.
Napa, CA 94558
In case you want to contact Allison personally: (adelormier@nvusd.org 707-253-4950)
This donation is tax deductible!!! You will be receiving a letter from Jeanette Mulgrew thanking you for the donation and it will include the school's tax ID number as a nonprofit organization. If you don't receive this letter in a timely manner, please let Linda Johnson know so she can get the letter to you!
We hope you will join us in making this a regular donation to a very worthwhile cause!
Your Reunion Committee!!!!
2015 Scholarship:Trevor Trethewey.
2016 Scholarship: Sara Finnegan
2017 Scholarship: Brenden Neal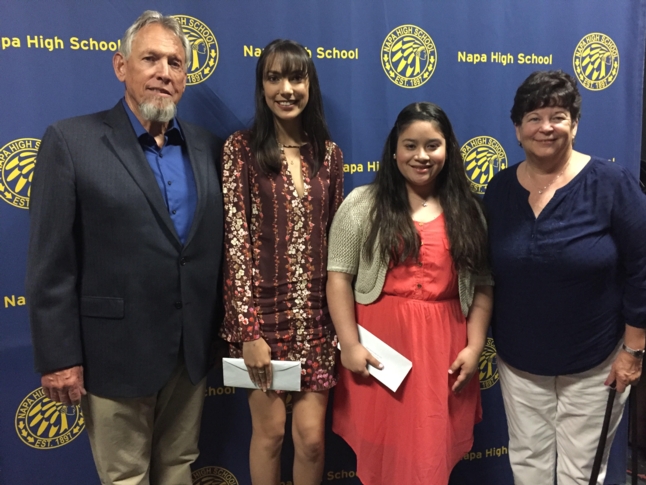 2018 Scholarships: Malia Lake, Esmeralda Hernandez
2019 Scholarship: Sophia Fischer