What's New
Bob Cowan was a kind, friendly decent guy. Wish I had know if as well as many others did, but grateful that I did know him and enjoyed time with him at our reunions.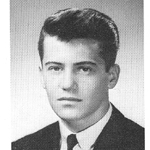 Happy Birthday, Jeanne. Many more. Sandy (Janes) Regan
Posted on: Jun 13, 2021 at 2:16 PM
Loneliness sucks. Loneliness is not solitude or a quiet time. Solitude or a quiet time are things we chose; loneliness is not by choice for most of us, a host of different circumstances cause it.

Many people have experienced extreme loneliness because of Covid. People have been cut off from family or friends, houses of worship, many events and activities. As a result, many have been deprived of the simple activities of daily living.

However, loneliness is not new; it is not a recent phenomenon for most people, and Covid is undoubtedly not its only cause. Loneliness is also not unique to any particular age group. The extent and depth of loneliness vary with each of us, but we all must face it and learn to cope with it.

Each of us likely has our definition of loneliness, and it may or may not be the same as another. For me, loneliness is being unable to share a bond with another human being. Perhaps a more significant sign of loneliness is when I don't want to share a life, mine or theirs. Like me, I suspect that you have experienced some of the loneliest times of your life when you are in a crowd of people. How do we explain being lonely in the middle of gathering people, friends, a party, or a group? How do we explain that? Being lonely isn't being by ourselves.

I suspect that isolation is a significant cause of loneliness. Today it seems like many people get great joy in isolating people. I hear of young people, starting in elementary (I don't need any more examples other than myself), picking on their classmates, teasing, bullying, and embarrassing them. Why? Because they are different? Today, whether kids, teenagers, or adults, social media is frequently used to intensify isolating people. Why? Because they are different? What is so wrong with being different in our society today?

A friend of mine and I have been designing Military t-shirts. I haven't made any money, but it has been a fun project, and I have met some people that I would have missed the joy of knowing under other circumstances. One was a woman, a single parent, one of the most positive people I have ever met. Her smile and especially her attitude are infectious. You would have to pretty hard not to be impacted by her.

Her daughter came home from school one day tearful and sad. Some of her classmates were going way out of their way to make her feel isolated, that she was different from them and not in a better way. As a parent, how would we help our child deal with the situation? This woman sat down with her daughter and asked her if she thought she could positively influence these kids? Trust me as a teenager, heck, maybe even as an adult(?) I wouldn't think about having a positive influence on them unless I was physically influencing them. This woman and her daughter came up with a better way. They decided to make a statement by designing a sweatshirt. Their message; "I am uniquely imperfect." Complete with a thumbprint. Shaking your head, asking yourself, "what's the big deal?" Think about it.

They rented a Kiosk at a local mall for a weekend, and at the end of the weekend, they had sold more than four hundred sweatshirts. Kids, teenagers, and adults were standing in line to buy one. Heck, I bought three for each of my grown daughters, and I will buy two more for my granddaughters when I see them later this year—what a message this sent to her daughter and the daughter and her mother sent to over four hundred people in a single weekend. We are all "Uniquely Imperfect."

I am not quite so creative as to make my thoughts quite so optimistic. Turn back with me to isolation. Isolation is more than a subject or a topic for many in our class; it is their life. Death, illness, divorce, or singleness at our ages leaves little time for us to shake the pain, suffering, and emptiness, to overcome isolation. We might not be in these situations now, but we will be among the fortunate few if we don't have to endure isolation before we die.

Bob Biederman called me not long ago and said that he was thinking of taking the two-and-a-half-hour drive down to San Diego to see Dave Bliss. (Do I need to point out how cool that simple action would be?) He wanted to know what I felt Debbie's (Dave's wife for almost fifty years) reaction would be. I didn't think it would be a problem, but I thought I should check, and I owed her a call anyway. I was both glad I did and kind of wish I hadn't.

Debbie is living in isolation - big time. Empty house, husband living away from her, cared for by another woman and no longer knowing her. The tremendous burden and pain is her inability to care for this man she has loved so wholly and faithfully. Isolation sucks.

Sadly, this is not only Debbie's life now but how many in our class are wallowing in the same quicksand. I might mention David, but this isn't his trial. I am struggling to figure out how to put a positive spin on this. Heck, at least I know what Debbie is going through; I can give her some encouragement and tell her that I am here for her. What do you and I do for her and other of our classmates? What is our positive message for them - it can't be to leave them in isolation. How can we get ahead of what most of us are looking forward to in our future? Can we learn to overcome this specter of isolation? It is not automatic that dying alone is horrible, but isolation is hell. I don't want that for any of us. For the spiritual among us, that helps and, for many, the answer, but we still have an obligation to those among us to ease the curse of isolation. What's my positive message going to be? What's your positive message going to be? We owe it to our classmates to have one and deliver it. It can't just be "isolation sucks."
Posted on: Jun 04, 2021 at 5:19 AM
These are rare times when I am caught without words to say. My words may not always be appropriate, but I am always never without them. Bob Biederman's words took my words away.

I appreciate Bob wanting to remember me and thank me for my sacrifice on Memorial Day. However, without simply exchanging remembrances and thanks, I want to offer you a glimpse of recollections and sacrifice as it relates to many in our class, including Bob.

So many people tend to equate heroes and warriors with those who are in the front lines. They're wrong. The numbers vary slightly between the services, but it takes 6 or 7 people in the rear to support one person on the front line. So, for example, more people are necessary to tend the wounded than the dead. In addition, we may have many in our class who spent their time in the Military caring for the troops on the front. Supply, administration, engineers, and medical personnel, among many others. None of these roles are more or less important than the other.

One member of our class, for example, spent his time in the Army during Viet Nam taking care of wounded burn victims. I don't believe he was near the front lines, but don't tell the men he cared for that he wasn't a hero, with many other hospital personnel. Our classmate has paid dearly for the care that he gave. Imagine for a moment spending eight to ten hours a day with suffering, terribly disfigured people, agonizing in pain while envisioning how their disfigurement will change their lives. How would you handle it? How would that impact your worldview? How could you move on from that experience? For me, not well.

Like him, our classmate and many others could not do that type of work without being wounded and scarred themselves, but they did it anyway, and so many men and women are thankful they did, but they paid the price, a hefty price.

Perhaps you have heard many speakers leading up to Memorial Day and Memorial Day addressing the meaning and purpose of Memorial Day. "On this day, we need to remember those who made the ultimate sacrifice to help maintain our freedom and liberty." I won't disagree with those sentiments, but they fall short.

For most Viet Nam veterans, there were no tremendous welcome home celebrations and, in fact, little if any recognition of our time in military service during the Viet Nam war. Frankly, most Viet Nam veterans weren't looking for parades or even thanks; they were looking for acceptance. However, after 9/11, attitudes changed, and it became common for people to thank military personnel with the simple statement "thank you for your service." If I happened to be wearing a hat or a t-shirt that indicated that I was in the Marine Corps, people would occasionally greet me with a "Thank you for your service." I would always thank them. The same thing happened to many Veterans, and they reacted similarly.

A couple of years ago, as I remember, Bob Biederman and I were discussing our military experience and military service in general. As our discussion evolved and became more focused, we came to a point where we felt that it was not a service that Veterans offered. Waiters, insurance agents, store clerks, and many occupations provide service. The Military is a sacrifice, not a service. We concluded that a sacrifice is giving something of yourself that you can never get back. A Marine, a sailor, Army, Air Force, or Coast Guard personnel make a sacrifice. They do not provide a service.

Sacrifice is more than death or loss of a body part; it can be time, separation from family, friends, and materially rewarding jobs. Is a mother, father, sister, brother, wife, or child saying good-bye to their son, daughter, husband, or wife, offering you and I service or a sacrifice? What about the men and women caught in circumstances that required them to take another person's life or multiple lives, perhaps even some lives we would call collateral damage(I hate that phrase)? What would it do to you to see your friends shot or step on a mine or some other violent death? How is it to live most of your days and nights on high alert, not able to let your guard down? Do mental scars count as a sacrifice? No, Memorial Day is not only for those that gave their lives or their body parts. It is for all who served and their families that made the sacrifices for you and me.

The next time you reach out to someone in or was in the Military, don't thank them for their service; thank them for their sacrifice. People in the Military or have served in the Military have given us something of themselves that they and their families can never get back. So to our Military, past, present, and future and their families - thank you for your sacrifice. And I expect that many of those heroes would respond, "We did it for you," and they'd be right.

Semper Fi
Taking a moment to remember and thank you for your sacrifice on this day. You're a wonderful standard-bearer for all the veterans we need to remember and honor.
Posted on: Mar 23, 2021 at 2:26 PM
I should have written this earlier, but I had some fences that I needed to mend. As you may know, I have had the great blessing of having two "hobby" farms over the past 32 years. I have had to mend many a fence to keep the animals where they need to be and keep some other animals out of where they don't need to be. Mending fences can require a great deal of patience and physical labor to get things where they need to be.

As tricky as fence mending can be, mending fences between people can be a great deal more problematic and considerably more critical. The purposes are similar to relationships. We want to keep from losing the good while keeping out that which will kill the relationship or, at best, maim it. It ain't easy, but then good relationships never are. If we have some fence-mending to do, don't wait, do it now. If we lose the opportunity because of death, we will be left with a gaping hole in our fence, in our lives that no amount of mending can ever fix.

Many of you said some nice things to me on my birthday. I appreciate them, but it gave rise to some thoughts that I want to share without seeming ungrateful.

After my comments about Pauline (Thomas) McGrath, an individual wrote me an email regarding my annuals and perennials comments. She felt somewhat lost in high school. She wasn't well known, and others failed to recognize her contributions. Boy, have things changed for her. She's been and is recognized for what she does. Most importantly, she is comfortable and happy in her own skin. She is a perennial, leading and improving the lives of those around her and then some.

Marjorie Kolikof just passed away. If I hadn't had the privilege of working with her briefly on the reunion committee, I wouldn't have known her. She'd have been a nameless face in the crowd who happened to have been in my high school class. I suspect if you hadn't had a class with her, you likely wouldn't have known her either.

What is the difference between myself and these two women and many of my classmates who did what they were supposed to do without attracting my, and maybe your, attention? I was an athlete. Perhaps some saw me as a BMOC. Is either of those things worthy of recognition? Not so much. It sure doesn't stack up against the many of my classmates who escaped the unwarranted attention while deserving recognition from myself and others. Perhaps I was caught up in the shallowness of many teenagers who can't see beyond the mirror. Adulthood has provided me with a different vision.

My wife is a nurse. She was a hospice nurse until the physical demands of the job became too much. For the last several years, she has worked with an agency that has a contract with a woman (Mary Gayle) just about our age who is mother to 27 children, all of whom have issues from having no arms, no legs, living on a ventilator, and a wide variety of behavioral issues. This woman has adopted each and every one of those kids. She has literally rescued them off the trash heap. My point is that nobody would have given her any attention either. Today, she is in the hospital with a variety of issues. She may not survive the week. Are there going to be any BMOCs or others seeking the recognition of the crowds standing in line to adopt these special needs kids? Doubtful?

Where am I going with this? I spoke earlier about mending fences, and one of the fences that I need to mend is to see the importance of the faceless, those without fanfare, those who are just doing what they are supposed to without seeking credit for what they do or don't do. There is no "here look at me" in their lives.

I have allowed myself to be distracted by things of little worth. Many of us may relate to talking about "the glory days," but they didn't last long. The nameless classmate, Marjorie, Mary Gayle, what they are will last long after their deaths. They are the ones that deserve our encouragement, our support, our applause. They are the ones doing the heavy lifting. Look around you. Have you missed, overlooked, or ignored those that really make the lives of those around them better. I have. Try as I might, I still have fences to mend. I am thankful for those of you who I still have time to mend a fence. You are the ones that do what I can't do or more likely won't do. You are my heroes. You are my classmates for whom the glory days are now and in the future, however long that might be. Thank you. Thank you. Thank you. You are whom I strive to be like.
Posted on: Mar 15, 2021 at 2:01 PM
For Roger's birthday- Over the past few years I've gotten to know Roger Watson fairly well. He's a giving and generous person eager to share. I found the following words, written by a Yorkshireman named David Whyte. They are not mine, but the ideas are all about Roger:
"Friendship is a mirror to presence and a testament to forgiveness.
Friendship not only helps us to see ourselves through another's eyes, but can be sustained over the years only with someone who has repeatedly forgiven us for our trespasses as we must find it in ourselves to forgive them in turn."
There are a few more stanzas worth reading, but these first few lines are a good reflection of Roger
Posted on: Mar 10, 2021 at 2:30 PM
Being the month of March, many begin to anxiously, longingly look forward to the coming of April, Spring, and with it the sun's warmth and new life. This is a cycle as old as man and woman. Regardless of the state of the world, the natural process of the world continues without interruption.

Another cycle is also natural, and it too continues without interruption - the cycle of life and death. It has been said that from our moment of birth, we begin to die each day. We need to enjoy the spring, the new life, and the process of life that comes with our existence. The covid virus has seemingly turned our focus on life to that of death. Is that what we should focus on?

Today, my focus is on both death and life. On January 22, one of my oldest friends passed away, Pauline (Thomas) McGrath. I last saw Pauline in the summer of 1968. Many of us have realized that the bonds of our relations with our high school classmates are not easily broken. My bond with Pauline may have been frayed on occasion but never broken.

We often spoke to each other over the years. I last talked to Pauline just before Christmas this past year. I had intended to call her the week before she died, but work, family, and life seemed to get in the way. I could rightfully be accused of not making it a priority. I suspect that in the back of my mind, there was always tomorrow. Sadly, tomorrow ran out for Pauline and me.

Pauline had a small home in Jensen Beach, Fl, and, like many of our classmates, she died alone but no unloved. She was close to her family, son, daughter, and grandson, who was the apple of her eye.

It is more difficult for me to write about Pauline than several of my former teammates. Pauline's friendship, along with the many other female friends I was fortunate to have in high school, helped me learn what it meant to be a man. No, I am not referring to sex. I am referring to learning how I should act towards a woman, how they should be treated, talked to, given the respect they deserve. Pauline was not afraid to call me out, explain to me how I should, or more likely, should have handled a given situation. Thankfully, she would also give me credit when I got something right. Many of you women who befriended me in high school taught me the same or similar things. I was closer to Pauline than most "girls" in high school, so her influence may have been more significant, but the message was pretty much the same, apply the golden rule to our relationship. "Do unto me as you would have me do unto you."

Yes, as some may remember, Pauline and I occasionally found ourselves walking on the "wild" side. I won't excuse it, and neither would Pauline. We were trying to deal with adult bodies, adult activities with adolescent minds with predictable results. But we survived to learn from our errors. I cannot speak for Pauline, but while it may not have been an immediate transition, it was a transition.

Are any of us the same person as we were in high school? Some of us may be better, some of us no change, and some of us need to take a summer school class. Perhaps not for most of you, but for me, I think who I am today has a lot to do with who I was in high school and those who surrounded me with love, care, and concern, and none more so than Pauline.

Having said this, I would like to focus on life. In the process of life, we have two choices. We can be either annuals or perennials. An annual plant blooms go to seed and die all in one growing season. They are here today and gone tomorrow. Perennials, because of their robust root system, continue to bloom year after year. As painful as they may have been for us, our high school years influenced whether we have become annuals or perennials. Pauline was a perennial. The roots that she gave her family and friends, and me, allow each of us the potential to be perennials. There is life after death - be a perennial.

If you are interested, Pauline's family is streaming her memorial service live. The service will be on March 13 at 11 am at All Saints Episcopal Church in Jensen Beach. It will be streamed live on www.youtube.com/c/allsaintsjensenbeach. in place of flowers, donations to All Saints Episcopal Church will be appreciated.
Posted on: Jan 22, 2021 at 11:02 PM
"Returning hate for hate multiplies hate, adding deeper darkness to a night already devoid of stars. Darkness cannot drive out darkness; only light can do that. Hate cannot drive out hate; only love can do that. Hate multiplies hate, violence multiplies violence, and toughness multiplies toughness in a descending spiral of destruction."
Martin Luther King
From his book Strength to Love
Posted on: Dec 30, 2020 at 9:31 AM
Alan Crosby sent me an email earlier, asking if I knew how Dave Bliss was doing. Alan suggested that I share my response with many of you whose lives were touched by David. The following was what I shared with Alan.

I hope you and your family are well and that you had a wonderful Christmas. The best I can say about David is that he is in good hands. Debbie says that there are lights in his eyes when he sees her, but it is for a familiar face, not his wife. It is more like a nurse he sees frequently. His faith continues to permeate his being as he will spontaneously begin to sing an old hymn or quote a bible verse.

Some believe that once the conscious mind is seemingly no longer active, the restraints that we created for others give way to our true inner nature. Perhaps. Yet, if this real, David has lived most of his life being who he is and not as he wants others to see him. No surprise there.

Debbie has found a support group that she enjoys. The group has energized her. She is engaging in activities that were likely set aside to better support David and his work. Her brother recently died of Parkinson's, but the family was thankful that he did not suffer to the degree that many Parkinson's patients do.

Debbie is not a complainer, nor is she one to sit around, feeling sorry for herself. She has her moments but is handling this phase of her life well. She is continuing to live, doing, and giving to others and being with David when she is able.

David's oldest daughter, Sarah, has had the most challenging time dealing with David's circumstances, but she is making progress. Bottom line, Debbie and the kids are a testament to David's influence on them, and they are good.

I would say have a good new year to all, thinking that it can't be any worse than 2020, but I m not so sure that will be true in general. To the degree that we are able, let us make it a good one.

Happy New Year.
Posted on: Nov 21, 2020 at 10:52 AM
Ray Homes asked about Deane Ford's early demise. He was killed in a car accident. I used to work with his mom and remember he passed just a few years after graduation. He was a nice guy.