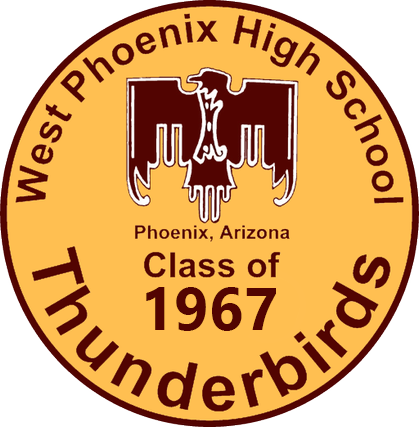 This is the official website for the West High Class of 1967. Watch for updates and reunion information.
We had a great Class of 1967 70th Birthday mini-reunion in honor of most of us turning 70 in 2019! It was Feb. 22-23, at the Embassy Suites-Phoenix Biltmore. Approximately 85 came to the various events--55 classmates and 30 guests! About 70 came to the party each night, 25 for pickleball, 50 for dinner at Jordan's, 9 for golf at Top Golf, and 28 stayed at the hotel.
We appreciate each one who helped put on the various events, those who participated at the parties by sharing insights and stories, and all who attended--bringing together our unique personalities for two days of shared enjoyment. While the record Arizona snow and rain caused some inconvenience, the nearby snow-covered mountains were a rare and beautiful sight.
We are thinking our next reunion may be our 55-year in 2022. Another option may be to join with the class of 1968 for their 55-year reunion (our 56-year) in 2023. We would maybe meet one night separately with just our class and another night combined with 1968. We are pleased that many classmates are self-organizing in smaller groups, and when this occurs, we invite you to post something on our website, perhaps with a picture.
At our mini-reunion, Lee Giurlanda, who is blind, stood up and reassured those concerned about getting and looking older, "You all look the same to me as you did in high school!" We wish everyone good health and to "live long and prosper" so we can continue to get together and enjoy our wonderful, long-lasting friendships.