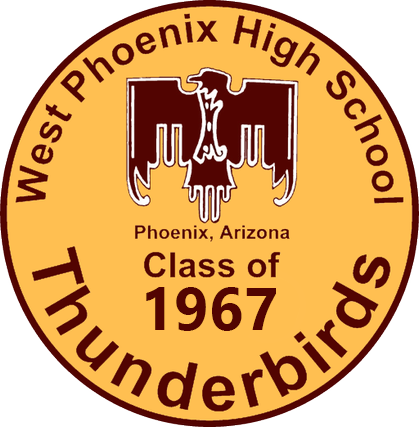 This is the official website for the West High Class of 1967. Watch for updates and reunion information.
The West High Class of 1967 reunion committee is excited to announce our 55th class reunion on Friday and Saturday, October 28th and 29th! It will be fun and free of charge!
We will meet, greet and fill out name tags at Aunt Chilada's Mexican Restaurant (7330 N. Dreamy Draw) on Friday, Oct. 28th from 5-7 pm. It is during happy hour with free hors d'oeuvres on their large outdoor, covered patio with tables. The class of 1968 will be in a separate, adjoining area of the patio with a smaller group because they do this every year. Then those of us who wish can linger longer on the patio or make our own arrangements to eat at outside or inside areas of the restaurant.
We will have a picnic at the Encanto Park Pirates Cove amusement area on Saturday, Oct. 29th from 10 am -1 pm. It is a private,1-acre, fenced-off picnic area with shade and tables. We should arrange for our own food. We will have a little group sharing time and plenty of time for visiting.
We are also working on other optional activities for this great weekend. Eventually, we will add a page on our website to get a count on who is coming each day or who can't make it. So circle the dates on your calendar and plan on attending and bringing other classmates for this enjoyable occasion!