Plainview High School

Welcome to the Plainview High School Class Of 1963 website.
This website belongs to you and all of our fellow classmates. If you're visiting for the first time ... the first thing you need to do is register on the site. Simply click on "Classmate Profiles" in the upper left portion of this page. Screen down to your name and click on it ... then follow the prompts to join.
We want this to be of benefit to everyone ... so if you have ideas or suggestions we'd welcome them.
We Made the News!!!!!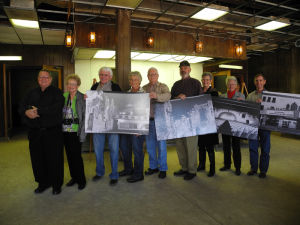 Class of '63 Memories Potent After 50 Years . . . .
"My first ideas of romance were found here," said James Haynes, a member of the Plainview High School class of 1963 who now lives in Blue Lake, Calif.
Haynes' joking remark seemed typical of the class attitude as they toured the Granada Theater, one of the stops on a tour of Plainview that included Plainview High School and the Fair Theatre during their 50th class reunion.
Although the Granada Theater has been virtually gutted since their graduation, just being inside the building evoked memories.
"That's where the Karmel Krisp was!" says one. "And the Granada Gift Store," another adds.
Granada owner Darryl Holland spoke to the group, detailing what has been done to restore the theater and what plans he has for the future.
"Who here remembers Hopalong Cassidy?" he asks, and many group members raise their hands. Holland said he expects to bring popular acts to the place once more when restoration is finished.
"Will the prices be the same?" someone asks.
"Comparatively," Holland answers.
Back in the day, Saturday morning matinees were especially cheap.
It's hard to believe it's been "50 years" since we crossed over one threshold in life on the stage at the PHS school auditorium.
Read the "rest of the story" here
---
It just doesn't seem like it's been that long since we were cruising back and forth down 5th street and up Broadway on Friday & Saturday nights ... listening to K.O.M.A. (out of Oklahoma City) on the radio.
If you stopped at "Smooth" Boyett's Conoco for a couple of dollars worth of gas ... you'd get the air in your tires checked, your windows washed, the water in the battery as well as the radiator checked. You could buy 10 gallons of gas for $3.00. They had a "lift" in both the wash bay as well as the bay used for oil changes and lubes. The wash was $2.00 (including the under side of your vehicle) and a lube was just $1.50. Man ... those were the days!
Hitting the "Trio Rebel" for a Cherry Lime ... and continuing on to and around the "Arrowhead Drive Inn" ... heading east to circle "Eddies" (maybe stopping to get one of their special corn dogs) ... back to Broadway and north to 11th, for a U-turn a block south of the Santa Fe Train Depot and then start the same trip all over again.
Friday night home football games and dances upstairs at the "Y" are both fond memories.
Twin Cronies at the "Dairy Queen" or a movie at the "Granada" or the "Twin View".
Stop off later at the "Sand's Cafe" or the "Town House" for coffee before heading home for the night.
How lucky we were to have grown up when we did ... and where we did. The 40's & 50's were a special time in America and in Plainview. Life was much simpler then. You could still go to work at a very young age which helped develop a good work ethic. Schools still offered programs like D.E. & I.C.T. and we still had P.E., Art and Music offered in school.
Where else could you get into the Granada on Saturday mornings with nothing but a few Coverlake Milk carton lids and see celebrities like Lash LaRue or Hopalong Cassidy (both who were there in person). Or have the opportunity to sit on Wild Bill Elliot's horse at the Bar-None Rodeo and see the Hale County Sheriff's Posse perform at halftime on their golden palominoes!
There were the Saturday morning Serials at the Fair Theater that always ended in a "cliff hanger" ... to get you to come back the following Saturday.
We use to have some of the best parades in downtown Plainview. The PHS Band ... as well as the Jr. High Bands ... the floats and all the horses and riders. I can even remember when we would have huge helium filled floating cartoon characters (now you only see them in huge parades like the Massey's Thanksgiving Day Parade).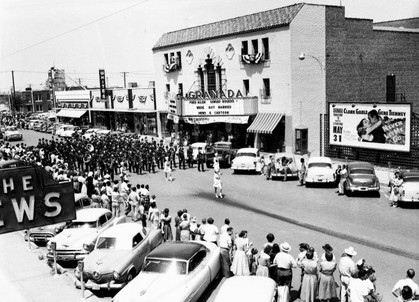 Christmas was a magical time in Plainview. Sometime we would have snow ... Mrs. Ferrell would be in the window of the bank on Broadway ... sitting at the organ in her formal ... playing Christmas music (heard over outdoor speakers on Broadway). Merchants stayed open late every night leading up to Christmas Eve ... and were happy to do so. Yes indeed ... it was a magical time in Plainview.
In the summertime when it really got hot ... cutoffs and bare feet were the dress of the day. By summer's end we could practically run across a "sticker patch" barefooted without stopping.
Going into those little grocery stores down town ... sticking your arm up to your elbow into the big metal "Coke" box filled with ice water to get a bottled drink and wonder if you ever again would have full feeling return to that arm! If you had enough money maybe buy a pack of peanuts to put in the bottle along with the drink.
On Saturday mornings ... you might get to pick up fresh unsliced bread at "Casey's Bakery" or maybe spudnuts from the "Spudnut Shop".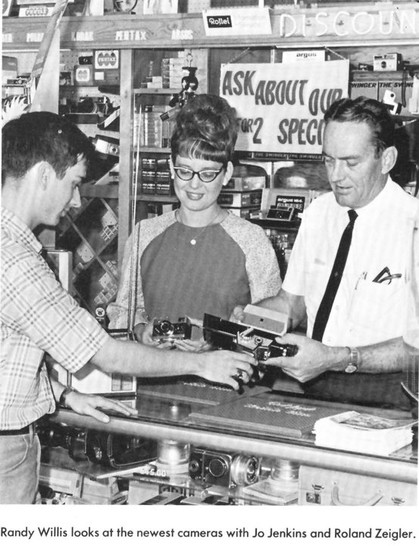 Merchants always seemed to welcome you in their store. Customer service was outstanding (compared to today) ... if you telephoned anyone ... a real live person answered the phone!
We had wonderful places like the "Army & Navy Store" to explore.
Of course you can't go back ... but it's good to pause now and again and acknowledge how really fortunate we were.
In the Immortal words of Bob Dylan ... "THE TIMES THEY ARE A CHANGING"
ANNOUNCEMENTS
•

Just a quick thank you to everyone that has sent cards, letters and especially prayers.

I know cancer has been around forever, but until your name is associated with it, you can't believe how it turns your world upside down. And I would like to say....our world has been turned upside down!

Until you walk in cancer's shoes you have no idea of the emotions that you go through.

Yes, I'm scared, but I know that God has a plan for me. Just know that everything is well with my soul!!

Until then..."running against the wind."

•

i would not have graduated were it not for lamont veach, asst. prin., he did not want me back, made sure i got a c in eng.from webb