Billards Get Together
2nd Tuesday Every Month
POSTPONED UNTIL FURTHER NOTICE!
Bucks Billiards and Sports Bar
"All" Enloe Classmates are invited to meet the second Tuesday of every month, 2:00 PM, at Bucks Billiards and Sports Bar to play pool. No reservation is necessary, just show up. If you have any questions, contact George Dennis at 919-389-7285, or George.Dennis.Mail@gmail.com.
On June 11th, several of our classmates met at Bucks Billiards and played pool from 2:00-5:00 PM. David Cromartie set up the initial play date, along with Bill Baxley, James Stem, Cecil Burt and George Dennis. A great time was had by all, and thought this would be a good way for other classmates to get together when able.
Check out the website for pictures and menu at BUCKS BILLIARDS. Bucks Billiards has twenty pool tables, and the tables cost only $2 per hour with a maximum of $5 per table. Beer is $2.50, but you must be 21 years of age. It is located at 1102 Buck Jones Road, Raleigh, NC 27606, close to South Hills Mall, and across the street from the D&S Cafeteria. Click here for a map to Bucks...
2019 Pre-Summer Party Pictures
May 4, 2018 Get Together Pictures
Dec. 1, 2017 Christmas Party Pictures
May 5, 2017 Get Together Pictures
Feb. 3, 2017 Get Together Pictures

Front row (left to right) – Ray Reeve, Betsey Askew, Jackie Daniels, Steve Garrison, Gray Speight, Robert Heath, Dottie Harris, George Dennis, Pat Reeves, Jane Shearin, David Cromartie, Diane Ellen, Bill Baxley, Clara Carter, Dottie Montague, Carol Hollifield, Suzanne Rotchford, Sarah Green, Barbara Atkins, Cheryl Cofield
Second row (left to right) – Cecil Burt, Sandy Smith, Donnie Johnson, Jerry Hendrick, Johnny Baker, Rusty Roberts, Bob Johnson, Skip Simonds, James Stem, Johnny Collins, Toni Stancil, Gail Barbour, Sally Stephenson, Mike Sansom, Joyce Martin, Katherine Jackson, Betty Carter, Barbara Tilton
Back row (left to right) – Eric Schwall, Mark Schiller, Sharron Hodge, David Finch, Ronnie Wall, Brent Rhue, Sammy King, Greg Stott, Mike Gay, Patsy Turner, Jimmie Powell, Dennis Worley, Hal Milliken, Allen Montague, Susan Lassiter, Robert Harrington, Sylvia Wilson, Rickie Fowler, Shirley Hamilton, Tommy Gattis, Johnny Hartsfield, Danny Bellamy, Jane Moore, Sharon Rice, James Mettrey, Libby Lawson
Beach Music Videos
Update your profile!
Updating your profile automatically joins you to the web site and will allow you to have full access. It will also allow us to keep you up to date with the reunion and any other future functions. You will have the option to securely communicate with other classmates. You control what level of communicatons you want to have in your profile. This is the official Enloe Class of 1966 web site and will be the main way we communicate with you.
Note: Your email address is hidden by the system during any communications that you might have with other classmates.
So update your profile to join now, it's free!
(To join: go to the top right side click on "Join Now" or at the top center tab "Classmate Profiles")
25th Class Reunion Group Picture
64-68 Classes
Hi Def w/Zoom capabilities!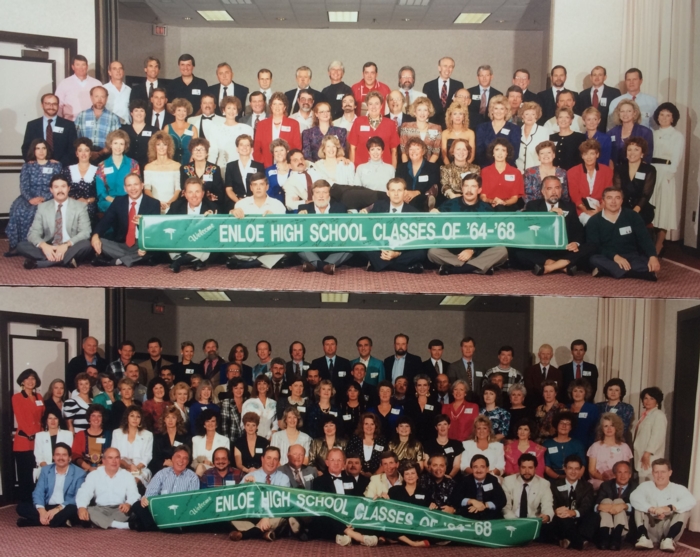 Go ahead and play around...
You can't break anything!
Tips of the Day:
Forgot Your Password
Send us an email and we can reset it for you. Click here!
Sharing Memories & Comments
In "Classmates in Memory"
If you would like to share a lasting memory or comment about a classmate, please do so under the "Classmates in Memory". I am sure we would all enjoy reading those. These comments will be enjoyed for many years to come.
How Can I Contact a Classmate?
If you want to contact a classmate, go to 'Classmate Profiles' on the menu above. Find the classmate's name and click on it. At the bottom of that profile is a choice of 'Send a Private Message' or 'Leave a Comment.' If you choose 'send a private message,' no one else sees it! 'Leave a Comment' does a public post in 'What's New'.
A Note From "Class Creator": "The Class Creator system does not send spam mail of any kind to your Classmates. Your Classmates can whitelist Class Creator email addresses with confidence that spam email will never be sent from our address."