Will C. Crawford Senior

High School




Class Of 1968
Welcome to the OFFICIAL Crawford Class Of 1968
Classmate Registration Web Site
This is a private class website where you can find classmates, communicate/contact them and input your profile/contact information
email: crawford68@gmail.com
Official Class Website: http://www.crawford68.com
Face Book page: Class of 1968 Face Book Page
SCROLL DOWN FOR ANNOUNCEMENTS
and
==>> F I E S T A FABULOSA 2023
---
---
ANNOUNCEMENTS
GOAL for 2018 reunion:
90% + of classmates found!
Here's where we are: 452 REGISTERED Colts (and climbing!)
Tell your 1968 Classmates to REGISTER!
[actual Colts we have current information on: > 500]
Remember the Ventures? An instrumental rock band from the 60's. Their biggest hit was "Wipeout", but their first hit was "Walk Don't Run".
Their original 17 year old drummer left the Ventures after 8 months to join the Air Force. His name, George T. Babbitt. He became a Four Star General. He came back in 1998 for a reunion with the Ventures to play "Walk Don't Run" again.
This is pretty cool; it will make you smile.
---
---
WHO SAID/DID WHAT??? THEY DID NOT!!!

Yes they did!

and HERE is the G O S S I P
---
8/13/2011 EXECUTIVE NAP!

At the executive committee meeting..... we waited and waited and.......FINALLY called to see where the missing member was.....
Irma: Hi Jim, what are you doing?
Jim McElwee's response: I am taking a nap..........

(oops!)
---
6/5/2011 What is WORSE than putting someone who has not passed away into the "In-Memory" category?
answer: Having the CHAIR of the HOOVER 68 Reunion Committee bringing your attention to it!
---
5/31/2011 Irma Groot innocently reminded Dan Ash and Steve Ko to put in their 12/2010 donations into the DONATION CHALLENGE so it would be counted in the survey results. Simple? You'd think huh? NOT!
Dan's response: What is a "donation challenge"?
Jim McElwee's response: I think it has something to do with bowel movements
---
---
Classmate Fun Times
11/28/2011 - From Scott Shaw
http://www.act-i-vate.com/100-18.comic
_________________
7/1/2011 posted on the Class of 1968 FB page by Mark Elson
https://www.youtube.com/watch?v=Grj7sjQ0_p4
The Beach Boys on the Red Skelton Show!
_________________
4/22/2011 - From Scott Shaw

Inline Image Not Displayed
http://www.act-i-vate.com/100-13.comic
_____________
4/15/2011 - From Jack Valentine with compliments:
---
---
OTHER IMPORTANT INFORMATION
6/5/2011 - The infamous John Fry Productions needs no introduction. Here's the direct link to his Crawford Pages. ENJOY!
You can also subscribe to his Alumni Newsletter for $30/yr (the cost of printing and postage).
Here is also a link to the Colt Corral blog for those of you who like to keep up with alumni happenings!
Thanks John, for everything you continue to do for Crawford Alumni!
---
---
---
---
DONORS! Reunion 2013
Thank you so much for your donations!
MONEY MONEY MONEY MONEY

Cyndi Jo (Mitton) Means $300.00 5/31/2011
Steve Ko $250.01 12/2008 (Challenge to meet or beat to classmates!)
Dan Ash $250.00 12/2008
V I P S T U F F
Steve Ko Domain name www.crawford68.com for 10 years (APR 2011-APR 2021)
Cyndi Jo (Mitton) Means Friday Night Bash 2013
Irma Groot website
---
Help Support This Website by posting your ads on Back Page using this link! THANKS!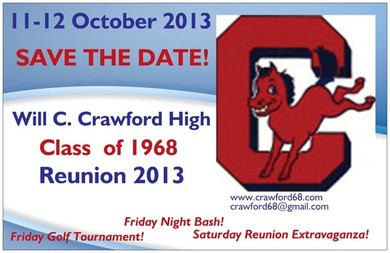 UPCOMING BIRTHDAYS