Lady Colts
2/23/20. Sunday
Lake Jennings 1 PM sponsored by Marilyn Meyers Gohdes.
Please join Marilyn, and a number of your classmates, at Marilyn's winter camp site. She will provide pulled pork sandwiches you are to provide a side dish, that goes with the pulled pork, and a beverage of choice. Bring your chair because there's no seating (unless you like Terra firma.)
There is a fee to enter the campground of a couple of dollars. She's at campsite 65. See you there!
Come to Rosanna's house for our Lady Colt Potluck! The event is planned for Saturday, October 22nd from 1 to 4 pm in Lakeside/El Cajon. Carol Lee Vandervelden has the information. Let her know you plan on coming! We can't wait to see you "dah ling"!!!!
---
EDWARDS THEATER in Mira Mesa
Afternoon at
the movies!
---
Thanks to all who met with Brenda to donate coats, jackets and sweatshirts.
This the season to pay it forward.... thanks ladies....Brenda Leard
...And to all who attended Elena's Holiday Boutique!

Elena Romero Pernicano and Patti Wissehr invite you to:
A Holiday Gift Boutique & Open House
Sunday, November 22nd, 2015
1:00 PM to 5:00PM
3965 Del Mar Meadows San Diego, CA 92130
Carmel Valley / Del Mar 619-606-2387
Featuring: Knitted Creations by Elena Pernicano Jewelry Designs by Patti Wissehr Candles, Gifts, and Collectables from Chic Mommy Clothing from Pretty Please Fashions.
Please contact Elena for further information via facebook or on this website.
---
Please join us for a small reunion of sorts welcoming Ines Flores Chelson back to town on Saturday Nov. 8, 2014 at Noon.
Details will follow and will also be on the Lady Colts Facebook page. Please look here and there for upcoming information. Make sure that Carol has your current email for the evite! If not, contact her through this page!
COOKIE EXCHANGE Success!
COOKIE EXCHANGE PARTY was held in Rancho Santa Fe at the beautiful home of Karen Luna on Sunday December 12th, from 2-5 pm. Details coming later:)
COLT WOMEN-
Winery Get Together was:
When: Saturday, October 23rd, 2010, 12:00 pm (Noon)
Where: Wiens Winery, Temecula


Bev Leard hosted coffee and dessert at her home (about 5 minutes away) after the winery. Thanks Bev!
A BIG thanks to Laura McGowan for suggesting this great idea!
Contact
Carol Lee Vandervelden through this website or through facebook for information.
GET-Together
Michele Lewis Timmons has graciously agreed to host our next get-together on Saturday October 15. 2011. Please come and share a potluck dish with the rest of your Colt Sisters. Carol Lee Vandervelden is organizing this so please email her through this site or pop her name into Facebook. We really want to see all of you so please contact Carol for more information.
OCTOBER 2010
Has it been that long since we've been together???????
Okay so now we're doing the winery tour. Here's the information: It is about 1 1/2 hours north of San Diego. Please google it or use GPS.
Wiens Cellars
35055 Via Del Ponte
Temecula, CA 92592 (888)-98 WIENS or(951) 694-9892
Bring anyone from our class so that you can carpool. Contact Carol Lee (Vandervelden) through this website or go on Facebook to find her. You can also contact me through this website and I'll send along the information.
May 2009
Very busy month-Memorial Day, college graduations, many, many family activities! Enjoy your month!
APRIL 2009
We made our own herbal "gardens". Yes, our own herb pot! Are we still in the 70's?
Have you ever cooked with fresh herbs? Food tastes COMPLETELY different when you add your own herbs. (Yes the legal ones!) I'm famous for killing plants, but for some reason, I do really well with herbs-must be the eating part
.
March, 2009
Welcome to all of our Colt sisters!
Liz Grey graciously offered her home for a Potluck Social in February.
We had some great munchies and even better company! Nice seeing some new faces!
See if you recognize these ladies!
---
GIRLFRIENDS LUNCH-OCTOBER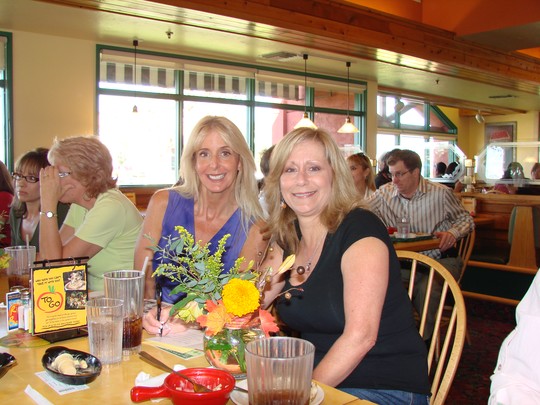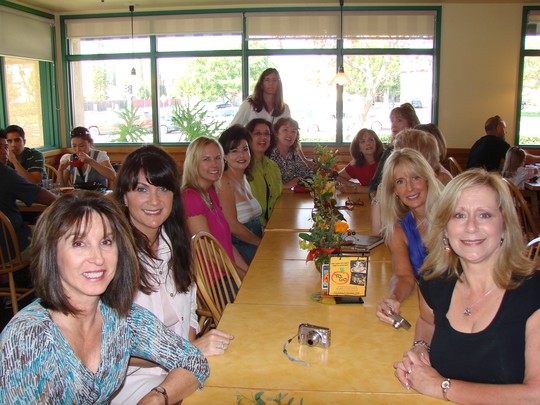 We are planning quarterly get togethers. Please contact Carol Lee Vandervelden for more info.
June 2009
Karen Luna had a tea party on June 7th. I hope the hats went well! I missed it! (dealing with teen sectionals/issues and my class deadline). Did anyone want to update me sothat I can post the info?
RECIPES
Spicey Fettucine
NAME
ITEM
DIRECTIONS

Karen Thornton Luna

Spicey Fettucine

This recipe serves 4.

Ingredients:

3 cloves minced garlic

3 tbsp fresh basil-minced

1/2 C. Extra Virgin Olive Oil

6 tbsp. Romano Cheese-Grated

1 orange bell pepper sliced very thinly

4 tbsp fresh Italian Parsley-minced

1 tsp. crushed red pepper flakes

6 tbsp Parmesan Cheese grated

16 oz. Fettucine

Directions:

Pasta

Cook Fettucine with a dash of salt and one tablespoon of olive oil until al dente.

Sauce


Using a small skillet, saute garlic until golden, in 1 tbsp. olive oil

add orange bell pepper and cook 1 minute more.

Add basil and parsley for 30 seconds more.

Toss cooked fettucine with skillet mixture, remaining olive oil, red pepper and cheese

Add salt and pepper to taste. Serve immediately
Vegetable Dill Dip
NAME
ITEM
DIRECTIONS

Helen Jones Trosper

Vegetable Dill Dip

Enjoy some herbal dip for your summer parties!

Ingredients:

1 C. Sour Cream

1 C. Mayonnaise

1 Tbsp Dill Weed

1 Tsp Parsley Flakes

1 tsp seasoned salt

1 tsp Accent (optional)

1 tsp. minced garlic

Dash of garlic powder

Directions:

Mix all ingredients together.
Tastes best after setting about an hour.
Enjoy!
Homemade Ranch Dressing
NAME
ITEM
DIRECTIONS

Carol Lee Vandervelden

Ranch Dressing

Enjoy! Homemade Ranch Dressing from Carol's kitchen!

Ingredients:

1/2 C. Plain yogurt OR

1/3 c. greek style yogurt

1/3 C. buttermilk

3 tbsp. mayonnaise

1 1/2 tsp lemon juice,

1 tsp dijon mustard

1/2 tsp. onion powder

1/4 tsp garlic powder

1 tbsp fine chopped chives

Directions:

Drain yogurt for 20 minutes.
Then, combine with all other ingredients.
Add salt to taste.
Enjoy!
ROASTED FINGERLING POTATOES WITH FRESH HERBS AND GARLIC

NAME
ITEM
DIRECTIONS

Teena Frazier

Roasted Fingerling Potatoes with fresh herbs and garlic

Tina doesn't use recipes but this was the closest to her famous potatoes she could find. Recipe courtesy of Tyler Florence, 2008.

Ingredients:

2 pints of fingerling potatoes

2 sprigs fresh rosemary

2-3 sprigs fresh sage

3 sprigs fresh thyme

6 cloves garlic, left unpeeled

3 tbsp. extra virgin olive oil, plus for sheet pan

salt/pepper

Directions:

Preheat oven to 500 degrees.

and place a baking sheet inside to heat.

Add potatoes, rosemary, sage, thyme, and garlic to a medium bowl.

Drizzle with olive oil and season with salt and pepper.

Remove sheet pan from oven, lightly coat with olive oil and pour potatoes onto pan.

Place potatoes in oven and reduce heat to 425 degrees. Roast for 20 min. or until crispy on outside and tender on inside