South Gate

High School




Class Of 1963
55th REUNION PHOTOS CAN BE FOUND ON THE LEFT SIDE OF THIS PAGE, UNDER THE TITLE, "Old Pics & Events".... then open the "55th Reunion Folder". Enjoy!
UPDATE: CHECK OUT THE "CLASS CHATTER" SECTION.
You can add and/or comment on it as well. I have also activated the "This Day in History" section, which can be found here on the HOME page, if you scroll down a little, you will find it on the right hand side! ENJOY......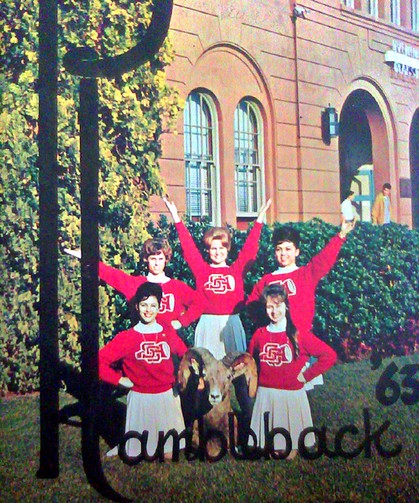 FYI..... If you receive a email requesting that you reset your password.... it is NOT from this site. James Porter said he received such a message!
Welcome to the South Gate High School
Class Of 1963 Website.
PLEASE...Be sure to scroll down to the bottom of each page that you go to, so that you don't miss any information or comments. On the left side of this page are "Topics"... they are "hyperlinks" click on them and go explore, you cannot hurt anything!!
This site is a place for Classmates to come and connect with old friends and share High School memories and new life adventures.
We look forward to utilizing this PLAYGROUND OF MEMORIES ~ and we are sure you will agree, that this is not a place to air old conflicts.... so, play nice or we might have to send you to the office for some "swats".... LOL... remember that?
If you know the whereabouts of someone that has no markings of any type next to their name in the "Classmates Profiles" section, then please put their email address in the place provided on this Home Page, on the right hand side of this screen....just scroll down a little to see it.
This is a work in progress... so please be patient with us. This is a first for us, putting a website together... Like all of us, it will improve with age. Please go in "CLASSMATE INTERFACING" and start and/or join a topic! Get others involved.

F.Y.I. - We need your help locating classmates.... PLEASE direct any classmates you are in touch with to this Website. THANKS!


I'm sure you will find some parts of this that will jog a memory, click on this link below.... enjoy!! After watching "Lost in the 50's", you will need to click on your "back arrow" on the upper left of your screen to come back to this page.
http://safeshare.tv/w/FEDEwZHZXu
KEEP SCROLLING DOWN.... THERE IS MORE......
...............................................................................
AA..
Keep going.... there is more fun stuff to check out!!
Below, is a great video found online.... I'm sure it will hit home for as many of you, as it did me. It was done by a guy who attended Montebello High School.... please, use your imagination and insert "Harvey's Broiler" and "South Gate High School" where he refers to "Whirly"s and "Montebello High"....
ENJOY, "THE BEST SUMMER"
Awwww the best of times!
**************
Click on this hyperlink to view a fun trip down Memory Lane with the Statler Bros. Remember after you click on the link it will take you to another window and you just need to click on your <-- BACK ARROW, to return to our website! ENJOY!!
https://www.youtube.com/watch_popup?v=puGQsQux80k
******************
ANNOUNCEMENTS
•

Save the date: November 3 & 4, 2023, 60th class reunion.... classes 60 thru 65 are invited. Will be at "Monteleone Meadows" like the past few. More info to come, contact Barbara Harris Crider, if you can help in any way! If you are on Facebook, there is a Event page there along with a couple of SGHS classmates pages.



Hi Classmates.... in the list at the upper left, feel free to use the "CLASS BLOGS" section and start a conversation.... or just join in on one that has been started!