Hello Panthers,
Welcome to the Official website exclusively for Cheltenham High School Alumni (Wyncote, PA and formerly Elkins Park, PA)!
Please roam around our website links to connect with fellow alums and our rich CHS history. Check out Current Events for the latest information or email alumni@CHSAlums.org with any questions.
If you are not registered you must register and login for full access including class profiles.
5/20/23 - 9AM-5PM UPG Cleanup/Landscaping all 7 CSD schools and Community Block Party at CHS. For details and free registration go to cheltenhamblockparty.com.
Show off your PROUD CHS ALUM colors
Look and feel good in your 2023 Alumni shirt for only $27 (incl. shipping)! Email Alumni@CHSalums.org to order your perfect Panther gift today while supplies last.
11/11/22 - VETERAN'S DAY
THANK YOU to all Cheltenham Alumni, staff, community, and families for their service! Please take time to view our Military Service page honoring those who served. Email Alumni@CHSAlums.org to help us share any updates and additions.
10/7/22 - Homecoming
Check out the some of the fun back at CHS:
Cross Country Memorial and dedication ceremony led by Coach Tom Sexton and teammates: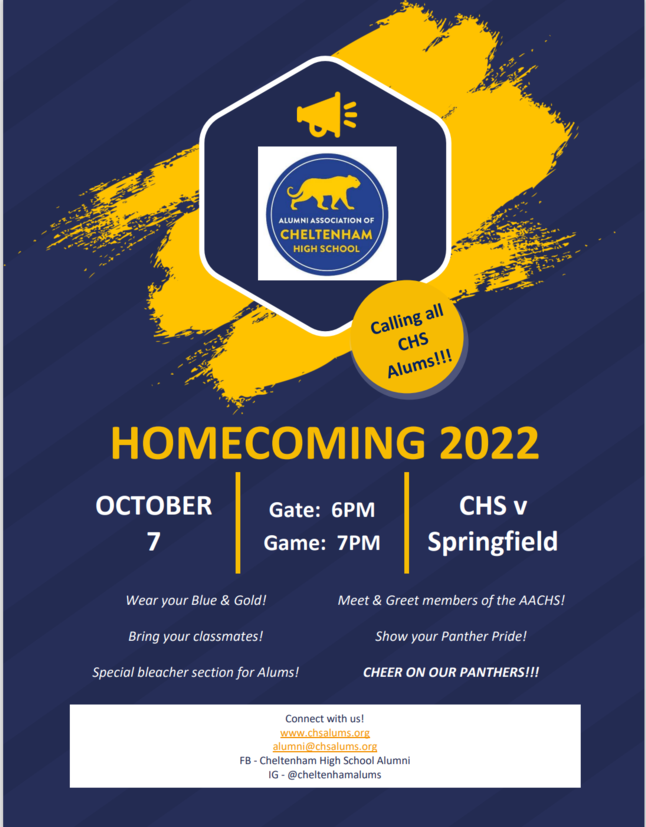 Leading up to 7PM kickoff under the lights is a full afternoon of awesome Alumni activities including:
3:00 - 4:00 PM - Cross Country Alumni Dedication at Curtis Arboretum with Coach Tom Sexton
3:00 - 5:00 PM - CHS tours (RSVP required below)
4:30 - 6:30 PM - Food Truck Tailgate (dry!) along with students, families, and community
6:00 - 7:00 PM - Alumni meet and greet with AACHS team and classmates to get your new Alumni t-shirts, Alumni reserved seats, Cheltenham goodies, and more.
7:00 PM - KICKOFF vs. Springfield
AACHS Officers and Board of Directors (effective March 8, 2023):
Co-President: Gail Chase, Class of 1979
Co-President: Andy Goldfield, Class of 1977
Treasurer: Gail Chase (interim)
Secretary: Emily Brecker Greenberg, Class of 1965
Judith Peller Hallett, Class of 1962
Susie Sommovilla, Class of 1966
Michael Shechtman, Class of 1969
Sandy Student, Class of 1972
Jonathan Peller, Class of 1974
Christa -Sywulak-Herr, Class of 1994
Maria LoPrete Aiello, Class of 1999
Contact us at - alumni@chsalums.org
or Follow us on Instagram
cheltenhamalums
or

Our address is - Cheltenham High School
C/O The Alumni Association of CHS
500 Rices Mill Road
Wyncote, PA 19095
Our phone number is 267-415-6464
We are excited to develop CHSAlums.org to share our current goals to:
- Renew our commitment to scholarships for graduating seniors
- Creating interactive and informative website and content
- Digitalizing all memorabilia
- Forming reunion resources including Meet and Greets at CHS
- Holding exciting, celebratory Alumni weekend event
- Meaningfully connecting CHS Alums with current students & the Cheltenham community.
- Re-energizing the CHS Hall of Fame
- Becoming a new supportive, inspiring presence in the Cheltenham community
VISITOR # 173,773