Rhein Main Air Base - 435th OMS ENROUTE MX SECTION
Years Assigned to RMAB 1960 - 2005
In Memory
Robert E Knepp - Year Assigned 1979 VIEW PROFILE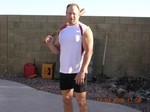 Robert E. Knepp
Born: 2 February 1958
Passed: 2 August, 2009
Robert E. Knepp, 51, son of Bill and Helen Knepp died August 2, 2009 in Phoenix, Az. Bob was born in Beaufort, S.C. on February 2, 1958. He graduated from Beaufort High, Class of 1976. He served in the U.S. Air Force for 27 years and retired to Phoenix where he was employed with Union Pacific Railroad. Surviving are his former wife, Brenda Knepp; sons, Bobby and Billy, all of Phoenix and sister, Patty Miller of New Providence, PA. A private family service will be held in Beaufort at a later date.

Bob loved playing baseball. On 2 August, Bob passed away while doing what he loved, playing baseball.
Bob has touched many lifes with his outgoing loving personality. He will be forever sadly missed by all.
Click here to see Robert E's last Profile entry.