Rhein Main Air Base - 435th OMS ENROUTE MX SECTION
Years Assigned to RMAB 1960 - 2005
In Memory
Ernest (Et) Tedder - Year Assigned 1980 VIEW PROFILE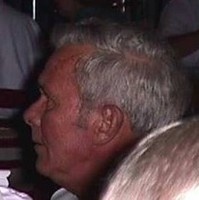 Born: 24 Nov 1941
Died: 9 Aug 2013
WHITEVILLE - Retired Air Force Master Sgt. Ernest E. Tedder, 71, of Whiteville, died Friday, Aug. 9, 2013. Services: Funeral, 3 p.m. Sunday, Peacock Funeral Home chapel, Whiteville. Visitation, 2 to 3 p.m. Sunday, funeral home. Survived by: Wife, Dawn; children, Michelle Coleman, David; siblings, Bobby, Christine Sellers, Joyce Inman, Ann Soles, Elizabeth Hinson; six grandchildren; a great-grandson.
MSGT Ernest E. Tedder, MSGT, USAF, RETIRED
Ernest E. Tedder 71, of Whiteville died Friday, August 9, 2013 in Columbus Regional Healthcare. He was born in Columbus County November 24, 1941.
He retired from the US Air Force in 1985 after twenty-two years. After retirement he was an aircraft mechanic with Tower Air in New York for fifteen years.
He is survived by his wife, Dawn Girimont Tedder; a daughter, Michelle Leigh Coleman and husband, John of Cerro Gordo; son, David Ross Tedder and wife, Debra of Mesa Az; brother, Bobby Tedder and wife, Betty of Texas City, Tx; sisters, Christine Sellers and husband, Bennie, Joyce Inman and husband, Andy, Ann Soles and husband, Danny and Elizabeth Hinson all of Whiteville; six grandchildren, Hayden Lovett, Tiffany Nickle and husband, Chris, Brock Lovett, Bailey Lovett, Riley Lovett, Tanner Coleman; a great grandson, Laykn Nickle. He was preceded in death by his mother and stepfather, Julian and Martha Smith Thompson and a brother, Nathan Tedder.
His funeral service with military honors will be conducted 3:00 pm Sunday, August 11, 2013 at Peacock Funeral Home Chapel by Rev. Josh Phillips.
His family will receive friends 2:00 – 3:00 pm Sunday, August 11, 2013 at Peacock Funeral Home.
Online condolences may be made at www.peacockfuneralhome.net
Click here to see Ernest (ET)'s last Profile entry.