Rhein Main Air Base - 435th OMS ENROUTE MX SECTION
Years Assigned to RMAB 1960 - 2005
In Memory
Joseph "Joe" Bango - Year Assigned 1985 VIEW PROFILE
Joseph Francis Bango
Born: November 30, 1957
Passed: September 18, 2015
Age 57, of Beckemeyer, formerly of Germantown died on Friday, September 18, 2015 at Memorial Hospital in Belleville. Joe was born on November 30, 1957 in Breese, IL the son of Joseph and Viola (Budde) Bango and they preceded him in death.

Joe is survived by his cousins: Joyce Bacone and husband John of Indianapolis, Indiana, Joseph G. and wife Mary Jane Bango of Carlyle, Mike and wife Phyllis Bango of Carlyle, and Dan and wife Karen Gross of St. Louis, MO.

Mr. Bango enjoyed fishing, hunting, and playing golf. Joe was a veteran of the United States Air Force, he served for six years and achieved the rank of Staff Sargent.

Joseph Francis Bango
BIRTH

Breese, Clinton County, Illinois, USA

DEATH
18 Sep 2015 (aged 57)

Belleville, St. Clair County, Illinois, USA

BURIAL
MEMORIAL ID
152515605 · View Source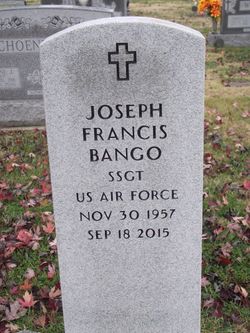 https://www.findagrave.com/memorial/152515605/joseph-francis-bango

Click here to see Joseph "Joe"'s last Profile entry.