Bothell Senior

High School




Class Of 1963
Our BHS Golfing Outing at Inglewood Golf Course
Forrest Brown, Bob Danielson, Kay Fisher Meyers, Craig Smith, Tom and Cathy Wood Shives all had a wonderful time on this historic course on Sept. 15, 2016
Scroll down for some photos.
Our group receiving their ICG Briefing prior to Teeing Off!
Craig Smith
Tom and Cathy Wood Shives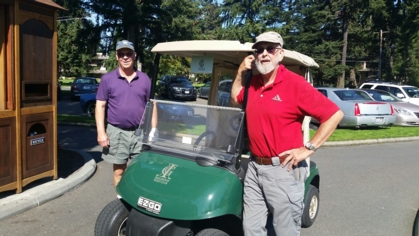 Bob Danielson and Forrest Brown
Kay FIsher Meyers with Craig in the background!
They tell me they had a GREAT time and enjoyed the 19th hole together as well!
Your Reunion Planning Team!
(Dennis & Sharon Schierberl Couch, Sandee Eaton Lee, Sally Hamilton Delvecchio, Al Haynes, Sharon Hildebrandt Hanson, Irene Millikan, Judi Nyerges, Darlene Peterson Parker, Craig Smith, Sharon Petrin Chandler, Pat Price Fine, Lana Nelson Stephens, Sonny Stinson, Donna Wyler Campbell, Lynn Schmidt Kostka, Chuck Kaysner, Pat Horton, Ann Harvey Horton, Max Holtrop, Frieda Peterson Gann, Kay Fisher Meyers, & Lynda Whisman Humphrey)