Gift of 'Mighty Wurlitzer' Awaits Tulsa
Tulsa's Will Rogers High School has been offered a 1924 Wurlitzer 3-manual, 23-rank, theatre pipe organ (Opus 943) for its 1,406-seat balconied auditorium. This pipe organ was in the 2,456-seat Capitol Theatre in Chicago, which closed in 1974 and was later razed.
The original model 260 was delivered to the Capitol Theatre with 15 ranks of pipes, each rank replicating a different musical instrument. Two more ranks were added by Wurlitzer, making 17. Edelmann added another six ranks for a total of 23. In addition to the pipe ranks, it is equipped with mandolin, marimba, harp chrysoglott, snare drum, tambourine, castanets, Chinese block, tom-tom, cathedral chimes, sleigh bells, xylophone, triangle, and orchestral bells
Besides the six extra ranks, the only exception to the original instrument planned for this project is a MIDI system piggybacked on the original relay to allow recording and playback. The MIDI interface will record and playback with a personal computer. This is not an audio recording system. Rather it records the mechanical actions by the organist and feeds them back through the organ as though it is being played. This will allow the archival preservation of concerts for later replication with no one seated at the console. Such add-ons are allowed under American Theatre Organ Society specifications because they are not integral to the operation of the organ. They are isolated from the mechanical and basic electrical magnetic workings, which allows removal of the MIDI system without affecting the organ's capability. The proposed project for Will Rogers also includes a hydraulic lift that would elevate the console about six feet for concerts.
If this project is funded, the organ would be donated to the Will Rogers High School Community Foundation, allowing the donor to receive a tax deduction. In turn, the organ ownership would be transferred to Tulsa Public Schools. The project involves work performed by just two contractors, for "turnkey" completion status, at an estimated cost of $350,000:
Site preparation (tentative work requirements): Reroute air conditioning vents away from organ chambers; the console and other parts from a 1955 electronic organ; prepare organ chambers to receive pipes and tuned percussion instruments; bore two holes in floor from console pit to basement for wiring and air supply; prepare enclosure in basement to house blower. Tulsa Public Schools has had local contractors on-site on two occasions, as potential bidders, to scope out the work to be done and take measurements. The estimate for the site preparation contract is $150,000.
Organ: Remove from its current location in Chicago; transport to contractor's shop for replacement of leather; transport to Tulsa; install in prepared location at Will Rogers; set up and tune. A reputable organ restorer who became familiar with this organ while it was still in the Capitol Theatre in Chicago estimates the cost at $200,000.
As owner of the facility, Tulsa Public Schools, would oversee the work of the contractors, which would be reimbursed by the Will Rogers High School Community Foundation from the grant to be received. No commitment will be made, material delivered, or work begun unless adequate funding is secured.
Any surplus from these two contracts would be held in escrow for a regular tuning schedule, costing about $2,000 per year, and a contingency reserve for other maintenance and repairs. This escrow would be funded continually through a series of concerts on the organ. The Will Rogers High School Community Foundation would produce these concerts. The Foundation is well-suited to handle a concert series to support the pipe organ, having produced sold-out events netting between $5,000 and $40,000.
This is a one-time request to complete the project. The ongoing operation would be sustained within the existing structure of employees of Will Rogers High School and volunteers of the Will Rogers High School Community Foundation. Other than the contracts described, there are no personnel or facility costs to be included in this proposal. Access to the organ and scheduling would be under the direction of school staff. Expenses of producing the concerts, which would be conducted by volunteers, would be borne by the concerts themselves. Among the numerous benefits and advantages of this project:
This is a viable project with a clear path to completion at a determinable cost

This project transcends the categories of: Performing Arts, Education, Humanities and Historic Preservation

Acquisition of a unique classic historical instrument to Tulsa, restored to the specifications of the American Theatre Organ Society; nearest theatre organs on the ATOS list are in Wichita (Century II Center) and St. Louis (Fox Theatre)

Not prone to obsolescence, like the 1955 unrepairable electronic organ it will replace; all parts are easily replicated

Introduction of a new dimension of entertainment not presently available in the greater Tulsa community

Provides opportunities to see and enjoy the Art Deco treasure, Will Rogers High School, on the National Register of Historic Places ("With Historic Significance"), which is normally closed to the public

Enables a series of public concerts to revive the dying American art form of silent movie accompaniment; school's namesake, Will Rogers, starred in silent movies before becoming box office champion of the talkies

Provides students the opportunity to learn about this element of Americana

MIDI playback feature would allow organ performances to be repeated for school assemblies and prior to other public events, such as tours of the school, without the artist being present

Completes the architectural plan for Will Rogers High School, which includes two matching pipe chambers and an organ console pit

Available to interested Tulsa Public Schools students for lessons from credentialed instructors, and as recital venues for college students and faculty, through arrangements with regional universities in exchange for their mentorship

Relatively inexpensive; organ is gifted; a single donation of $350,000 pays for site preparation and installation

No cost to Tulsa Public Schools to acquire this museum-quality relic, no ongoing operating costs to the district

Maintenance, repairs, and tuning would be paid from an escrow supported by concert revenues produced by Will Rogers High School Community Foundation, established in 2010, which has raised $1.5 million to date for its primary goal of funding scholarships and teacher-initiated projects
"Our quest to locate and install a 'Mighty Wurlitzer' in our school's auditorium dates to the beginning of the Will Rogers High School Community Foundation in 2010," says alumnus Dick Risk (Class of 1959), who is spearheading the project. "Two previous proposals were abandoned for various reasons. This is the third iteration, which we hope will be the charm. We are looking for a donor who loves music and recognizes the unique opportunity of this project to bring a historic relic to the greater Tulsa community. Our school just happens to be the perfect setting."
"We recognize that funding for schools is in a critical state due to systemic causes. The Will Rogers High School Community Foundation has funded and continues to fund projects requested by the school to help fulfill its crucial needs that otherwise would not be realized. We are proud of that legacy. But we cannot cure the causes and can do only so much," Risk continues. "On the other hand, there are philanthropists—individuals, trusts and foundations—whose interests are the preservation of Americana, or the support of the performing arts, or the betterment of the community in general, who would not otherwise be donating toward school projects. We hope one of those will step forward to fund the installation of this enduring gift being offered for the Tulsa community to enjoy. This will not detract from the funding of other projects. The addition of a pipe organ to complete the architects' plans for the school, which opened in 1939, has been endorsed by the immediate past and current superintendent of Tulsa Public Schools. There is no conflict."
Glorious movie palaces were bigger than life and more beautiful than dreams
Tulsa World entertainment editor Vern Stefanic wrote in 1983: "It's hard to imagine now, but downtown Tulsa used to be a wonderland of glorious movie palaces, buildings which were bigger than life and more beautiful than dreams.
"Many downtown theaters came and went. The Mount Rushmore of the group: the Ritz, the Rialto, the Orpheum, and the Majestic. The twinkling stars in its ceiling were part of the atmosphere at the Ritz, where statues and wrought iron gave it the look of an Italian palace. The Orpheum was a vaudeville palace (Jimmy Durante, Eddie Cantor and George Jessel graced the stage) before becoming a movie house. The Majestic boasted Tulsa's first pipe organ and was the first theater in the state to show a talkie ("The Jazz Singer")." Chicago architect John Eberson, famous for his atmospheric style, designed the Orpheum, which opened in 1924, and the Ritz, in 1926. Sadly, all four of Tulsa's iconic theatres were victims of urban renewal.
This Wurlitzer 3-manual, 23-rank, theatre pipe organ (Opus 943) was originally in the Capitol Theatre in Chicago, which opened in 1925. Like Tulsa's Orpheum and Ritz, the Capitol was designed by John Eberson, with its auditorium done in his signature style resembling an ancient Roman villa complete with statuary, vines, and miniature temples covering the organ grilles. Its lobby and foyer areas contained plaster copies of antique Greco-Roman reliefs, more statuary and mosaic tiled floors. Like the auditorium, the lobby had a blue starlit sky. The Capitol closed in 1974 and was later razed.
Donor looking for a 'special place' as permanent home for prized Wurlitzer
The Capitol Theatre organ was rescued by the late August Edelmann, who cared for and nurtured it until his recent death. This offer is being made by his daughter, Elizabeth "Liz" Coduto, who took ownership before his death. The only condition is that it must be kept intact as a complete organ. "It was previously owned and played by my late father who wanted to see it go to a good home after his passing to be preserved for future generations," says Coduto. "It is restored, intact and in working condition with an amazing history. My heartfelt mission is to see this unique Wurlitzer organ that my father and mother, Alice, loved so much go to a special place where it will be appreciated for years to come and stay intact." Coduto is impressed with Will Rogers and hopes her father's prized Wurlitzer will be housed in this historic setting. The organ would be a gift if the costs of relocating it are funded.
In contrast to the atmospheric Italian Renaissance style of the Capitol, Will Rogers High School is an Art Deco masterpiece reflecting Tulsa's favored architecture of its day. Its balconied auditorium resembles a luxury theater. The elaborate stage is curved and fluted with brass onsets of a fan and a floral design in terracotta red, brass, gold leaf and tan. Brass lights and false balconies add to the theatrical atmosphere. The plaster ceiling is ornate, decorated with painted, cast plaster beams. Dominating the west wall of the auditorium is a mural. The John Greenleaf Whittier verse about westward expansion is illustrated with figures of pioneers and Native Americans.
Will Rogers was designed to have a theatre organ
Built during the Great Depression as a Public Works Administration project and opened for classes in the fall of 1939, the school was designed to have a theatre pipe organ, a common fixture in venues of that era, by including matching organ chambers along the facing proscenium walls extending at 45-degree angles from the stage. The vision of the architects, Tulsa's Leon Senter and Joseph Koberling, has never been fulfilled. Will Rogers High School was placed on the National Register of Historic Places in 2007 "With National Significance." This is a perfect match-up of a museum quality pipe organ to a historical icon building. It was named after "Oklahoma's Favorite Son," who died in a plane crash in 1935 near Point Barrow, Alaska, with aviation pioneer Wiley Post. Rogers was an American stage and film actor, vaudeville performer, cowboy, humorist, newspaper columnist, radio personality, and social commentator
Theatre organs were prevalent in the era of silent movies—Will Rogers starred in some before he became the box office champion of the talkies—because they could replicate an orchestra to accompany silent films or vaudeville acts, with just one performer. They produce a sound distinctly different from the large liturgical pipe organs found in many churches. Not only is the blend of pipes different, but a theatre organ also usually has an array of tuned percussion instruments, including those not found on liturgical organs.
The Wurlitzer name has been associated with acoustic pianos, butterfly grand pianos, electric pianos, nickelodeons, player pianos, jukeboxes, fairgrounds calliope organs, band organs, and electric guitars. Perhaps the most famous instruments Wurlitzer built were its theatre pipe organs from 1914 until 1943, which were marketed as 'The Mighty Wurlitzers.' The American Theatre Organ Society strives to keep track by listing theatre organs of all makes that have survived the demolition of the ornate movie theatres of the past. It also publishes a list of theatre organs that have been restored to the society's set of standards. Each organ is identified by its opus number when available (the sequence in which it was delivered from the factory), its year of delivery, number of manuals (keyboards), number of ranks (sets of pipes), its original destination, and subsequent locations. Many of these relics are still housed in movie palaces that avoided the wrecking ball. Some are in private residences, unavailable to be heard by the public. Others have been cannibalized for parts or they just disappeared.
"Our efforts to obtain a pipe organ for the Will Rogers auditorium began in 2010 as a project of the Will Rogers High School Community Foundation," says alumnus Dick Risk, who formed the foundation the same year. "A couple of early proposals were considered but there was always a concern that fund-raising for a pipe organ would be perceived to compete with funds needed for direct support to the students. The foundation eventually abandoned the effort to install a pipe organ and remains focused on its primary goal of funding scholarships and teacher-initiated projects. To date, the foundation has raised some $1.5 million," Risk notes, "and I am proud of that legacy and of the work continued by its many dedicated volunteers." Risk has made it a personal quest to install a Wurlitzer theatre pipe organ of suitable size for the existing console pit and matching pipe chambers in the Will Rogers auditorium.
Project endorsed by Tulsa Public Schools
"Although the specifics have changed, this effort to install a pipe organ in the Will Rogers auditorium has continuously been supported by the Tulsa Public Schools administration, beginning with the earliest proposals," says Risk. Then-Superintendent Dr. Keith Ballard said in a letter to Risk dated April 18, 2013: "These concerts will expose the students and community to a type of music that can be performed only on an instrument of this type. We also recognize the national historical significance of this instrument, when fully renovated, as one of a small number of theatre pipe organs in existence today that will meet the stringent restoration standards set by the American Theatre Organ Society. This will be a treasure to be enjoyed by the entire Tulsa community and recognized throughout the country for its importance to our heritage. It will be worthy of the building itself, which is on the National Register of Historic Places."
Current Superintendent Dr. Deborah Gist confirmed Tulsa Public Schools' interest, in an email to Risk dated June 4, 2018: "Thank you SO much for such a wonderful offer …. Will Rogers High School and Tulsa Public Schools would be honored to accept such a generous and historic gift."
Today, it is rare to find fully restored theatre pipe organs such as the one offered by Coduto that are in public auditoriums where their glorious sound can be appreciated as in the movie palaces of the early 20th century. The Will Rogers High School auditorium would become one of those rare venues where the public could experience a slice of Americana such as watching a Buster Keaton silent movie accompanied by an improvised musical score performed on a magnificent theatre pipe organ, the way that instrument was meant to be heard. Silent early cartoons and slapstick comedy films like Laurel and Hardy might be shown on Saturday mornings to young audiences. Fortunately, there are still a few performers available with the skill for live silent movie accompaniment. Even after talkies were introduced to the American culture in 1927, many theatres continued to have live vaudeville acts between featured film showings. Pipe organs were central to those offerings.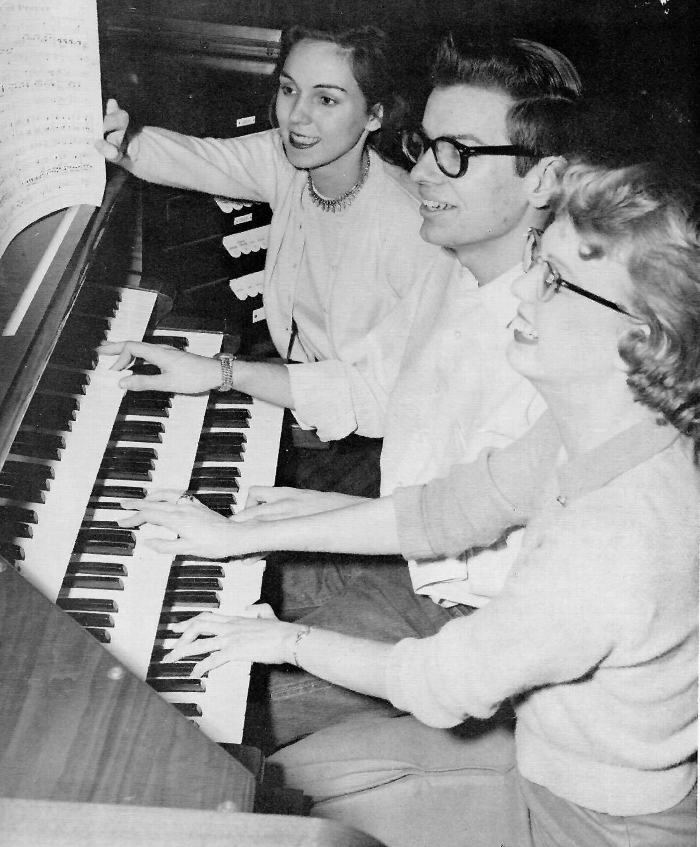 In 1955, the Will Rogers auditorium received an Allen electronic organ from a local family. Rotating Leslie speaker-amplifiers were installed in the organ chambers inside wooden structures erected to hold them to the height of the openings. That organ became obsolete and inoperative over the years and has been silent for many decades. Parts are unavailable and it cannot be repaired. The console remaining in the auditorium and amplification system components in the chambers and will need to be removed.
"When the building was air conditioned, ducts were installed to vent through both organ chambers. Presumably, it was believed that the chambers would never be occupied by a pipe organ as the architects had intended. The ducts will need to be rerouted outside the chambers and sprinkler heads relocated and converted to a dry fire suppression system. Much of the cost of this project will be for site preparation, which will be done under contract to Tulsa Public Schools, with the cost reimbursed to the school district," according to Risk.
Unlike the 1955 Allen organ, which relied on the viability of its electronic components that became obsolete and irreplaceable after only a couple of decades, this Wurlitzer is 96 years old and its 1924 technology, which is very simple, still works today. All original parts are of simple construction and have no built-in obsolescence. Its materials are wood, leather and wire, and can be reproduced easily. The only perishable component is the leather used in bellows and gaskets, which typically lasts 50 to 60 years. Aging leather would be replaced before the organ is delivered to the school for installation.
There are just a handful of artisans who can restore a classic pipe organ to museum quality, including Terry Kleven of Minneapolis, co-owner of Century Pipe Organs. A long-time friend of August Edelmann, Kleven is intimately familiar with this instrument. "All work done by Augie was under the watchful eyes of professional restorers, in accordance with restoration guidelines set by the American Theatre Organ Society," says Kleven. "Those same ATOS standards would apply when the organ is disassembled, inspected and parts replaced as necessary, then shipped to Tulsa for reassembly, installation, voicing and tuning. Those tasks would be performed by a qualified pipe organ restorer." The result, says Risk, should be inclusion on the list of the theatre pipe organs restored to ATOS standards. These guidelines establish that a true restoration returns a pipe organ to its original state of existence, or to some appropriate later state, through repair of original parts and replacement of missing parts with replications made from identical materials.
"The Edelmann organ's primary use will be for community enjoyment through public concerts that would generate revenue for an endowment for regular tuning and future maintenance or repairs. Concert themes might include jazz, Latin American, Broadway, and American standards," suggests Risk. "The live music coupled with featured silent and classic films served to the public at Will Rogers would be unique to the Tulsa region. In the last few years Will Rogers has hosted three musical concerts and several other events in its auditorium, often to sold-out crowds. Public feedback indicates a demand for more events in this smoke-free, alcohol-free, drug-free, and weapon-free environment with plenty of free parking."
The campus is usually closed to the public, and events in the auditorium offer rare times they can appreciate this Art Deco treasure funded by their tax dollars. The MIDI playback feature would allow organ performances to be repeated for school assemblies and prior to other public events, such as tours of the school, without the artist being present. It would be available to interested Tulsa Public Schools students for lessons from credentialed instructors, and possibly as recital venues for college students and faculty, through arrangements with regional universities.
An opportunity to expand Greater Tulsa's cultural richness
"I look at this unique gift as an opportunity to expand the cultural richness of the greater Tulsa community. Tulsa has world-class art museums, a globally renowned ballet company, a top-ten regional opera company, a symphony orchestra, and its own 'Tulsa Sound' brand of popular music with the legendary artists who created it," says Risk. "Tulsa is a giving community, and I am confident there is someone who appreciates the arts and would like to preserve this museum-quality relic for the public to enjoy. This is not just about completing the original architectural plan for Will Rogers High School. The addition of a complete Mighty Wurlitzer would mean another dimension to Tulsa's culture." A tax-deductible donation to fund the contract work would be made to an Internal Revenue Code section 501(c)(3) charitable foundation.
"Our effort is not meant to compete with other events in the Tulsa community that help keep alive the culture of theatre pipe organs and their part of history, especially in the early years of the 20th century. Most notably, we applaud the ongoing programs of the 250-seat Circle Cinema to share the experience on its 2-manual, 7-rank Robert-Morton pipe organ faithfully maintained by the American Theatre Organ Society," Risk explains.
"The introduction of this historic Wurlitzer to Tulsa would offer a rare type of entertainment to this culturally rich city," says Risk. "It would also provide many opportunities for the public to experience the splendor of the publicly funded historic treasure where it would be housed. This instrument would be the crown jewel for historic Will Rogers High School. More significantly, it would enrich Tulsa's status as a cultural mecca."
Anyone who knows of a potential donor or who would like to make a personal gift to support this project should contact Richard B. ("Dick") Risk, Jr., JD, 6964 South Shore Drive, S., South Pasadena, FL 33707-4603; (727) 289-6696 home; (918) 740-5470 cell; dickrisk@yahoo.com, founder, past president, and advisor, Will Rogers High School Community Foundation, Inc., www.willrogersfoundation.net, determined by the IRS as qualifying under 26 U.S.C. § 501(c)(3).
November 27, 2020