35th Reunion Photos
Thursday, Sept 22, Casual get together welcome party, no host, Shorebird
Friday, Sept 23, Golf, New Ewa Beach Golf Course, Ewa Beach,
Friday, Sept 23, Sunset Catamaran Sail, Kewalo Basin
Saturday, Sept 24, Dinner Cocktail Party, Elk's Lodge in Waikiki,
Sunday, Sept 25, Family Picnic, Bellows Beach, Pavilion 5C
PHOTOGRAPHS
We need more photographs. Please upload photos under Photo Galleries button to the left or hit the Contact Us button and let us know about any photos you have. We will then move photos to this section.
Shorebird, just getting the party started.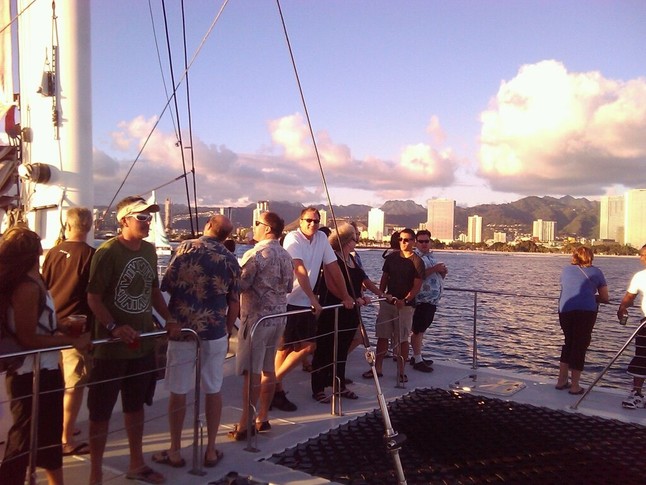 Sunset Catamaran Sail, Kewalo Basin to Diamond Head. In part fueled by the ships speciality drink - High Tide.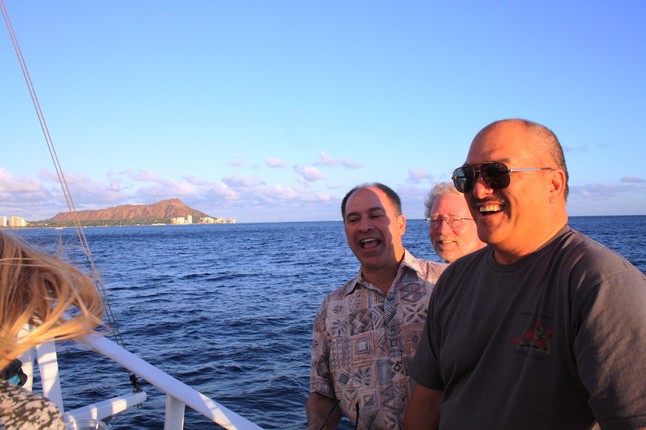 David Lesperance, Everett Peacock, and Renny Rego.
Sunset during the Sail.
Cocktail hour on the Lanai before dinner.
Cocktail hour on the lanai before dinner.
Dinner Cocktail Party, Pre-Dinner Sunset Picture (Photographer Bob Brennan)
Ryan Nakagawa, wows the dinner party with his Ukulele.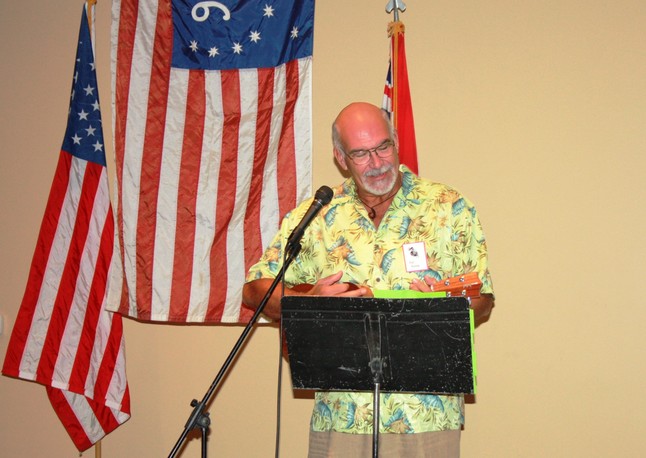 Pat Kemp surprises the crowd with his Uke playing and singing. We were just trying to fill some dead time while people were finishing dinner. Hoping for the best, planning for the worst, and ending up with great entertainment.
Our friends from the Class of 1977 (plus Darnette Maulson to keep an eye on them). Probably talking about Pat's great Uke playing.
Funny how most of the trouble makers ended up on one Table.
Dinner Cocktail Party, Semi-Serious Picture (Photographer Bob Brennan)
Dinner Cocktail Party, Not so serious Photo (Photographer Bob Brennan)