Radford

High School

, Honolulu, Hawaii


Class Of 1976
September 1 Update
The reunion is from Tuesday October 19 to Thursday October 21 in San Diego. The current schedule is:
Oct 19 TUESDAY
9 AM to 5 PM, San Diego Safari Park
Evening, Meet and greet at a bar/restaurant, No host
Oct 20 WEDNESDAY
9 AM to 3 PM(?), San Diego Zoo
5:30 PM, Bali Hai Restaurant, reunion dinner
$85 if paid by check ($90 by credit card)
Oct 21 THURSDAY
Noon. Picnic. Mission Bay (Bahia Point)
$20 if paid by check ($21 by credit card)
In August we reached 42 paid dinners which 100% covers the minimum for the South Pacific Room. This is the earliest we have ever covered a room minimum. A big thank you to the classmates that paid early and made sure we had the room covered. It's a large room so we still have plenty of space for more classmates, family, and friends
You can pay for the dinner and picnic either by check or credit card by clicking on the appropriate link on the left side of this page. Credit card payments include a 5.99% processing fee.
Multi-day/Multi Park passes for the San Diego Safari Park, San Diego Zoo, and Seaworld are available on their website or at the parks San Diego Zoo San Diego Safari Park
We are staying at the Embassy Suites San Diego Bay Downtown and Wyndham San Diego Bayside (noted with arrows below). But with the great light rail (trolley) system you can stay wherever you want.
As a reminder the Class of 1975 and 1977 have a standing invite to attend any and all Class of 1976 reunion activities. If you want to pay by credit card but are not a guest of this website yet, let me know and will add you as a guest.
San Diego Safari Park is 34 miles north of the hotels. The other reunion locations are shown on the map below.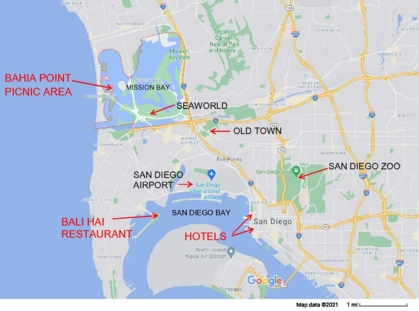 CLASS WEBSITE
Joining our class website is free and only takes a few minutes. The password protection and privacy settings let you control what the public and classmates see.
To join the site hit the blue

JOIN HERE

button within the gray box on the top right corner of this page. On the next page that appears, click on your name and follow the instructions.
Do not mistakenly use the "Log-In" button to join the site. Use that button on later visits after you have joined the site.
For additional information about joining the site and our privacy policy please click on the Website Information button on the menu to the left.
If you did not graduate with the class of 1976 but would like to be added as a member or guest on the website, please click on the Contact Us button to the left and send us your name and class year.