Redwood High School
Class Of 1961
Class of 1961 Redwood High School
Larkspur CA

61th REUNION a great success!!!
Don't forget to join www.redwood alumni.org as this site will not be maintained!
Thanks to all of you who were able to attend our 61st reunion last October! . I'm already thinking about our 65th Reunion in October 2026 ... or maybe a Redwood turns 65 with the First Four Years in 2024... but let's enjoy the memories of this one for a while longer.
Here's a link to the PHOTO GALLERY CLASS OF '61 REUNION It's on the redwoodalumni.org website. I will be transitioning information from this our redwood61.com website and not renewing it when it next expires. If you have not joined the redwoodalumni.org website, please do... all we need is a current email. Since I "control it", I will keep a Class of '61 page with any updates.
Here are a few group photos... wish we took more! I'm using our high school names because we remember those! Stay healthy until our next reunion in October 2026!
Marilee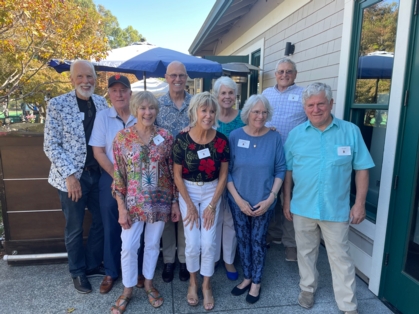 Kent kindergarten class all grown up... Dan Smith, Boyd Cahill, Butch Brear, Paula Daly, Dick Marjean Sellman, Charlene Bland, Carol Howard & Terry Wade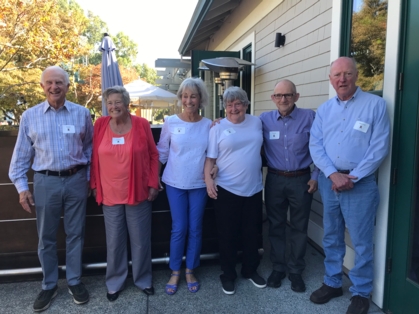 Ross kindergarteners together again... Doug Herst, Linda Murray, Billie Baruh, Sandy Frier, Peter Pike & George Cole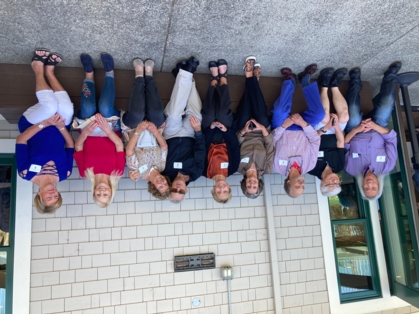 The bench... Kent Shew, Harley Leete, Lorin Vogel, Sherrye Black, Robin Beck, Mike Eisan (Alessio), Judie Block, Carole Hogrefe & Joan Bernardo
And... 4 years earlier...

Group photo at Class of '61 Turns 75 Birthday Luncheon
September 22, 2018
MORE PHOTOS ARE IN THE GALLERY ON THE LEFT...
REDWOOD ALUMNI ASSOCIATION...WEBSITE AND DIRECTORY!
If you haven't joined the Redwood Alumni's website, you should ... www.redwoodalumni.org. This site is much more active than our class site, has teacher profiles where you can leave memories of your favorite teachers, read about distinguished alumni in the Avenue of Giants and Athletic Hall of Fame, and look up other classes besides our own. The Minimum needed to join is your email address. Thanks! And thank you to all who have already joined!
OUR '61 WEBSITE
Special thanks to those of you who made redwood61.org donations. There is a good chance that we will not renew it when the five-year term expires. If you could transfer your information or update your information on the www.redwoodalumni.org website above, we will still be able to reach you. We can send email blasts to just our class but you will have access to all classes and teachers. THANK YOU!
IMPORTANT LINKS
redwoodalumni.org is constantly updating information. It has a new format (using Class Creator, the same host as our '61 site!) You can see information from all classes, photo galleries, teacher profiles, and more. You can leave "In Memory" messages for classmates and teachers, connect privately with anyone who has joined, and find ways to give back to Redwood: participate in activities, make donations, volunteer, make nominations for the 2023 distinguished alumni in the Avenue of Giants and the Athletic Hall of Fame.
Redwood BARK the award winning Redwood High School Newspaper Online!
Redwood TV a new feature offered by Redwood
Marin Nostalgia website created by Jason Lewis '87, a Redwood Grad. Lots of pictures and memories from the "good old days." You can also follow it on Facebook.