Myrtle Beach High School

Classes Of 1964-1965-1966-1967-1968
Parent Or Loved One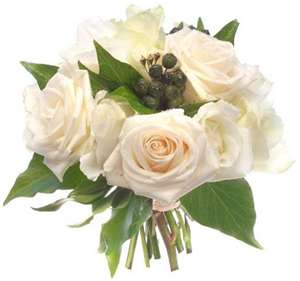 Mary Elvis Myers
"Mother Of Ronnie Elvis"
April 22, 1927 - February 19, 1923
Conway, SC

Mary "Nettie" Oakley Elvis Myers, 85, died Tuesday, February 19, 2013 at Conway Medical Center. She was born April 22, 1927 in Florence County, a daughter of the late John Ervin and Mary Ellen Oakley.

In addition to her parents, she was predeceased by her first husband, James Thomas Elvis; a son, Larry Johnny Elvis Sr. and one sister, Doris Munn.
Nettie was a loving and devoted wife, mother, grandmother and great grandmother. She enjoyed her flower gardens, camping and spending time with family and friends. She was employed many years with AVX and General Electric. She will be missed by all who knew her.

Nettie is survived by her husband, Herbert D. Myers of the home; one son, Ronald Elvis Sr. (Peggy Crenshaw) of Conway; one brother, Jerry Oakley (Gloria Jean); three sisters, Virginia Moore, Peggy Jeffords and Ann Martin; five grandchildren, Joey Elvis (Renee), Ronnie Elvis Jr. (Suzanne), Gina Marie Whitt (Mark), Tracey Elvis-Weitzel (Jeff) and Larry "Jon-Jon" Johnny Elvis Jr.; eleven great grandchildren; many special nieces and nephews and special friend, Nancy Nelson.

The family will receive friends at Watson Funeral Services from 6pm until 8pm Wednesday, February 20, 2013. Funeral Services will be held 1pm Thursday, February 21, 2013 at Watson Funeral Services Chapel. Burial will follow at Rehobeth Baptist Church Cemetery.
In lieu of flowers, memorials may be made to Eastern Star, 1618 New Hampshire Avenue NW
Washington, DC 20009-2549

Please sign a guestbook at watsonfuneralservices.com.

Watson Funeral Services and Crematory, 2300 Hwy 378, Conway, SC is serving the family.
Ronnie Elvis' address: 2626 Society Drive, Conway, SC 29527
---
Angeline S. "Angie" Thompson
June 21, 1916 - May 17, 2012
Myrtle Beach

Angeline S. "Angie" Thompson waited as long as she could to take her final journey. She would have been 96 on 21st June, which is also her anniversary and the sunniest day of the year. She died peacefully in her bed, last Thursday.

The oldest of 6 children, Angie was born in Cleveland, OH and schooled on the island of Samos and at Rutgers. She outlived all her family,including her husband Tony who died in 1997. They were married 56 very amusing and fulfilling years. She first met Tony in 1941 at the New Years eve ball at the Waldorf Astoria. They were married 18 months later. After the war they moved to New Port News and operated the National Restaurant until the shipyards closed.

From there they left for Florida in 1946 with all their worldly possessions including
their newborn son. They stopped for lunch at a tiny café called Kozy Korner in a one-hotel, one putt-putt town called Myrtle Beach. Two hours later Tony bought the restaurant from Tom Haley and was introducing himself to the cooks while Angie was scrubbing the overhead apartment floors and nestling her newborn into an old dresser. For the next many years they worked side by side on 18-hr days and fell asleep to the sound of bumper cars and carnival music.

Over the years, they opened the Fun Fair Grill, Caruso's Spaghetti House, Diplomat
Café, Xavier Cugat Studio, Imperial Lobster House, Black Angus Steakhouse, and Dino's, Myrtle Beach's 1st pancake house.

Angie treasured those memories and her many wonderful friends. She leaves behind her son Dino and his wife Susan who are so grateful to her many friends who cared for her and put a smile in her life. And also grateful for the devotion of Dr. Neal Trask and his caring staff whose TLC enabled Angie to live her near century vibrantly and her caretakers who filled her last years with love and dignity.

Visitation will be Monday, May 21, 2012 from 4-6pm at McMillan Small Funeral Home. The funeral will be 11am on Tuesday, May 22, 2012 at St. John's Greek Orthodox Church. Burial will be at Southern Palms Memorial Gardens.

Memorials may be made to St John's Greek Orthodox Church, 3301 33rd Ave. N, Myrtle Beach, SC
29577.

An online guest book is available at www.msfh.net
Clarence Gramling |
12/06/25 - 03/01/12

Clarence Smith Gramling
Moncks Corner

Clarence Smith Gramling, 86, of Moncks Corner, retired Sr. V-P of Santee Cooper and U. S. Navy WWII and Korean War Veteran entered into eternal rest on March 1, 2012. He was the widower of Sara Lee Guess Gramling.

Mr. Gramling was born December 6, 1925, in Orangeburg, S. C., the son of Andrew Copes Gramling and Era Sheriff Gramling.

At 17, Clarence enlisted in the U.S. Navy in World War II to defend his country. He served as Quartermaster aboard US. Navy 547 LCT Flotilla in the 2nd Wave on the Easy Red section of Normandy Beach, D-Day; also, as 2nd Class Petty Officer aboard the USS Flaherty 135 at the end of WWII. After WWII, he married the love of his life, Sara Lee Guess, and attained a BS degree in Engineering from Clemson. In 1949, he joined Santee Cooper in Myrtle Beach as Jr. Engineer. From 1950-53, he was recalled to serve aboard Aircraft Carrier USS Wright CVI-49. In 1953, he returned to Santee Cooper in Myrtle Beach as District Manager.

Myrtle Beach Methodist Church became home for Sara, Clarence and children, where he readily served as Sunday School Teacher, Chairman of Board of Stewards, Admin Board and many more. He actively served as President of the MB Lions Club, VP of MB Jaycees, VP of MB Chamber of Commerce, Chairman of Horry Co. Developers Board, helped design lighting for Rambi Raceway, helped start Canadian-American Days and the Sun Fun Festival and parade. In 1964, he was most proud to be awarded Grand Strand Citizen of the Year from Myrtle Beach Chamber of Commerce.

In 1956, Santee Cooper in Moncks Corner became home, where he worked his way up to Sr. VP. A faithful servant of Moncks Corner United Methodist Church, he served as SS Teacher, Chrmn of Finance, Trustees, Building, Pastor- Parish Relations, Chrmn of Board of Visitiors for Methodist Oaks, and Chrmn of Trustees and Building Committee for S.C. Conference UMS Resource Center in Columbia, S.C. He was a member of the Moncks Corner Lifetime Wildlife Action, Gideon's Bible Ministry, and IPTAY.

Clarence and Sara enjoyed many hours rockfishing, attending his WWII LCT Flotilla Reunions and checking on family, Navy buddies and long-time friends regularly. Clarence's "Happy Birthday, Wedding Anniversaries and remembering the death of loved one" calls will be sadly missed by family, friends and co-workers. He spent his last few years teaching us by his example of lifetime faith and trust in Christ and how to handle aging and disability with graciousness and appreciation to all who helped him.

Surviving are daughter, Martha Ann Gramling Taylor Stuckey (Lee); son, Steven Guess Gramling (Peggy Ann); beloved grandchildren - Kevin Earl Taylor, Era Lynn Gramling, Margaret Gramling Friar (William) ; Sara Guess Gramling; Lee Stevem Gramling; brother, Fred Henry Gramling , In addition to his loving wife, Sara, and son Clarence Dennis Gramling, he is predeceased by brother, Andrew Copes Gramling, Jr. (Frances) , Alfred Sheriff Gramling, Laura Gramling Belford (Mel) and many beloved cousins, nieces and nephews.

A special thanks to his loving, caring sitters and staff at the Bridge of Charleston, Pastor and Sunday School teachers at The Bridge, Rev. Jim Blakesly, Wayne Creech, Linda Wilcox, Johnny Hill, Trident Medical Center Staff, Dr. Brantley Arnau and Pretty Nurse Brenda, Mac Cumming, PT and staff at Amedisys.
His funeral service will be held Sunday afternoon, March 4, 2012, at 2 o'clock, in Moncks Corner United Methodist Church, 200 N. Live Oak Drive. Burial, directed by RUSSELL FUNERAL CHAPEL will be in Memorial Park Cemetery, 3379 Columbia Road, Orangeburg, S.C. 29118. The family will receive friends at RUSSELL FUNERAL CHAPEL between 5 and 7 o'clock Saturday evening, March 3, 2012.

Memorials may be made to Moncks Corner United Methodist Church, 200 N. Live Oak Dr., Moncks Corner, S.C. 29461; to the S.C. United Methodist Foundation, 2900 Millwood Ave., Columbia, S. C. 29205-1359; or to American Cancer Society , 5900 Core Road, Suite 504, N. Charleston, S. C. 29406.
Published in The Sun News on March 3, 2012
Read more here: http://www.legacy.com/obituaries/myrtlebeachonline/obituary.aspx?n=clarence-gramling&pid=156233860#storylink=cpy
Joseph Leo Taylor 68, formerly of Myrtle Beach, passed away of cancer Wednesday, June 22, 2011, at his home in Lutz, Florida.

Mr. Taylor was born August 10, 1942, in Loris, SC, son of the late Mamie Taylor Nance. He had a long engineering career in the capacitor industry with AVX Corporation with assignments in Myrtle Beach, El Salvador, Hong Kong and California. Upon leaving AVX he moved into hybrid circuits as Vice President of Sales for Vitarel Microelectronics; led sales with several startup companies and worked as Marketing Manager for Electronic Science Industries. Joseph's kind heart and integrity was an inspiration to his family.
He is survived by his wife Charyl Taylor of Lutz, FL; son, Mark Taylor and partner Anthony Lear of Charlotte, NC, daughter, Kimberly Blenckstone and husband David of Hagerstown, MD, son, Kenneth Taylor of Myrtle Beach, SC, step-daughter, Kelle Fredericksen and husband Duane of Princeville, HI, step-daughter, Teely Rogers of Vancouver, WA, ; grandchildren, Adam and Taylor Blenckstone of Hagerstown, MD ; Lily and Logan Fredericksen of Princeville, HI, brother, Richard Nance and wife Julie of Charlotte, NC; sister, Mary Sue Fraley and husband Gary of Easley, SC; brother, Marvin Nance and wife Cyndi of Myrtle Beach, SC; and step brother, Donnie Nance and wife Barbara of Myrtle Beach, SC.
Funeral services will be held at 2:00 PM, Wednesday, June 29, 2011, at McMillan-Small Funeral Home with Rev. Larry Cashatt officiating. Burial will follow at Withers Memorial Cemetery.
The family will receive friends from 6:00 until 8:00 Tuesday, at the funeral home. The family requests memorials be made to Moffitt Cancer Center, 12902 Magnolia Drive, Tampa, FL. 33612
An online guest book is available at www.msfh.ne
Obituary for Kenneth "Abe" Wilson
Kenneth "Abe" Ray Wilson, 73 of Murrells Inlet died Tuesday, September 22, 2015 at Tideland
Hospice House.
Born in Danville, VA, he was the son of the late Edna B and William Thomas Wilson, Jr. Mr.
Wilson was a 1961 graduate of Wampee Little River High School and received a degree from Wingate College and Campbell College. After college, Abe worked for RJ Reynolds Tobacco Co. and taught school in Rowland, NC and at Socastee High School and also as a realtor for The Lachicotte Company. In 1971 he opened The Captain's Restaurant in Murrells Inlet. He was past president of the Murrells Inlet Merchants Association and was a member of Belin Memorial
United Methodist Church. In addition to his parent, Abe is preceded in death by a brother, William Wayne Wilson.
Surviving are his wife, Lois Chapman Wilson; daughters, Chappell Wilson of James Island and Rebecca Wilson Furlong and husband Bob of Belmont, NC; grandchildren, Mary-Lois and
Wil Furlong of Belmont, NC; brother, Ronald Wilson of Lake Marion, SC and a sister, Charlotte
Bradley of Lynchburg, VA.
Services will be 2:00 PM, Friday at Belin Memorial United Methodist Church with visitation
one hour prior to services.
Memorials may be made to Belin Memorial United Methodist Church, PO Box 528, Murrells
Inlet, SC 29576 or Tideland Hospice House, 2591 North Fraser St., Georgetown, SC 29440.
Sign a guestbook at www.goldfinchfuneralhome. com


To send flowers or a memorial gift to the family of Kenneth "Abe" Wilson please visit our Sympathy Store.
Mother of Myrtle Beach High School Classmates Gloria & Danny
Ruby Turner Isaac
Aug 20, 1927 - Jan 21, 2015
Surrounded by family and friends, Ruby Turner Isaac died quietly in her Myrtle Beach home Wednesday January 21, 2015. She was born on August 20, 1927 in Nesmith, SC, the eleventh of the thirteen children born to Lula Blackmon and Benjamin Turner.
Ruby, along with her husband, were the owners and operators of the Western Union franchise of Myrtle Beach for over thirty years. She was also the last charter member of the D.O.E.S. Club, a female auxiliary order of the Elks Club.
Ms. Turner married Daniel Harden Isaac in 1946. They moved to Myrtle Beach in 1954, raised five children and were central to the early growth of Myrtle Beach. Mrs. Isaac is survived by four children, Gloria (Thomas) Hills, Daniel (Sally) Isaac, Jr., Thomas Isaac, and Lisa (Timothy) Lee, seven grandchildren, five great grandchildren and a special friend, Mitch Young. She was preceded in death by her daughter, Marsha and by her husband, Daniel.
In life and in dying, Ruby Isaac was courageous, genuine and faithful to God, family and friends. She believed everyone was good at heart and worthy of love. She touched the hearts of young and old alike.
All are welcome to attend and celebrate the life and legacy of Ruby Isaac on Friday, January 23, 2015 at McMillan & Small Funeral Home. Memorial service will begin at 5:30 pm followed by visitation until 7:30 pm. In lieu of flowers, please make memorial donations to 'Think P.I.N.K.', a fund dedicated to providing mammograms to those unable to afford them. Donations can be sent to Murphy Lee, 114 Oakview Drive, Darlington, SC 29532 or made on line at www.gofundme.com/jt0d5o.
An online guestbook is available at www.msfh.net
Passing of Ruby Muirhead
Posted Monday, August 18, 2014 03:31 PM from 174.107.133.101
Obituary for Ruby Muirhead
Dateline...Myrtle Beach
Ruby G. Muirhead of Myrtle Beach, SC, passed away in Conway, SC, Sunday August 17, 2014.
Ruby was born in Conway, SC, on February 18, 1926 to Cornelius and Zilphia Graham. Ruby was a faithful member of First Baptist Church of Myrtle Beach, SC. She was devoted and loving wife, mother, grandmother, great-grandmother and sister who enjoyed fellowship with friends and family above all else. She was also a member of the Woodman of the World.
Ruby is survived by her son; Jack(Carol) Muirhead; twin sister, Ruth Survonsky; grandchildren, Jennifer(Jason) Grimsley, Michael Muirhead, Meredith(Chris) Johnson, Erin(Matt) Drago, and Melinda(Brian) Smith; great-grandchildren, Hadley, Marlee, Jack, Norah, Gretta, Ella, Nathan, Macey, Jacob and Stephen; and daughter-in-law, Judy Muirhead.
Her husband; Jack Muirhead and a son; Steve Muirhead, preceded her in death.
A funeral service will be held at 12:00 PM Wednesday, August 20, 2014 at the First Baptist Church of Myrtle Beach with Rev. Bruce Crawford and Dr. Wayne Brown officiating.
Burial will follow at C. Graham Family Cemetery on Hampton Rd. in Conway, SC.
The family will receive friends one hour prior to the funeral service in the Fellowship Hall of First Baptist Church of Myrtle Beach.
Memorials may be sent to the First Baptist Church of Myrtle Beach, 500 4th Avenue North, Myrtle Beach, SC 29577.
An online guestbook is available at www.goldfinchfuneralhome.com
Goldfinch Funeral Home, Conway chapel is in charge of arrangements.
Passing of Jimmy Walker
Posted Tuesday, April 30, 2013 11:38 AM from 174.107.133.101
James "Jimmy" J. Walker
September 21, 1925 - April 28, 2013
Myrtle Beach

James Joseph Walker, 87, husband of Ruth Pearl Owens Walker, of Myrtle Beach, went to his eternal home on Sunday, April 28th at his residence surrounded by family.

Mr. Walker was born in Queens, NY on September 21, 1925 a son of the late Alfred F. and Helen W. Walker. He graduated from St. John's High School and then served in the U.S. Army Air Corp. He was stationed in Myrtle Beach where he met his wife of 67 years. Mr. Walker made his home in Myrtle Beach and was educated under James E. Cooney, the first architect in Myrtle Beach and became an architectural draftsman. He designed many of the beautiful homes, churches, and motels in this area. He also became an estimator and project manager for E.W. Jerdon Construction Co., Cayce Co. and part-time in his retirement years with Sun-Belt Homes.

He was very active in First Baptist Church where he served as a Sunday School teacher, choir member, and a deacon. In 1964, he became a charter member of Ocean View Baptist Church where he also served as a choir member, the church clerk, and a deacon. He was a member of the 3 gallon plus club of the American Red Cross Blood program. His favorite pastimes included golfing, gardening, and singing in the church choir.

Survivors include his wife, Pearl; three daughters, Beverly McKnight (Harry) of Myrtle Beach, SC, Vicki Williams (Bill) of Isle of Palms, SC, and Patsy Lott (Dennis) of Goose Creek, SC; six grandchildren, Derek McKnight, Aaron McKnight, Lloyd Williams (Kristin), Rachel Williams and fiancé Matt Stanley, Lindsay Clever (Michael) and Brittany Lott; one great-granddaughter, Macie Clever; one sister, Lillian Jewell of Columbus, NC. He is also survived by several nieces and nephews and sister-in-laws, Alverda Byrd and Jean Walker.

The family wishes to extend our sincere gratitude to Hospice Care of South Carolina, especially Kathy, Lajuanna, and John.

A celebration of his life will be held at 2:00 PM, Wednesday, May 1st at Ocean View Baptist Church. Visitation will be held in the church parlor from 1:00 PM until 1:45 PM prior to the service. Burial will follow at Ocean Woods Memorial Cemetery.

In lieu of flowers, memorials may be made to Ocean View Baptist Church, 7300 North Kings Hwy., Myrtle Beach, SC 29577 or American Red Cross, Coastal SC Chapter, 3531 Pampas Drive, Myrtle Beach, SC 29577.
An online guest book is available at www.msfh.net.

Passing of Lloyd Chinnes
Posted Thursday, February 7, 2013 11:44 AM from 174.107.136.209
Mr. Lloyd Chinnes
Former Teacher, Coach & Principle in the Myrtle Beach Area Schools passed away on Monday, Services will be held Sunday, February 10, at 3:00 PM at the Surfside United Methodist Church in Surfside Beach SC.
more info as it is available