In Memory
Terry Mattke VIEW PROFILE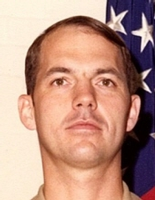 Obituary for Col E. Terry Mattke, USMC (Ret.)

Colonel E. Terry Mattke, USMC (Ret.), 73, of Virginia Beach, VA, passed away peacefully April 18, 2018, surrounded by family after a long battle with Parkinson's disease.
Born October 11, 1944, in New Hampton, IA, he was the son of the late Cleo and Margaret Mattke.
Left to cherish his memory: his beloved wife of 38 years, Patricia A. Mattke; two daughters, Dawn Baker of NC; Jennifer Ouellet of CA; two sons, Scott Harders of OH and Gregory Harders of AZ; a sister, Cheryl Mattke of KS; ten grandchildren; and a great-grandchild; and many nieces and nephews.
Terry graduated from Princeton University in 1966 and joined the Marine Corps. After flight school, he flew the F-4 Phantom and transitioned to the AV-8A Harrier. Terry was the first Marine Harrier Pilot with the British Royal Air Force. He graduated from the Armed Forces Staff College and The Industrial College of the Armed Forces.
Terry was a visionary strategic thinker working behind the scenes on projects such as Cheap Night/Real Night that became DOD night attack capability, newly designed F408 Harrier engine that was necessary to upgrade to the night attack/radar variant, and the now revolutionary 5th generation F35 three variant strategy.
Terry's last duty station was The White House where he served as military aide to then Vice-President George H.W. Bush for 4 years. After 23 years of service, Terry retired as a Colonel in September of 1989.
Terry was a passionate, driven, focused man who wanted nothing less than for our nation to achieve its full potential. Humble by nature, compassionate at his core, Terry worked tirelessly to help so many throughout his life achieve their God given potential. A man few really understood but so many admired. He had a deep and lasting love for his wife and children.
In retirement, Terry was a member of the Princeton Club of Hampton Roads and The Badfellas. Terry enjoyed boating, travel and golf with his buddies at the Cavalier Golf & Yacht Club.
A memorial mass will be celebrated at 2 p.m. Friday, May 11, 2018, at Star of the Sea Catholic Church by the Rev. Fr. Esteban DeLeon. Following the mass, a reception will be held from 3 to 5 p.m. at the Cavalier Golf and Yacht Club. Terry will later be honored with an interment service at Arlington National Cemetery. In lieu of flowers, memorial donations may be made to Parkinson's Foundation at 800-473-4636 or www.parkinson.org. Hollomon-Brown Funeral Home, Great Neck Chapel assisting the family. Condolences may be offered to the family at www.hollomon-brown.com
Click here to see Terry's last Profile entry.