Class Of 1972
Shawnee Mission Northwest

High School

~ Shawnee, Kansas
In Memory
Carl Lord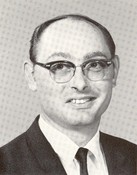 Carl L. Lord
August 21, 1942 ~ August 29, 2019

Carl L. Lord, 77, died Aug. 29, 2019. He was born Aug. 21, 1942, at Kingman the son of Roy and Louise Richardson Lord. A resident of the Kingman community most of his life, he was the former owner of Roy's Machine Shop and a former Industrial Arts instructor.
On Aug. 10, 1968, he married Barbara Horseman in Kansas City, Kansas. Other survivors include two sons, Dan (Michelle) and Jim (April); sisters Evelyn (Robert) Burton and Dr. Edith Lord; and grandchildren Canyon and Wyatt.
Graveside services will be 11:00 a.m., Thursday, Sept. 5, 2019, at the Walnut Hill Cemetery, Kingman. Friends may call from 1:00 p.m. to 7:00 p.m., Wednesday at the Livingston Funeral Home with the family present from 5:00 p.m. to 7:00 p.m.
Memorials may be made with the Kingman Christian Church and the Kingman Co. Humane Society both in care of the funeral home.
If you knew Carl and would like to place a kind memory here, please follow the instructions on this page (click on "post comment").

Mac McDaniel and Jan Klein, Site Administrators