Class Of 1972
Shawnee Mission Northwest

High School

~ Shawnee, Kansas
In Memory
Jack Ballard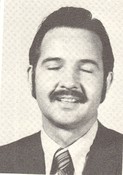 December 27, 1938 ~ February 21, 2020
Jack S. Ballard, 81, of Olathe, KS is singing with the angels as of February 21, 2020. He was born in Pocahontas, AR to Larkin and Ruth Ballard on December 27, 1938. He was a music educator for 44 years, having taught at Trumann High School in Trumann, Arkansas; Southern Baptist College in Walnut Ridge, Arkansas; and at Shawnee Mission Northwest High School in Shawnee, KS from 1970-2005, where he taught choir, voice and guitar. In 1999, he was the first educator to be selected KMEA Teacher of the Year, and in 2011, he was inducted into the Kansas Music Educator Association's Hall of Fame. In 1991, he was named the Shawnee Mission School District Kansas Teacher of the Year nominee. He is survived by his wife, Mary Ballard, of 38 years. He is also survived by his four children, Tina Gadwood (Bob) of Olathe, KS, Marci Handley (Chip) of Shawnee, KS, Brendan Gibson of Olathe, KS and Nathan Ballard of Los Angeles, CA. He is also survived by two grandsons, Ryan and Dylan Handley. Additionally, he is survived by loving relatives residing in Arkansas. Jack's favorite quote as an educator was, "We must inspire before we expire."

Contributions

In lieu of flowers, the family is requesting donations to the Shawnee Mission Education Foundation Jack Ballard Music Scholarship. Address: 8200 West 71st Street; Shawnee Mission, KS 66204.

Service

A celebration of life and remembrance open house reception will be conducted March 1 from 3-6 p.m. at Thompson Barn: 11184 Lackman Road; Lenexa, KS.
Published in Kansas City Star on Feb. 26, 2020.
If you knew Jack and would like to place a kind memory here, please follow the instructions on this page (click on "post comment").


Mac McDaniel and Jan Klein, Site Administrators