Joel E. Ferris High School

Class Of 1981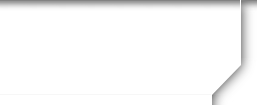 40 Year Reunion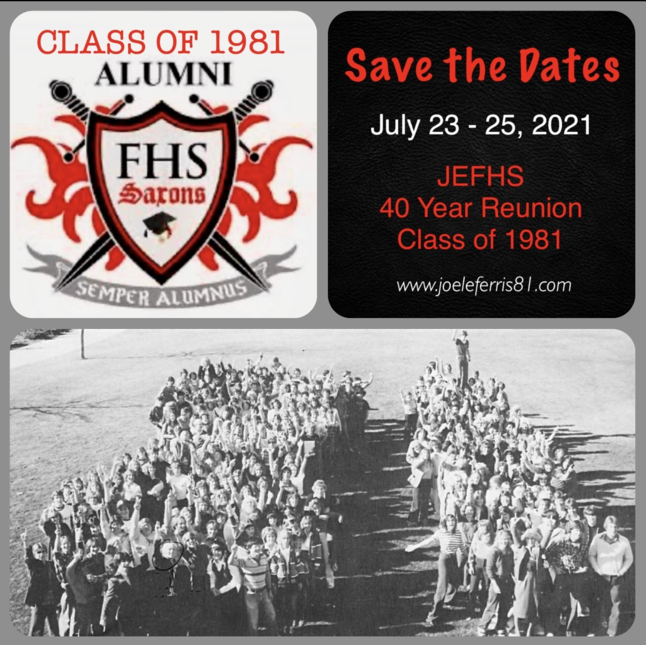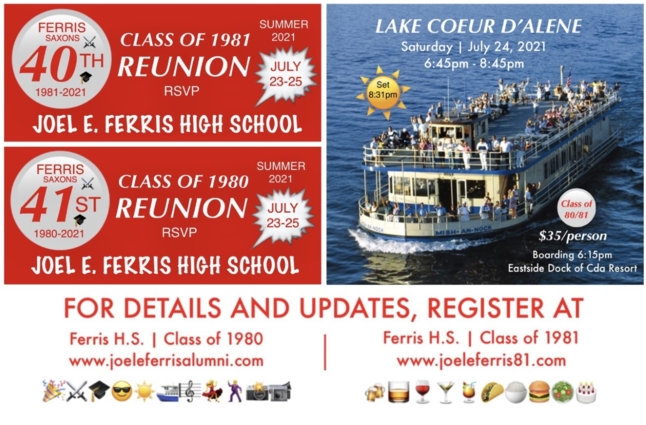 JEFHS, Class of 1981 - 40 Year Reunion
July 23-25, 2021
Expanded and proposed" Itinerary for our 40 year reunion on July 23 - 25, 2021
Please give us your thoughts or other suggestions as this is only a "proposal" and always subject to change...
JEFHS, Class of 1981 - 40th Reunion July 2021
"Proposed" ITINERARY
Updated on March 26, 2021
🎉 FRIDAY JULY 23, 2021
🎈 "Ice Breaker" Informal Gathering at Rock City Grill and Morty's Tap and Grille (over flow) on South hill.
🎈Reunion registration, name tags, payment taken for Reunion Cruise via cash or credit card. A wristband will provided to our classmates and guests for boarding the boat.
📸 Group Photos - 40yr, 35yr, 30yr, 20yr, 10yr, JEFHS, class of 1981 - All Reunion planning committee members over the years
🎈Raffle drawings?
📣 Announcements regarding our weekend event.
🎉 SATURDAY JULY 24, 2021
🎈All day activities in Coeur d'Alene.
🎈Pre-Cruise Dinner in Coeur d'Alene.
🎈Boarding Mich-an-Nock and must have wristband on (6:15pm).
📸 Class Photo on top deck.
⛴ Two hour Reunion Cruise on beautiful Lake Coeur d'Alene onboard the Mish-an-Nock (6:45 - 8:45pm). Sunset is at 8:31pm.
🎈Post-Cruise Party with Live Music & Dancing in Coeur d'Alene at Iron Horse, Crickets and other venues on Sherman Ave and at the Cda Resort.
🎉 SUNDAY JULY 25, 2021
🎈Farewell Brunch up on the South Hill at Morty's Tap & Grille.
🎈School Tour at Ferris school.
📸 Class Picture during school tour.
🎈Concert and Wine at Arbor Crest Wine Cellars in the Spokane Valley.
NOTES:
📣 Discounted rooms at the Coeur d'Alene Resort and other hotels in Cda for Saturday
📣 Drawing for 2 Alaska Airlines RT Air Travel anywhere Alaska flies - must be present on the cruise to win
🕯 Poster Board Tribute to classmates who have passed away on the top deck of boat
📣 Drinks and chips on the Cruise
📣 Dancing and Videographer on the Cruise
📣 Classmate video interviews on the Cruise
Pick which venue numbers you are planning on attending at our 40 year reunion!!
Post on our Group Facebook Page
Joel E. Ferris H.S. Class of 1981, Spokane WA
or click here with your selections
https://www.classcreator.com/Spokane-WA-Joel-E-Ferris-1981/class_contact.cfm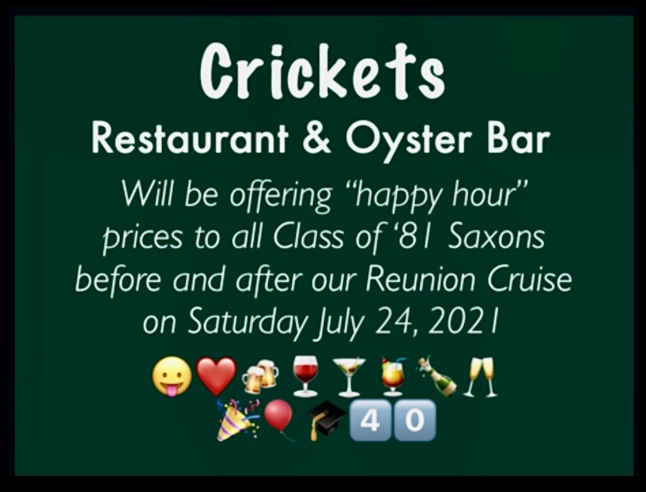 Missing Classmate List - 157
No Facebook or Registration on our "free" Class Website... 🤔
www.joeleferris81.com
These "missing" classmates are not in our Class of 81 Facebook group of currently 174 classmates or registered on this website of 191 out of 388 who have joined since 2011.
Abdalla, Sara
Ashby, Frank
Barratt, Jay
Barton, Brian
Bell (Copper), Cindy
Benjamin, Gordon
Bennett, Debbie
Berge, Mike
Bishop, Heidi
Boldman, Bill
Bowman (Barrett), Tara
Bozarth, Rick
Brady, Mark
Brewer, Britt
Brommer, Darlene
Brown (Murphy), Julie
Brown, Robert
Bursch (Malthesen), Melody
Butterfield (Neal), Bridget
Caldwell, Eric
Call, Debbie
Cambell, Lori
Camyn, John
Canton (Millan), Eva **
Carrier, Andrea
Carroll, Michael
Christiansen, Andy
Christopher, Sam
Clayton, Doug
Cochrane (Bramer), Tina
Cogdill, Ross
Conrad, Dana
Cranford, Deborah
Crooks, Kelly
Crumley, Michelle
Curran, Kevin
Defoe (Etherton), Terri
Doliver (Legal), Jill
Driftmeyer, Eric
Dueball, Dan
Durall (Payton), Deanna **
Durrant, Curtis
Dyck, Donna
Egan, Brian
Evenson, Cindy
Fennimore, Claudia
Fielding (Neely), Gayle
Forcier (Pearman), Bonnie
Freeman, Heather
Gingrich, Mary
Greve (Clark), Denise
Groves, Timothy
Gundlach, Douglas
Gurkowski (Quail), Shenna
Gustfason (Calderon), Christa
Gustaveson (Dillon), Lisa
Halverson, Rick
Harris, Sherri
Harris, Wanda
Hart, Jack
Hay, Julie
Haywood, Ken
Henderson, Jerry
Hermansen, Henrik
Hoffman, Scott
Holloway, Angela
Hopkins, Curtis
Horton (Klapp), Lisa
Iholts, Pam
Johnson (Kirschner), Kim
Johnson (Elkin), Patty
Johnson, Roger
Jones, Bob
Jones, Jama
Jones, Sherla
Kendall, Rodney
Koth, Debbie
Kucherry (Mathwig), Traci
Kuntz, Tom
Lane, Greg
Larson, Daniel
Larson (Maier), Diana
Larson, Tim
Layton, Todd
Legresley, Brian
Lehr, Johnna
Leinen (Nusbaum), Teresa
Lindsay, Fred
Linville, Terry
Lyski, Jim
Lysne, Chip
Magnusson, Traci
Martin, Kelly
May (McClothen), Cindy
McNabb, Dan
Meyers, Don
Mitchell, Brian
Moore, Kenya
Moore, Scott
Norgard, Donna
Norris, Chuck
Nyberg, Dean "D.J."
O'Neal, Claudia
O'Neal, Rex
Orlowski, Stan **
Overman (Weisz), Virginia
Papini, Luis
Pardo (Tyler), Lisa
Parkey, Jeff
Payton, Doug **
Pearman, Jim
Pool (Longwell), Teenann
Powers, Kristin
Racchetta (Vickery), Jodi
Ray (Ulrich), Rockie
Reinhardt, Janet
Reodica, Francine
Richardson, Mark
Richmond, Tim
Rikkla (Phillips), Lila
Riley, Charlie
Rodgers, Jeff
Ryan, Randy
Sallaway, Jeff
Sanders, Steve
Satir (Tedeschi), Yasemin
Saty, Greg
Schafer (Hartley), Kim
Schram, Kamala
Schweigert, Kay
Servoss, Carol
Sheer, Tom
Sills, Donald "Roy"
Smith (Anderson) Laura
St. John (Dunlap), Julie
Stalder (Swiss), Hanspeter
Stanford, Kathy
Stephens (Weems), Regina
Stokes, Laurie
Thomas, Judith
Thompson, Harold "David"
Thompson, Mike
Vallance (Mackin), Patricia
Vanderwilde, Wanda
Vostrez, Stephen
Walker, Jim
Walker, John
Weid (Wilson), Vanessa
Wendt, Doug **
Willard (Harbine), LaMoyne "Mickey" **
Williams, Debra
Williams, Robert
Willoughby, Deanna
Wilson, Jim
Wilson, Ron
Wimmer, Jim
Woodward, Mark
** Spouse or sibling 1981 classmates
If you are in contact or Facebook friends with any of them listed above, please help us out by sharing our 40 year reunion info, dates, "invite" them to join our group Facebook page and to register on our "free and secure" class website.
Thank You!
JEFHS, Class of 1981 - 40 Year Reunion Planning Committee
Greg • MariKay • Rob • Scott • Shari • Tim