Rhein Main Air Base - 435th OMS ENROUTE MX SECTION
Years Assigned to RMAB 1960 - 2005
Enroute Memorial Bench
Majority of everyone knows, several Enrouters attended the presentation of the USAF Aircraft Mechanic Monument and also the Dedication of our Enroute plaque, in the Memorial Gardens, USAF National Air Museum, WPAFB, on July 31, 2020.

While visiting the many unit memorials in Memorial Park, I thought it would be awesome, for the 435th OMS Enroute Mx Section to also have a Memorial Bench, to highlite our outstanding group.

UPDATE ON THE BENCH Nov 15, 2020
We have our first draft done of the bench. We are doing some minor changes to the draft.
Once those changes have been done and the draft is complete, we will examine the draft one more time for
any changes. Once we approve, the draft will be sent to the USAF Historical Center in Alabama for their approval. Once we have their approval, the builder will make the bench. Expect about 3 weeks to make the bench. Then, I'll coordinate with the USAF Air Museum, a good dedication date for the bench to the museum. I'm anticipating either April or May 2021. I'll keep you updated.
Any questions, let me know.
I can tell you, we will have one of the nicest memorial benches in the USAF Freedom Park, at the museum.
************************************************************************************************************************

Speaking with Mr. Jerry Haines, creator of the USAF Aircraft Mechanic Monument, he personally invited our group to place a bench(s), on the concrete pad surrounding this outstanding memorial.

Everyone has always said, Enroute was the best job and location, they ever had in the Air Force.
This is the time to show your appreciation to being a member of the finest Enroute Section, ever in the Air Force. Please donate what you can, to help cover the cost of this beautiful bench, that we will present to the USAF National Air Museum, Wright Patterson AFB, OH, when its completed.
A (granite) bench, will be presented to the USAF National Air Museum, on behalf of the 435th OMS Enroute Maintenance Section, costs approximately $5000. (Depending what all we put on it).
Our bench will be placed on the right rear corner of this newly placed USAF Aircraft Mechanic Maintenance Monument, in Memorial Park, USAF National Air Space Museum, Wright Patterson AFB, OH.
When people visit Memorial Park, they will see our bench will proudly display:
435th OMS Enroute Mx Section, Rhein Main AB, Germany and information reguarding Enroute.

*** I have just been informed by the Museum Staff, Units are only allowed to have only one Unit item in the park. Due to the high visability of having our bench located on the right rear corner of the USAF Aircraft Mechanics Monument, we will need to incorporate our current Enroute Plaque, into the front center of the bench. We will then build our Enroute History around the plaque.
Plus, we will also decorate the back side with our Enroute information.

EXAMPLES OF WHAT OUR MEMORIAL BENCH WILL LOOK SIMILIAR TO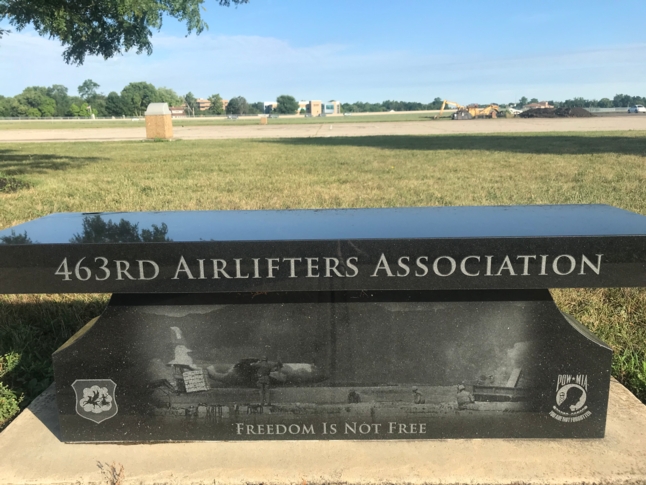 We will have a "Mini Reunion" in Dayton (Fairborn) Ohio, when we present this to the Air Museum.
Deciding what to put on the bench, then getting the design and all associated paperwork approved, takes some time. Hopefully, we can obtain the funds in less than one year.

Approximate Cost of the Bench will be: $5000.00
I have already received the following donations: As of 04 Oct 2020
PROJECTED AMOUNT $5000
***********************************
Fessler, Bill/Connie $1000
Johnson, Floyd/Lois $1000
Miller, Stanley $1000
Warren, Jim $1000
Santamarina, Orlando/Trini $200
Bryza, Harry $150
Kutsch, Gary/Sue $125
Bryan, Kathy (Joy) $ 100
Cayton, Melinda $100
Figueroa, Richard "FIG" $ 100
Foster, Ezra/Birgit $ 100
Ganskop, Dean/Jeane $ 100
Pavon, Steve $ 100
Pesch, Robert $ 100
Thompson, Thomas/Laura $ 100
Whalen, Mike $ 100
Willis, Lisa $ 100
Nelson, Larry/Sharon $ 75
Clemete, Jim $ 50
********************************************
Proposed Goal $5000
RECIEVED $5600
*******
STILL NEEDED $ Unknown (cost over runs will incurr unknown extra costs)

NOTE: The average memorial bench costs $5000.
Perpetual care, taxes and misc charges could exceed $5000, but this is a good target amount.

Please continue with your donations, because, the cost of the bench will exceed $5000.

***********************************************************************************************
MEMORIAL BENCH UPDATE (04 OCT 20)
I'm in the final process of selecting the items to go on the bench.
I soon will be forwarding our information packet to the USAF Historical Society for approval.
Once approved, the packet will be sent to the company that will make the bench.
Updated information will be posted as these events occur.
*************************************************************************************************

What would you like to see put (lasered) on the bench.
NOTE: The items on the bench, needs to be MAINTENANCE related.
The GOLF 3 PANEL van, and our Beloved Flight line ENROUTE TRACTOR (FIG)

PROPOSED Items to be added to the Memorial Bench

Current 435th OMS Mx Section Plaque already on display in Memorial Park will be added to
the front center of the bench.

Gateway to Europe Sign
(Arch over the main entrance into Rhein Main AB)

Rhein Main AB Tower Building
(Tower Building is known to everyone ever at Rhein Main)

Aircraft Marshaller ( Marshaller marshalling a C-5)

B1, B4, & B5 Maintenance Stands
C-5 or C-141 with Maintenance Trucks in Front of Aircraft

Crew Chief Insignia

Golf 1 - Supervision truck
Golf 3 – Expeditor Maintenance Van

Toolbox

MAC Patch
AMC Patch
435 TAW Patch
435 OMS (AGS) Patch
Please mail your checks to:
Stanley Miller
7213 Avila Drive
Fayetteville, NC 28314

These are a sample what our 435th OMS Enroute Memorial Bench will look like.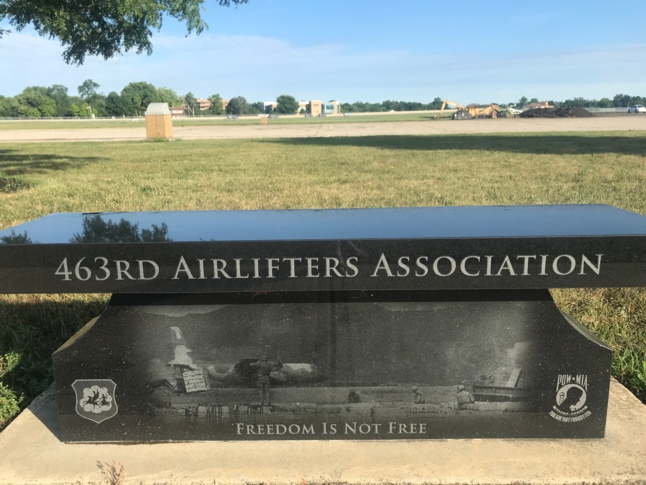 Any questions, please let me know.
Stan Miller - stansvets@gmail.com