Rhein Main Air Base - 435th OMS ENROUTE MX SECTION
Years Assigned to RMAB 1960 - 2005
In Memory
Louis J Jr Marnell - Year Assigned 1979 VIEW PROFILE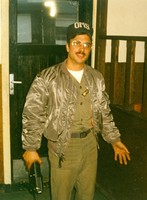 Louie J Marnell Jr
Born: 28 May 1955
Passed: 16 August 1990.

Louie was 35 years old, died of cancer.
Speaking with his wife Mrs Louie Marnell, she said Louie throughily enjoyed his time as an Enrouter. Anyone having known Louie's family, his son is now a Major in the US AIR FORCE and a C-17 pilot.

Thank you for remembering Louie. I will always remember the close family at Rhein Main AFB. Please keep our son Major. Louie Marnell Jr in your prayers as he is in Afghanistian for a 12 month tour. Ms. Louis Marnell
Click here to see Louis J Jr's last Profile entry.