Rhein Main Air Base - 435th OMS ENROUTE MX SECTION
Years Assigned to RMAB 1960 - 2005
In Memory
Donald W. Moran - Year Assigned 1976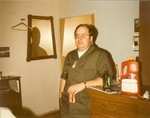 Donald W. Moran
Born: 19 May 1949
Passed: 28 Feb 2013

Don was stationed at Rhein Main during the late 1970s, early 80s.
He was one of the original Enrouters and LOVED by ALL.
Donald W. Moran
May 19, 1949 - February 28, 2013
Frederick, Maryland
TSgt. Donald W. Moran died Thursday, February 28. Arrangements are by Resthaven Funeral Services, Frederick.
Published in The Frederick News-Post on March 1, 2013
Don, you are sadly missed.
Don - May you RIP.
Anyone having any additional information on Don's passing and any pictures,
if you will send them to me, I'll post them. stansvets@gmail.com
Stan Miller
Webmaster.