Rhein Main Air Base - 435th OMS ENROUTE MX SECTION
Years Assigned to RMAB 1960 - 2005
In Memory
Judy Pashley - Year Assigned 1979 VIEW PROFILE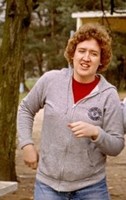 Judy Ann Pashley
Born: 2 Mar 1953
Passed: 6 Dec 2010
Judy Ann Pashley, age 57, of Williston, FL, passed away on December 6, 2010. She was born on March 2, 1953 in Jacksonville, FL to Byron and Elizabeth Pashley. She moved to Williston, FL in 2008 from Jacksonville, FL. She was a church member of Mandarin Christian Church in Jacksonville, FL. She served in the United States Air Force for 24 years. She was discharged in 2006. She then went to work for the University of Florida as an Asset Manager up until her passing. She loved to travel, go shopping, camping, gardening and loved her nieces and nephews. She is survived by he parents Byron and Elizabeth Pashley; brother Joseph Anthony of Baldwin, FL; sisters Elizabeth Polk (Tony) of Jacksonville, FL, Mellisa Vaughn (Brian) of Atlanta, GA, Lori Pashley- Thomas of Williston, FL, Nancy McCray of Savannah, GA along with numerous nieces and nephews. Visitation will be held on Wednesday, December 8, 2010 from 6:00-8:00 pm at Knauff Funeral Home-Williston. Funeral Services will be held on Thursday, December 9, 2010 at 2:30 pm graveside at Jacksonville National Cemetery. In Lieu of Flowers the family asks that donations be made to the Cancer Society P.O. Box 22718 Oklahoma City, OK 73123-1718 and Haven Hospice 311 North East 9th Street Chiefland, FL 32626. Arrangements are under the care of Knauff Funeral Home-Williston.

Please Sign the Guestbook @ Jacksonville.com
http://www.legacy.com/guestbook/timesunion/guestbook.aspx?n=judy-pashley&pid=147062215&cid=full
Judy fought a hard battle of breast cancer. The Lord called her home on 6 Dec 2010.
Judy loved Germany and especially the men and women on B Flight.
She was a superb hydraulic maintenance troop and was always a pleasure working with her.
Judy was loved by all that knew her and will always be remembered for being the outstanding lady
she always was.
Our sincere condolences go out to the Pashley family.
Sincerely
Stan Miller
435th OMS Enroute Reunion Group
Webmaster
http://www.findagrave.com/cgi-bin/fg.cgi?page=gr&GSln=Pashley&GSfn=judy&GSbyrel=all&GSdy=2010&GSdyrel=in&GSob=n&GRid=62719773&df=all&
Click here to see Judy's last Profile entry.