Rhein Main Air Base - 435th OMS ENROUTE MX SECTION
Years Assigned to RMAB 1960 - 2005
In Memory
Daniel W. Umstead - Year Assigned 1985 VIEW PROFILE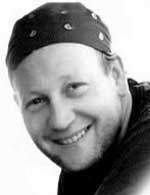 Daniel Wayne Umstead
Born: July 15, 1962
Passed: July 29, 2006
Funeral services for Daniel Wayne Umstead, 44, of Magnolia (DE), were held at noon Wednesday, Aug. 2, at the Pippin Funeral Home, 119 W. Camden-Wyoming Ave., Wyoming.
Mr. Umstead died from injuries sustained from a motorcycle accident Saturday, July 29, 2006, in Christiana Hospital near Newark (NJ).
Mr. Umstead was born July 15, 1962, in Pennsylvania, son of Thelma P. Umstead and the late Marvin R. Umstead Jr.
He was a veteran of the U.S. Air Force, and had worked for the J.J. White Co., in Delaware City.
Mr. Umstead enjoyed fishing, sailing, shopping and dancing. He was also an avid camper.
He was a member of the American Legion and the International Brotherhood of Boilermakers.
In addition to his father, Mr. Umstead was preceded in death by a brother, Darryl M. Umstead; and a sister, Florence I. Umstead.
http://www.findagrave.com/cgi-bin/fg.cgi?page=gr&GSln=Umstead&GSfn=Daniel&GSmn=wayne&GSbyrel=all&GSdy=2006&GSdyrel=in&GSob=n&GRid=15120161&df=all&
In addition to his mother, Mr. Umstead is survived by his wife, Lyubov Umstead; three sons, Michael Wayne Umstead, Ryan James Umstead and Artem Alex Hutsalyuk; a brother and sister-in-law, Dennis and Sylvia Umstead; three sisters and their husbands, Elaine and Jim Renninger of Conneaut, Ohio, Laura and Allan LaVan of Oil City, Pa., and Amanda and Tom McMunn of Titusville, Pa.; and several nieces and nephews.
Arrangements were by the Pippin Funeral Home, Wyoming.
Interment will be in the Delaware Veterans Memorial Cemetery, Millsboro.
Instead of flowers, memorial contributions in Mr. Umstead's name may be made to the American Legion Walter L. Fox Post. No 2., P.O. Box 298, Dover, DE 19903.
Letters of condolence may be read via www.pippinfunerahome.com.
Click here to see Daniel W.'s last Profile entry.